Hello everyone, my name is Lunar and I am an artist aspiring to get better at what I do and hopefully make lots of people happy with my art! <3
And I am actually not new here, I used to have an old account of which I spent nearly nine years on before finally picking up and jumping ship for a fresh start. I would link it but that seems rather redundant considering I already did that in my first journal entry. XD
Feel free to go to that and check it out if you're really curious.
Anyways, besides drawing, I also enjoy writing out concepts for stories, listening to music and cooking/baking! I used to roleplay a lot on my old account but then I stopped after a long while but, I recently have been getting back into it so don't be afraid to ask if I'm available or not if you're interested. (
PS.
I only use Discord/Skype for rping!)
I think that's it for now ; A ; sorry for being so boring
Don't ever be afraid to talk to me, I like meeting new people and making new friends, even though I'm super bad at making conversation haha
---
[.My dorky best friends whom I also happened to be related to.]
Twin Sister

(
Awesomely talented in semi-realistic art!
)
Older Brother

(
Superb at doing sprites and pixel work!
)
[.My precious babs.]



















(
Always a W.I.P

)
---
[.Other Account(s).]
Adopt Account

(
This is an account I run, alongside ConriAngel, where we post adoptables and other things. Feel free to check it out if you'd like!
)
---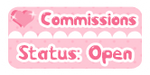 (Those interested in getting art from me can find pricing and the types of services I offer in the above link! <3)