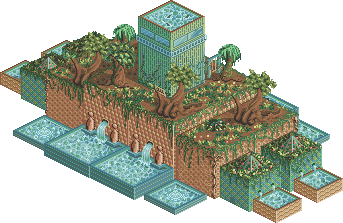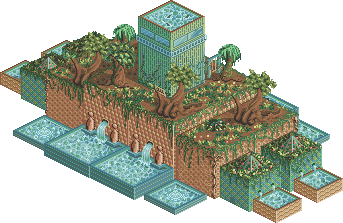 Watch
My interpretation of the hanging gardens of Babylon...I know they look more like an overgrown orchard or something...but that's just what I imagine them to be like.
Daily Deviation
Given 2010-04-02
You are in luck, I am able to post this earlier!
The more artwork I see of haning gardens (of Babylon) the more I get inspirted to do this myself once as well. Thisone, with its pretty waterfalls, layers and isometry is one of those as well now

There are however a lot of things that bother me. You tried to save a lot of time by doing a symetric design, but even worse: You copy and pasted a lot. Some things could have been less obvious if you flippeld them. But epspecially on the textrures and on the trees it is very noticable.
Why those textures anyway? They are way too much repeated, and the sides are completely flat. I suppose you could have gotten a better result if you had put some more time in it, and did all textures without copy and pasting.
Whats with the modern building thing in the middle? The place is perfect, but the modernity does not completely fit the theme in my opinion.
I really like the grass and the flowers, and of course the hanging vines or whatever you cal 'm. The flowers are especially great on the platforms with the piramids!
The water texture is also great! But why is it on the roof, and are those black dots sharks?
As I said: Inspiring work, mostly due the waterfalls and the layers!
The Artist thought this was FAIR
11 out of 12 deviants thought this was fair.