Journal Entry:
Sun Oct 23, 2016, 6:46 AM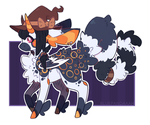 Look this beauty ♥
Come
participate that a "Free Raffle", don't forget the rules AND good luck ♥
Journal Entry:
Thu Sep 8, 2016, 4:52 PM
Look that beautiful baby !!
<da:thumb id="633288895"/>
I love this fucking design ! It's my style of design character ...
It's Design by Petalfox and is a Kitsumeras !

Well ! Come
participate that a "Free Raffle", don't forget the rules AND good luck ♥