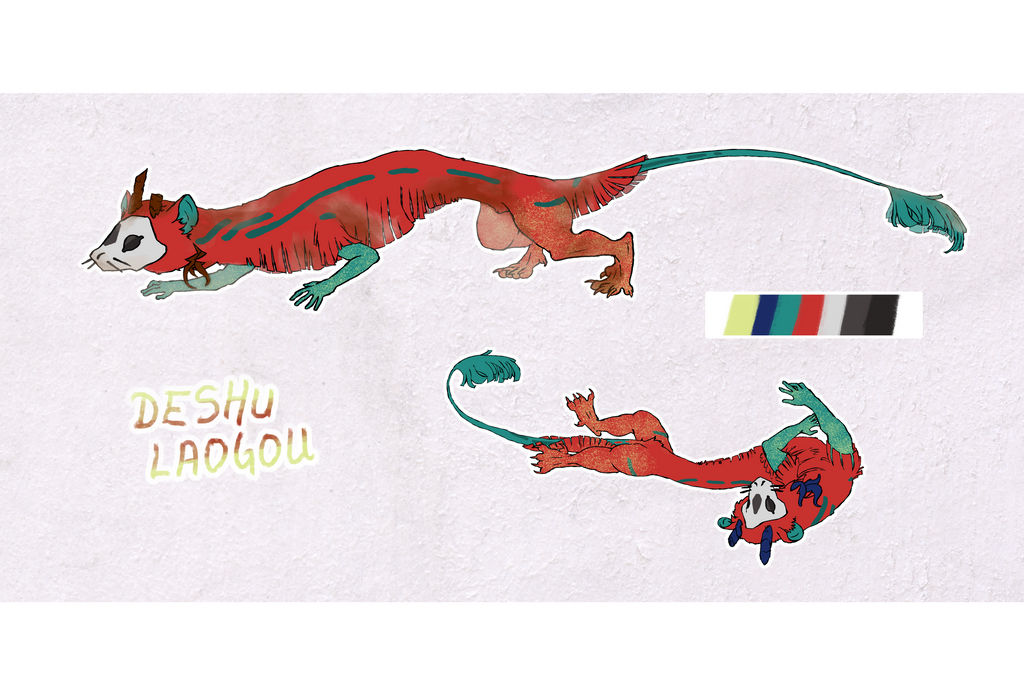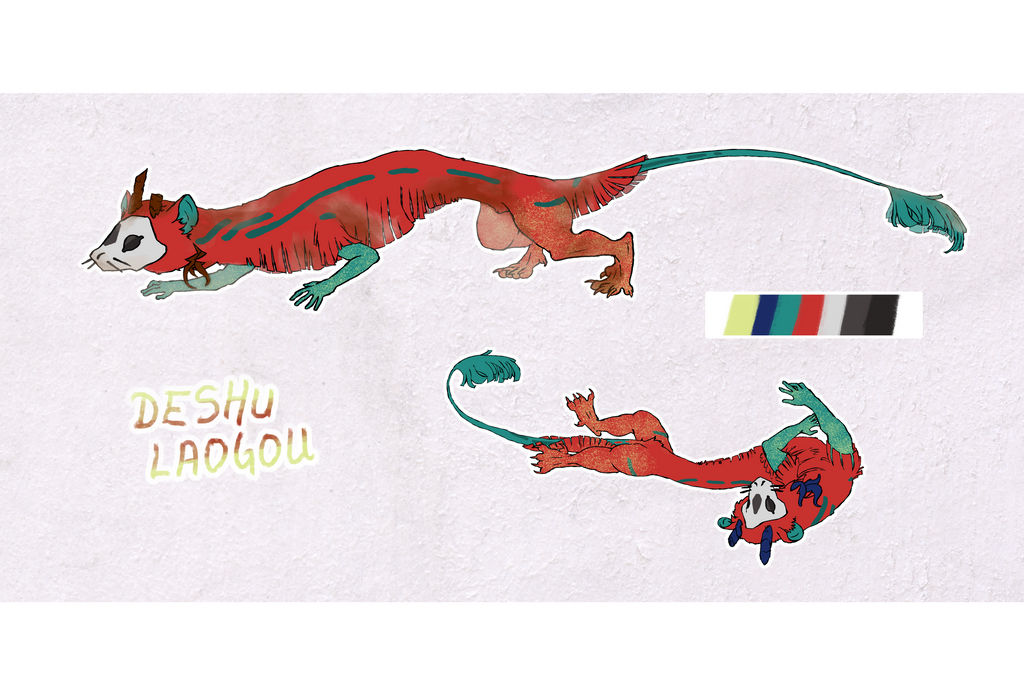 Watch
FR

J'espere que je suis à l'heure ouin OTL

Suite à la grosse motivation que

Palcopie

m'a donnée, j'ai fait de mon mieux pour faire

mon peitt nightmare. J'avais deja vu cette CS passer plusieurs fois et elle me faisait de l'oeil, donc c'était bien le moment de me lancer ! hahah.

Voici donc :

DESHU LAOGOU [de

ʃy-la

o

ɡu

]-----Traits-----

Asian Nightmare

Systematic Stars

C - Mammal mask ( Rat )

R - Multiple tongue

C - Long tail

VR - Dragon tail

VC - Classic hind paws

C - Mouse ears

C - Horns mutation
______________
Rare ★★★★☆☆☆
mask : common (+1)
fur : uncommon (+2)
tail : dragon (+5)
ears : mouse
Tongue : multiples (+4)
stars : very common
horns (+1)
----Flavor text----
Deshu est un gros flemmard. Ne lui demandez rien, parce que c'est à peu près sûre qu'il ne le fera pas. Il vit un peu au ralenti, toujours perdu dans ses pensées, ou en train de dormir. On comprend assez vite qu'il est d'un tempérament calme et posé. Cependant, il est très joueur et aime la avoir de la compagnie, mais ne comptez pas sur lui pour commencer les conversations. Sa grande passion est de trainer dans les maisons de stylistes de mode, leur donnant des cauchemars assez... colorés.
ENG
I'm like, just in time i hope ?
Here's
Deshu Laogou
! for
Nightmare-C
's M.I.O Event !
I hope everything is okay orz. Nightmares are a CS I don't know very well but have been checking out from time to time, and this MYO is just on point ! Thanks again to
Palcopie
for telling me abt it !
----Flavor text----
Deshu is one lazy ass. Don't ask him to do anything for you because you can be assured that he won't do it. He lives at a very slow pace, often lost in his mind or sleeping. You can guess that he's quite calm and serene. Although he can be playful and loves having company, don't count on him for starting conversations. He's very passionnate about fashion designers and hanging in their houses, giving them very... colorful nightmares.
___________________
>> L'event a fini à l'instant, minuit pile <<
fav.me/dbw001a

Les nightmare sont une CS par
NeroKuro

OUUIIIIIIIIIIIIIIIIIIIIIIIIIIIIII
Trop contente que tu aies eu ton bébé aussi * O *
Ses couleurs sont trop cool *-*
Et gosh sa description j'ai ris xD
Reply

AYYEEEE trop content !!!!!!!!!!!
j'espere qu'il sera ami avec Wasap bee °°
Reply

c'est le 71 pour ce petit bonhomme trop mignon
Reply

so mouche cutnesse in this little guy
Reply

Rare
★★★★☆
☆☆
mask : common (+1)
fur : uncommon (+2)
tail : dragon (+5)
ears : mouse
Tongue : multiples (+4)
stars : very common
horns (+1)
Reply