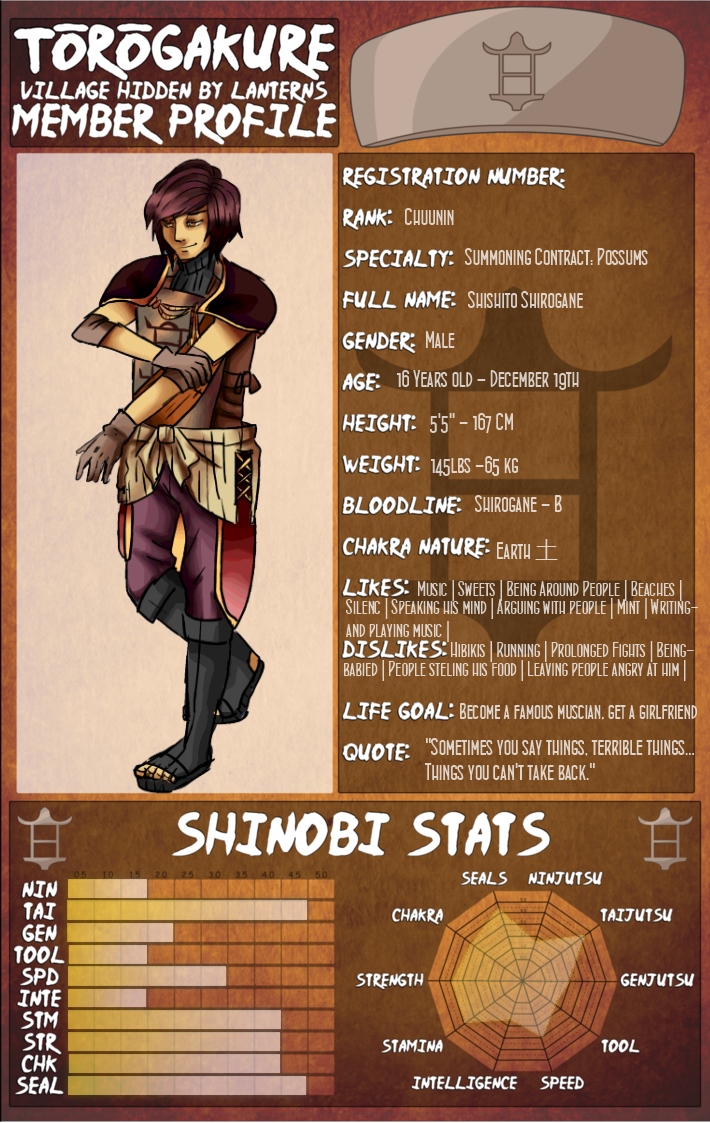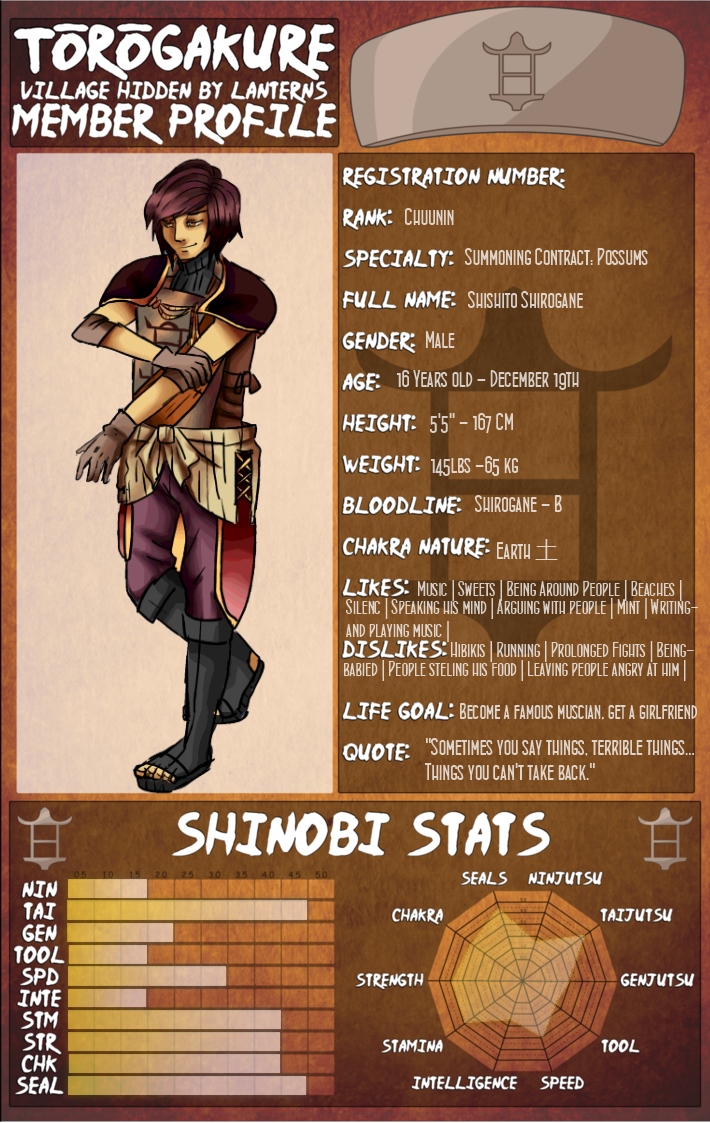 Watch
Edit 4-21-15 New picture and REVAMPING ALL THE INFO (Coming soon!)
Edit 2-12-14 Updated stats
So in response to several questions on my latest poll I had to make a more current portrayal of Shishito after the horrors of arc 10 took place.
Name: Shishito Shirogane
Gender: Male
Current Age: 16
Birthday: December 19th
Height: 5'5"
Weight: 145lbs
Blood type: B

II. Personality Information:
Hobbies: Shooting down people's dreams with cynicism, writing and playing songs in private, going on walks, strength training, sewing trash he has found in the garbage

Mannerisms: Tapping his foot impatiently, speaking fast, Cuddling with his mom and sister (wouldn't admit it to his dying breath though)

Likes: Hanging out with Ren , Being around people (but they don't like being around him because of how cutting his words can be), The Beach, Music, silence, Playing and composing songs, speaking his mind, pushing people, mint, pranks, annoying his poor mother, teasing people, naps, sweets, and sneaking up on people,

Dislikes: Hibikis (They are too loud and obnoxious for him), Running, Prolonged fights, Strategy games, When people can't keep up with his weird thoughts and words, birds, When people actually fight back and bully him better than he can bully them, when his mom gets mad at him, when people steal his food, leaving people angry at him

Inspirations: Tarou Kitsune, Various Musicians of TG,

Life Goals: Become a famous musician, Get a girlfriend, Live old enough to see peace and have a bunch of kids

Personality:


After spending most of his teenage years closed off, rather cruel, and cynical, he lightens up a bit after the second masked men invasion. He has grown to fear being alone and most of all to die alone. He becomes rather insecure with leaving anyone angry because he's afraid he'll never see them again afterwards, so now whenever he makes someone angry he subtly tries to assess whether or not they hate him for whatever it was. He is prideful and stubborn to a fault outwardly trying to put up a strong face after that disaster but it's a bit obvious that the tragedy is making him crumble inwardly. He's stayed mostly to himself and his parents quietly helping them out, not wanting to really venture out much despite the upcoming festival. Goal-wise he has come to realise that if you really want to achieve something, if you really love it, then you don't have enough time to waste denying yourself of a chance. With this realisation he is more vocal about his interest in music making his only long term goal to become a famous musician. He is in the process of healing and reflecting over who he is, not really sure where he's going besides loose goals.

(Will probably revise the personality a bit more to have it phrased how I want it.)

Additional information:
After losing his sister to the explosion in the academy he starts to majorly change and grow up. They got in a fight earlier that morning when he took her to the academy and the last thing she told him was: "I'll never forgive you Shishi-nii!" something he disregarded at the time but now it haunts him. Even though it's irrational he feels responsible for her death because he was the one taking her to the academy, he torments himself over what he could have done different.
He's getting along better with his father now, starting to understand his words more. It helps that his father is staying with his mother and him permanently at this point. He is worried about his father's condition though.
His mother is even more protective of him not wanting to lose her now only child.
He doesn't wish to live independently any more, if he does move out it will only be if he has someone with him.
Will add more to this later...