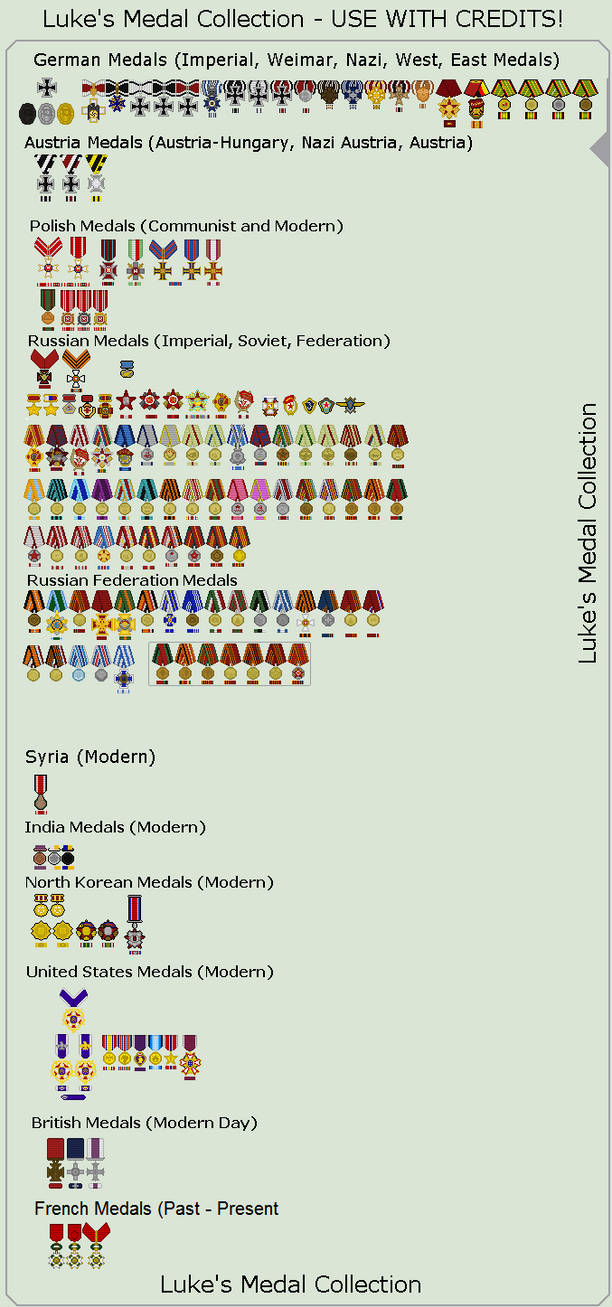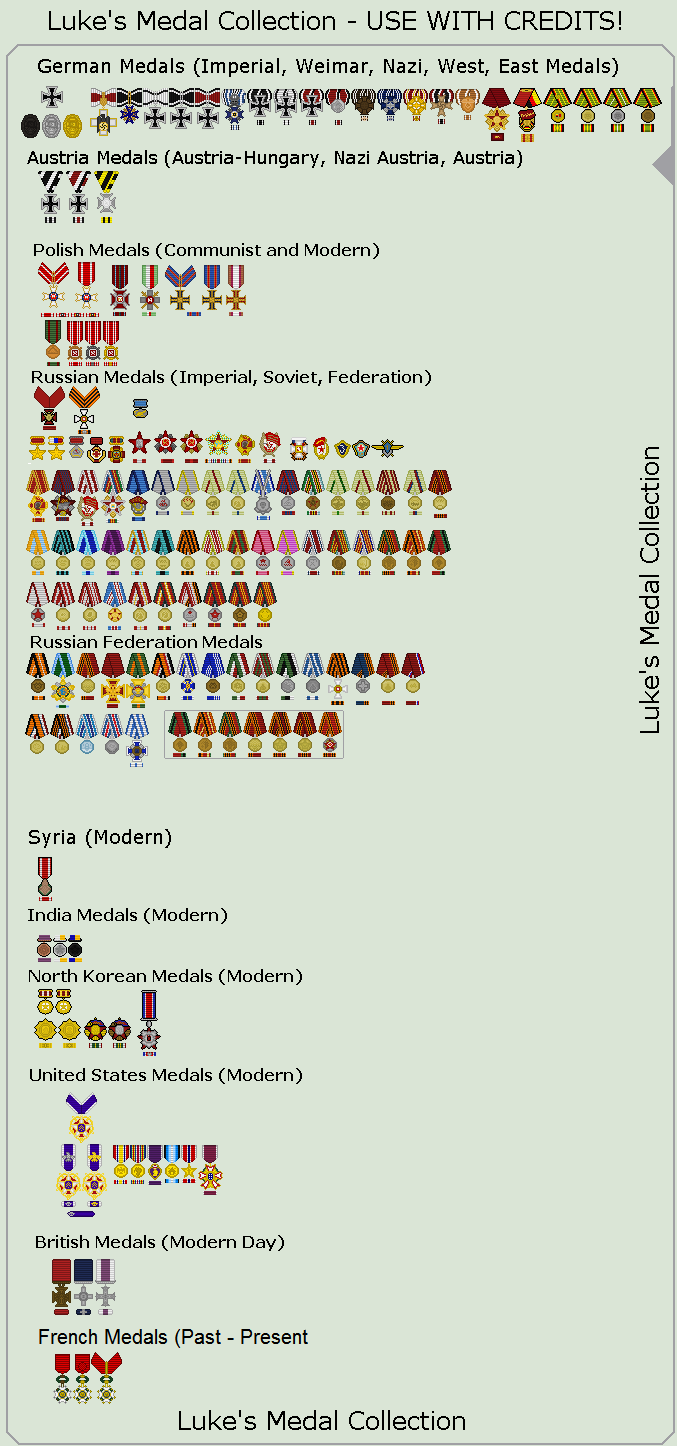 Attention: Luke's Medal Chart is protected by a Attribution-NonCommercial-ShareAlike 3.0 Unported (CC BY-NC-SA 3.0) license. It means you are free to use it as long as you give credit and you are free to make edits to any of the medals as long as credit is made, the license referenced. Uncredited use may result in a DMCA/further action.
A light wind blew over then suddenly a catchy song begun playing... You suddenly realized it was the no one else other then THE MEDAL MASTER!
I'm back with the ultimate medal collection!Update 12/2/15: Added in east-german medals.Updated 12/31/15: Added in Novorossia medals.Updated 1/4/16: Added in more Russian Medals. Yes, AdmiralKim your medals are coming. Just not today. I had alot of work today. They will be started on tomorrow. Admiralkim Syrian, expect the others soonUpdated 4/3/16: Added in more Russian medals (Order of Friendship, Order of Surov, etc) and Russian neck orders at last. I have also added in a header now.Updated 4/26/2016: Added in Indian medals.Updated 6/3/2016: Added in Six new Russian Federation medals and three new North Korean Medals, beginning a new series.HonourableArthur Updated 10/24/2016: Added in new German medals that were Tounushifan 2005 quality, updated to Luke 2016 quality. Also! I am trying a new medal ribbon-style for german WWII medals. Should work with any german medals and on any base. tsd715 Updated 2/9/2017: Added in Four new North Korean medals (Order of Kim Jong Il. Same as Kim Il Sung but his face. Ribbon is slightly edited to make more of a different. Order of Freedom and Independence (First and Second class). Order of Friendship (medal variant, second class. Neck Order will come as soon as more images are found). Ribbons are not a certain at this point in North Korean depictions and may change.) and changed the size of the East German and Nazi and Imperial German ribbons. They are now proper size for an accurate depiction. HonourableArthur tsd715 ComradeMarshal Updated 2/11/2017: Added in Seven new german medals (Nazi Party Pin, Wurttemberg Military Merit Medal, Bavarian Military Merit Medal, NSDAP Long Service Medal 5 years, 15 years, 20 or 25 years, Olympic 1936 medal.) HonourableArthur Grand-Lobster-King tsd715 Updated 2/13/2017: Added in Nazi Germany 1939 device for 1914 Iron Cross and Grand Cross and Knight Cross and Blue Max.Updated 2/20/2017: I was not happy with the previous Order of Lenin so I completely redone it. I was not done with it until I was completely satisfied. Also, the Medal... Honoured Test Pilot of the Soviet Union has been added in. As well as the screwback versions of the Red Banner and Order of Lenin for WWII Soviets and Pre War Soviets.Updated 9/13/2017: Updated with the Presidental Medal of Freedom. Updated 10/19/2017: Updated with a new border, disposing of Mr. Unspeakable's border and giving some new titles for the medals and all of that. And finally. New medals have been added. British Medals. This is a great addition to Luke's medal collection.Updated 10/24/2017: Updated with Austrian medals which include Austrian-Hungarian medals and some Nazi medals that were designed in the Austrian format and The Austrian World War One Service medal. Daniel-Skelton Grand-Lobster-King lordelpresidente HonourableArthur Updated 11/22/2017: Updated with cool, brand new Russian/Soviet medals Grand-Lobster-King how do they look?Project 2018 Goal: To design every medal in the world, and redo medal borders to have no more black-lines and finally work on completing the medal chart. Keep in mind, this will forever be an Work IN Progress because I'm still adding medals when I have time or when I have inspiration. Daniel-Skelton Updated 11/24/2018: Updated with French Legion of Honour Medal in Three of it's 5 classes. Enjoy! More soon!Updated 11/25/2018: Updated with BRAND new Iron Cross and Pour Le Merite and added two new American Medals. National Defense Service Medal and WWII Victory Medal. Also unblack-lined some North Korean medals.Updated 2/28/2019: Updated. Added new medals such as War Merit Medal and West Wall Medal. Updated Polish medals from 2005-quality to 2019 quality so those are new medals too. Removed blacklines on half of all Soviet medals/orders, more to be done soon. Added some new American medals as well. Also, I redid the Order of Victory and made it more diamondy and elegant. Grand-Lobster-King


Also, you can now download this for free. I just made that a option, I thought I did before but I didn't. Sorry guys.
Updated 4/7/2019: Got rid of the cruddy German badges on here and replaced them with high quality badges that are accurate and great. This edition of update was exclusively WWII German. I hope you guys enjoy! Next update in few days about Soviets!Updated 5/1/2019: Added a lot new medals, mostly Russian and Soviet. Soviet Medals are now in order for the most part. Russian and Soviet medals are separated as highly requested. Special WWII Commemorative section is at the Russian/Soviet border with both Soviet-Russian Commemorative medals. And before anyone says anything "omg!!!111 that's MUKOS MEDALS!!! CREDIT HIM !!!!11111" in reference to the green and red line capture medals. No, I made my own with the medallion and different colors.