Well, I've seen you really enjoyed mine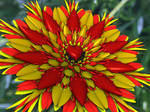 and most of you asked me for tutorial! Alright, here it comes. Be sure you do only amazing pieces with this!! ..

I hope you opened Mandelbulb3D... Now Let's start.. But it's not easy as it seems to be!
1.
Click Fo.2 (2nd Slot) in Formulas window, and insert here Apollo2DIFS - It's located in last (3rd) dIFS collumn! (Under amazingIFS) And now input these values (These are just optional. Different formula can get affected by different rotation, PolyFold, etc.) and change Max. iterations from 60 to 10
Add X1: 0 (keep unchanged)
Add X2: 0 (keep unchanged)
Mul Z: 0.65 - 0.85
RotationX: -1.5 -1.9
RotationY: 5.9 6.4
RotationZ: 0 (keep unchanged)
Polyfold Order: 12-44 (determines number of petals of your future flower, this value range is recommended)
Global XY-Scale: 0,05 - 0.1
Final add X: 15
- 20
Now It's not easy to choose from formulas which decorates flower, or which makes these wonderful petals.... This is just about some simple type! Try experimenting further for putting more Apollos, or transforms for crazy, unussual and of course amazing variations!
2.
In Fo.1 (1st Slot) Put the formula, which forms decoration! I prefer heartKluch, greekIFS, loxodromeIFS, or just heightmap or hexgrid,! It's all up to you. I put in 1st heartKluchIFS and leave it unchanged!
3.
In Fo.3 (3rd Slot) Put (for example) CommaIFS (best for realistic blooms!) But unleash your creativity and use other formula! But you must be playful one and play with most sliders! Okay, So you've got in 3rd slot ComaaIFS! Not looking like bloom? Increase Iterationcount on '3'. Still not looking "bloomy"?!? Let's change the values!!!
R1: 1.275
Scale: 1.275
Z Add: -0.2
Y Add: -1.1
X Add: 1.5
R2: 0.24
Apply Scale+Add: 1 (try switch that sometimes on 0)
R3: 1.175
R Sphere: 0.82
Flip X-Z, Flip Y-Z: 0
Signs: 0 (try experimenting with these! You may reach some real cool stuff!)
And We're done! It should look like this: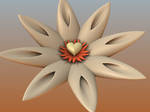 But as I said. It's up to you. Main role is playing Apollo here, other formulas helps make it look real! Hope you like this one and use well!

Can't wait to see your blooms! Comment them if you come up with any nice finds!
Feel free to ask anything! I'm free to help! Hope you enjoyed, use well,
Lukas