Hello everyone! Glad to see you all around! I've been testing new possibilities in Mandelbulb3D and I found easy and clever way, how to save your render time to make fabulous and outstanding pieces. Let me explain you what I'm talking about here!
As the title says, there's a "Mix" mode in DEcombinate function. It remained unused for quite a time. It's time to make revolution.
First of all, let's start with something basic, like
bulbs
! I will explain each step and every single thing to make you understand the technique! Ok, Let's go.
I suppose you already opened your Mandelbulb. And now:
1.
In first formula slot place
_AmazingBox
formula, and keep it unchanged for now.

2.
In second slot, place
boardIFS
formula, and keep it unchanged as well.
(Note: At Step 2 and 3 DO NOT OPEN Navi yet)3.
Now what we exactly need to do is turn
DEcombinate
on and choose
Mix
mode!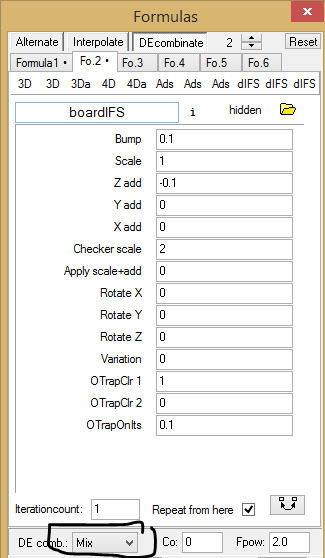 4.
Here comes the tricky part. Still don't open navi window, you won't see anything, just boring orange screen. This step is really important and it speeds up everything right away. Set the values similar to these.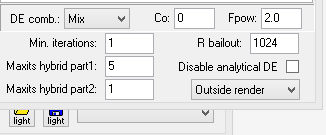 In DEcombinate Mix mode first formulas part are escapetime formulas. These formulas are only used to generate the vectors/coordinates for the second part (IFS Shape Forms). The result in rendering are only IFS Objects deformed by escapetime part, which instantly boosts render time thanks to low iterational count.
(Note: Do not expect fast render at some formulas, which takes longer to render even if they're already iterated low.)5.
If you open navigator now, the parts will be already visible, but we can still see the orange mess. Let's play with the
_AmazingBox
now! Apply similar values.
Scale: 1 - 1.8, MinR: 0 (completes bulb shape)
and zoom in! You should get something like this: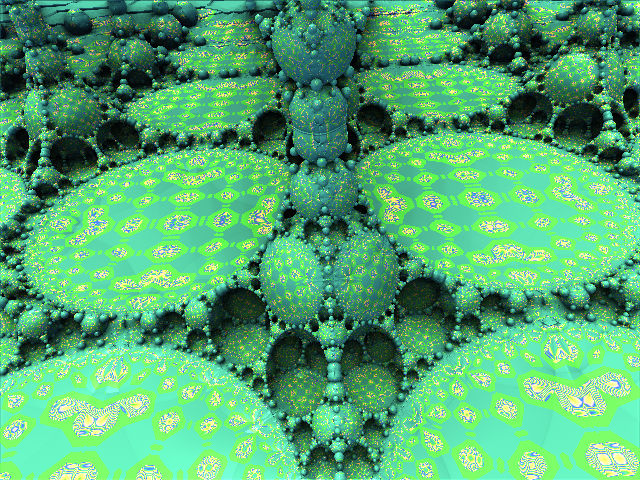 Quick Fact
: This image took less than 3 seconds to render.
The basic part ends there but of course you can use different dIFS shaped formulas to make unique and stunning shapes. Let me show you quick example:

Of course everything is possible here, move the dIFS far to the end and modify your
_AmazingBox
shapes with Ads formulas!
(
Note:
Everytime you move dIFS formula to next slot, you also have to switch the number of combinated formula.)

)
Wrap Up & FAQ
1. How is it possible that escapetime works with dIFS to make complete fractal shapes?
A: As described above, It's ability of Mix mode. Escapetime formulas are used to generate the vectors/coordinates for the second part (IFS Shape Forms). The result in rendering are only IFS objects deformed by escapetime part.

2. Why is the render faster than normal dIFS or Escapetime renders?
A: For normal escapetime render, is needed 60 or more iterations to make detailed image. In dIFS, the iteration count may be lower, but mostly can result in way longer render time. Simply, the render time is faster thanks to low iteration of both formulas working together in Mix mode, but remember that this don't need to be for every formula combinations.
Tips&Tricks




As explained in the helpful resource, you can endlessly explore the Mix Mode fractal world with many other and inspirational possibilities!

If your tutorial wasn't going so well and you didn't succeed, then check THIS stuff that may help you out!


CREDITS

Please go thank these wonderful people who contributed to this journal, they're all awesome!
Tutorial Contributors:
matze2001: Mix Mode Explantation + Explantatory Picture Resource
bezo97: Beta-tester
batjorge: Beta-Tester and Parameters Provider
So today you've learnt something new! Who knows what will be next? Time will tell! Thanks to everyone who did read and used this tutorial to make flawless pieces of art! Have a great time and see you next time!