Hello people! Nice to meet you there! Hope you'll enjoy!

I got truly inspired by

's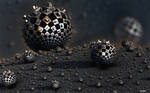 Mechanical spheres and also by


, then tried on my own, and liek why not? They're awesome!

Who wouldn't like them?
Let's begin!!!

Open Mandelbulb3D! (So exciting already

) and follow my steps!
1. As first formula pick _Fold45single and leave it unchanged (you can try experiment after all things done then)
2. 2nd formula MUST be Amazing Box and input these values:
Scale: 1
Min R: 0.0
Fold: 0.5
Iterations: 20 - 35

Still not anything magical!
3. The third formula wll affect the shapes and varies of these spheres! You can use whatever you want, experiment, but there for inspiration i use koch_cube and left it unchanged for now.
4. next formulas is going to be again _AmazingBoxSSE2 (or Amazing Box) but i prefer first one, and put these values (they're optional):
Scale: 3.0 - 3.5

Min R: 0.5

Fold: 1.0 - 2.0

Iterations: 5 - 10

Now Is time to turn Julia on choose values, which fits your spheres!

X: 0,005 - 0.2
Y: 0.05 - -0.25
Z: -6.5 - -8.5
You can try removing and replacing the box for brand new varies of spheres and fractals! Let me show you some example i made: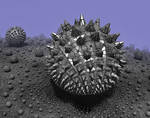 ,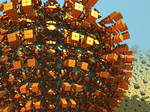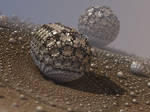 These are only examples! I bet you can do way better! See you next time,
LukasFractalizator