Aline and I have meet up and discussed about what characters were the best. We have received many entries, much more than we expected - 37 in total!
It was hard choosing the ones we liked better, everyone did a great job. We gave more attention to character development than design alone. Of course, a good design did help, but biography details came first.
After much thought and analysing, we're pround to announce the winners!
And they are . . . . .

















1st place:
LqLuk
's Hazel and Lily,

















2nd place:
MadMaddie
's Daeye and Nyte,
:thumb110387104:

















3rd place:
kyuumu
's Stiltz,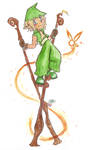 Risen-Art
's Deku Mushroom,
:thumb109840636:
That's right, a tie!

















Congratulations to the winners, you did a wonderful job! Go to the
Contest rules page
to check what you get, and send Aline and me a note telling us what you want!
And to the ones who didn't make it, don't be sad, all of you did great!
If you are interested in seeing all the entries, go to my favorites and look for the
Zelda Contest Entries
folder.
Thanks again for all your support and congrats to everyone who entered!