My name is Georgia and I am a hobbyist artist. I am studying Art and Graphics at school and hope to go into animation and cartoons.
I am known for drawing things based on the Super Mario franchise. I have my own AU that mostly revolves around my two favourite characters, Luigi and Yoshi. I ship them for whatever reason, but hey, I couldn't resist it.
I also like Disney, and I've been watching films since I was young. My current favourite films are Zootropolis and The Good Dinosaur. I do artwork based on other films too, but not as much as Super Mario. I also like BBC's Sherlock.
I mainly like Animation, but several genres I also like are Crime, Adventure, Action and some Fantasy.
I have a taste in music that goes back a few years, maybe a couple of songs from decades ago. Genres I like inclue Pop, Soul, Indie, Dance, Electronic, Club, Folk Rock and Pop Rock. My favourite songs at the moment are Fake It by Bastille and Nevermind by Jess Glynne.
Enjoy my page!
Fan of FNaF? Then check out my second DeviantArt account,
Springtrap2210
! I don't upload very often at the minute, but have a look.









These are people who can get a request whenever they like! They are very good people and I also recommend you look at their amazing artwork!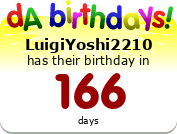 Favourite Movies
Zootropolis and The Good Dinosaur
Favourite TV Shows
Sherlock, The Walking Dead, Supernatural
Favourite Bands / Musical Artists
Mumford and Sons, Gorillaz, Jess Glynne, Bastille
Favourite Books
Whispers in the Graveyard, Sign of the Four
Favourite Writers
Sir Arthur Conan Doyle
Favourite Games
Mario + Rabbids Kingdom Battle, Mario Party 10, Luigi's Mansion 2, Super Mario Odyssey, Mario Kart Wii, Mario Kart 8, Super Mario Party
Favourite Gaming Platform
3DS, Wii, Wii U, Switch
Tools of the Trade
Photoshop, Prismacolors, Promarkers/Spectre Noire, Watercolour paint