Journal Entry:
Mon Jul 19, 2010, 1:14 AM
RULES

These are my prices for private commissions only. These commissions are for personal use, that may not be reproduced, or used for any commercial purposes. If you have any doubt about usage right, please asking me before commissioning me.

In addition of the original pic, the commission is released as a
high quality 300 dpi digital file
, for your personnal use only : this file can not be shared publicly. You will received another version, in low quality with watermark if you want to share your commission publicly. I reserved myself the right to share this low quality version on my social media.

About the original to be sent :
I AM NOT RESPONSIBLE IN ANY CASE IF THE DRAWING IS DAMAGED OR LOST DURING TRANSPORT.
My illustrations are systematically sent under plastic and rigid envelope. If you think I'm dishonest, thank you to simply not ask for the original piece.
When HD file is sent, you can change your mind about the original piece : monney for this postal mailing will be refund. But AS SOON AS THE HD FILE IS VALIDATED, YOU WON'T BE ABLE TO ASK FOR ANY REFUND.

I only start the commission upon receipt of a deposit of 50% of the agreed price, and deliver the order in HD and by post only once the totality of the payment made.
You can decide to pay full price before the start of the order, then you will enjoy all the steps to validate in HD without watermark.
Waiting list :

Nine-O-PoppyBox
(Hakim and Anjali /
COLORS ACRYLICS A4 /
In progress)

OceanLord
(Alean and Ana/
INKED BUST A5
)

tain669
(? / ?)

Mangsney
(? /
SKETCH PORTRAIT )

VERITEd
(? / ?)

About commissions :
Mail : ludimie[at]gmail[dot]com
Copy, complete and send me by email -named "commission"- the following list, please :
-Type of commission :
-Character's name :
-Links of references pics (appreciated) :
-Age :
-Small / Medium / Tall :
-Meager / Thin / Medium / Big / Obese / Muscular :
-Skin / Eyes / Hair / Clothes shades :
-Particular sign :
-Personnality :
-Description of the pose / expression / situation you want on the com :
I WILL NOT SELL :
-Focus on genital parts, whatever the pose
-Realistic portrait or realistic animal
-Fanart on characters under copyright
PAYMENT :
Paypal,
fees are your charge
.
Prices :



SKETCH PORTRAIT : 20€ per character
Step validated by you : Research > Pencil line

No original sending
INKED BUST A5 : 60€ to 75€ (depending on the details) per character
Step validated by you : Research > Pencil line > Ink line

Discount* :
15€ per bust
---
BALL POINT PEN DRAWING A4 :
90€ to 110€ per character (depending on the details on clothes and darkness of the hair) , 2 chara max per commission, background is included
Each step is validated by you : Research > Pencil > Ink > Shading

Discount*: 25€
Examples 220€ (110€ per character)


---
BLACK ACRYLIC A4 :

1 character : 90€ to 110€ (depending on the details)
Each step is validated by you : Research > Pencil > Ink > Acrylics

Discount* : 25€
Example 110€



2 characters : 160€ to 200€ (depending on the details)
Each step is validated by you : Research > Pencil > Ink > Acrylics

Discount* : 25€
No example


1 Character : 120€ to 140€ (depending on the details)
Each step is validated by you : Research > Pencil > Final pencil or Ink > Acrylics

Discount* : 25€
Example 140€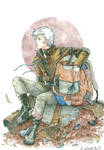 1 or 2 Characters with full background : 230€ à 260€

Each step is validated by you : Research > Pencil > Final pencil or Ink > Acrylics

Discount* : 30€
Examples 230€
(*These discounts are for customers who leave me the original pic. However, this is not the shipping rate that I always take my charge.)
Deadline :
03/31/2019

Nine-O-PoppyBox
> Research 100% > Sketch 100% > Ink 0% > Painting 0%