Good afternoon, all!
This morning around 8:00 am I was woken up by the sound of fire engines-- turns out a neighbor's house was on fire! Don't worry, it was called in early and just some roof and other minor damage…
So I'm up, and I'm going though my typical Sunday motions: what's for breakfast; when are the Phillies playing today; how much e-mail did I get; what am I gonna draw for a warm-up… And while I was checking out all things on my computer, on my DeviantART page I saw that it was

birthday today! This immediately put a smile on my face-- I've been following the dear Captain for a couple of years now, and the one thing I enjoy about her artwork-- it's always fun! She used to have a a self portrait of herself as her avatar on DeviantART, and although she's changed it, it's still in her gallery: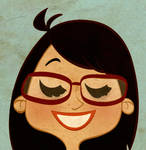 So it hit me-- I'm gonna do a birthday sketch of the Captain!
I was all set to do this pirate motif with her in the "Seinfeld" puffy shirt and buccaneer boots so wide Alex Toth would be turning in his grave, when I realized I didn't know what color her eyes were! Y'see, at this point I was going to go all out and do it in color… And her avatar has her eyes closed, so what to do? I could just go and make a guess, but then I remembered she's posted photos of herself on her Tumblr page! By the way, her Tumblr page is captainchants.tumblr.com/
Sure enough, I found her eye color in a snap! Then I realized it's been a while since I've looked at her Tumblr postings so I spent a minute or two (or thirty) looking at her stuff when I noticed a photo she posted of her rockin' new kicks and there caught my eye, a small tattoo of an anchor on her left ankle!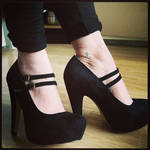 I knew immediately what I had to do. No pirate piece today, kids, although you can see my rough sketch here: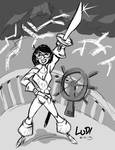 And the new birthday piece was created… no pirating, just a cute piece with her ankle tattoo (and her rocking' kicks, just cause!).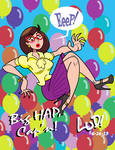 So wish

a happy birthday, and take the time to look at her marvelous (and FUN) artwork! And since I've been lacking in my journal duties, she's also my "Shecky of the Month" for June! I know, I know, what about April and May…?
I gotta get food in me, and watch the Phillies, even though they suck this year…!
Lud

AHHHHHH aha omg you are amazing!!

I very rarely check my dA page these days, so I'm sorry for the somewhat late reply : ( BUT THANK YOU SO MUCH! Definitely brightened up my day, and I shall be tweeting/Tumblr-ing this FOR SRE!!!

What an awesome morning!!!