I have a bio! W00t!
Name: Maddy
Gender: Female
Birthday: 10/30
Age: 14
Height: 5' 7"
Weight: 130 lbs.
Eyes: Dark Brown
Hair: Dark Brown, long (a little past shoulder length)
Ethnicity: Caucasian/Chinese/Indonesian (I look like your average white kid, though)
Hobbies: Drawing (it's not exactly a skill, but I love it), acting, innuendo, sleeping
Skills: Herping the derp, catching things (yes, it IS a skill), sarcasm, technology
Current Obsession: Blame!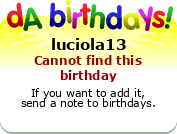 :thumb65092315: :thumb66280280:

:thumb83862769:





:thumb163240285:


Current Residence: The Megastructure...teehee
deviantWEAR sizing preference: Probably small.
Favourite genre of music: Electronic, Drum n' Bass, Dubstep, House Dance
Favourite photographer: Rodney Lough
Favourite style of art: Dark, Manga (NOT the cutesy, sparkly-eyed kind), Nihei-esque stuff
Operating System: Mac OS X 10.6.5
MP3 player of choice: IPod Touch (3rd gen)
Shell of choice: ...what?
Wallpaper of choice: Screensaver (add-on)
Skin of choice: Mine
Favourite cartoon character: Killy, Guybrush Threepwood, Gir, Dio
Personal Quote: "I am so godly that my 22-foot boner is packed with ranch sauce."