Update!: Sorry we have been inactive the past month. You can add your Artwork again that was not approved before. 26/06/2019. Thank You. Admin

This group does NOT accept every submission. Do not be upset and leave if we decline your work that does not fit the group. PLEASE DO NOT SUBMIT TO THE FEATURED FOLDER, SUBMISSIONS THERE WILL EXPIRE WITHIN A DAY - CHOOSE THE CORRECT FOLDER ACCORDING TO YOUR WORK'S CATEGORY. THE FEATURED FOLDER IS FOR RANDOM IMAGES. WE DO NOT WANT High-Quality ART BETWEEN RANDOM THINGS. WE MOVE THINGS REGULARLY.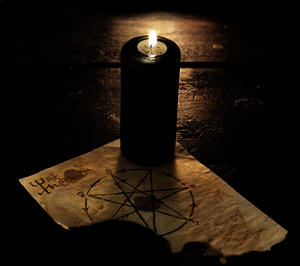 About the group:


Only in the grip of the Darkness you will shine amidst the brightest stars. Luciferic-Shadows is a home for High-Quality Dark Artists with tendencies towards the Occult & Mythology. Check our Gallery Folders to see what kind of Art we accept then read the rules before joining. Everything must be Dark. Luciferic-Shadows is diabolical.

Mythology in Luciferic-Shadows focuses on Horned Gods, the Dark Goddess, Vampires, Dark Angels and Demons in addition to Witches and Wizards, and the Pagan theme.




Who/What is Lucifer ?

Read this part if you are interested or just skip to the Rules And Guidelines section.

"If Luna [Selene the moon] is a goddess, then Lucifer (the Morning Star) also and the rest of the Wandering Stars will have to be counted Gods as well." – Cicero, De Natura Deorum (Roman C1st B.C.)

Often misconstrued as being Satan. This group does NOT adhere to the popular biblical beliefs regarding a fallen "being" called Lucifer, even though the biblical story inspires many of us here. We go way back to the origin story from Sumeria, the Land of Khem, and Ancient Greece. Lucifer in this group is a title for 'MANY' morning stars deities.

Lucifer comes from the Latin lux "light" and ferre "to bear or bring." This group shows The Adversarial Light.

Lucifer is the Latin Luciferus, the light-bringer, the Morning Star, equivalent to the Greek Phosphorus-the name of the pure, pale herald of daylight.

Luciferic-Shadows is originally a group with a focus on the path of apotheosis, sometimes referred to by outsiders as the esoterica or "the esoteric religion." which is a collection of ancient pantheons. In Luciferic-Shadows, Light and Darkness are equally important, exactly like the Sun and the Moon. The term "Lucifer" is a Latin word meaning 'Light Bearer.' It is a term for the Morning Star and it is related to the Planet Venus and the Air element.

Inside the pagan circles, Lucifer is related to Aradia and Diana. We acknowledge this particular "Pagan root." It is often refereed to as "the Gospel of the Witches." which is Italian pagan witchcraft tradition.

In Greek mythology, Lucifer is the Lord of Phosphorus; another manifestation of Prometheus. Lucifer in some traditions is a form of the "Adversary" against the Lords of the righteous. Lucifer is an enlightened rebel who opposes the jealousy and severity of Zeus-Jehovah. Lucifer manifests in the feminine masks as Aphrodite or Ishtar/Astarte and even Hecate; the primordial goddess of the planet Venus. In the Roman myth, Lucifer is the son of the Goddess Aurora. The Light Prince existed in all ancient pantheons. Neophytes are encouraged to find their "own connection" in any of these traditions.

We recognize "Lucifer" as the Spirit of the Air; meaning spiritual matters, and this Spirit is known in the Luciferian Aeon as a kundalini Serpent, the Daimon, or inner flame, which is the spark of consciousness and the True Will. This Luciferian "substance" has been in existence in all ancient cultures. Some refer to Lucifer as the Acausal being in a theistic matter; a deity. Some see Lucifer as the "Higher Self" while others see Lucifer as an archetype, a metaphor, or a symbol of enlightenment, wisdom, and apotheosis. These are "models" used to approach the same goal in the Aeon of light. Lucifer initiates into the antinomian path, so called Left-path or Vamachara. Also, commonly known as the Left-handed attainment.



How to Join Luciferic-Shadows ?

This is an artistic and social group for those interested in the Luciferian community.

Accepting members is based on your artistic style. We are looking for artists of a dark and surrealistic nature. You MUST be able to contribute to be a member here.



Luciferic-Shadows Policy:

Be respectful. This group does not tolerate hostility towards others based on their race, religion, ethnic origin, sexual orientation, disability, or gender. A violation of this rule will get you banned. If we find something on your journals, page, submissions that conflicts with this policy, you will be notified why you were removed from the group. Please refer to Submission Policies on deviantart.com for more information on restricting Hate content.



Rules And Guidelines:

1. Only Dark Art is accepted here. Non-Dark Artwork will be declined. Sometimes we make some exceptions for Angelic Art (Watchers), depending on the Quality of the Artwork. Things that are not Very dark might get accepted only because of the "High-Quality" of the Art.

2. We do NOT accept any religious and political content; all things here MUST be artistic in nature.

3. No animal/human abuse of any kind.

4. We do NOT accept "pornographic" content. Only Mild and "artistic nudity" is acceptable here. Nudity for the sake of nudity also will be declined.

5. No CD covers, No zombies or clowns, No Landscapes, cartoons, Anime, Manga, guns, cars, fairies, NO extreme abstract art (except for Occult Art and its symbology), No distracting text on images. No sketches or unfinished Art. All submissions must be in an appropriate size; avoid showing body parts such as hands, eyes, or faces alone. (This also includes skulls. We no longer are going to accept Art that shows a skull alone.)

6. We do NOT accept every submission. So be creative! Luciferic-Shadows follows a very specific dark theme based on Occult philosophy. Dark art that is unrelated to "the Occult theme" is not guaranteed to be accepted in this group. This group reserves the right to accept or decline the submissions based on their Quality. We accept all skill levels from Beginners to Professionals.

7. You MUST give credits to your models or stocks.

8. Please, do NOT submit more than 3 Artworks per day.

9. Submit your artwork in the right folder. Not all admins can correct the right folder for you so make sure you know where to add your Art:

• Dark drawings and paintings: It is for Both Digital & Traditional Art.

• Angels Photomanipulations: Creatures of Light: Rebellious Watchers.

• Dark Angels Photomanipulations: Dark Angels Only.

• The Dark Goddess: Anything related to the Divine dark Goddess. (Ex: Babalon, Kali, Hecate, Lilith, Luna, Astarte, Selene...etc...)

• Beautifully Horned: Beautiful art with horned characters. We love them a lot!

• Dark Photomanipulations: This is our main theme. Anything that is Dark. Your models are usually humans.

• Macabre & Horror is your "Darkest" Artwork. Very scary things!

• Vampires Photomanipulations: Here is where you show Artwork with BLOOD.

• Emotional & fantasy Photomanipulations: Please, your work should have dark emotions, elements, or dark tones and colors. Because we are a Dark group, we may accept, or reject some of those. Beautiful Gothic Art is welcome.

• Dark Photography: It should have a model/person in the Photography. It can be stock, personal images, or haunted objects. It must be dark to be accepted. If you Submit images that are almost identical; we will make a decision to accept only one of them. Do not add images of buildings, trees, moon, tombs, and call it Dark.

• Literature : Your Darkest thoughts, poetry, and Occult philosophy. (Please no real-life issues.)

• Occultus: the Occult: Anything occultish, esoteric, witchery, or related to Altars, Magick, Tarot Art, Symbols and Sigils, Crafts, or Magickians.

• Satanic Gallery: We are of the very few groups that will give you some space for Satanic Art. Please make sure images follow the Luciferic-Shadows Policy; Satanic Art does NOT necessary mean nudity. Unpleasant or provocative Art will be declined. Everything else, we recommend clubsatan www.deviantart.com/clubsatan.

• Demons Gallery: Possessed people or related to intelligent Spirits, beings, or forces.


Luciferic-Shadows Team,

Images here do NOT necessary represents the Luciferian Aeon. This is merely an artistic group that respects Art itself. Luciferic-Shadows is NOT linked to any coven, lodge, temple, church, or organization. It is independent work made to celebrate the Aeon. For any questions about the group or rules, you can note/PM the admin, or leave a comment.

Written by Admin Lvcifera. ©2018 DeviantArt. Luciferic-Shadows. All rights reserved.