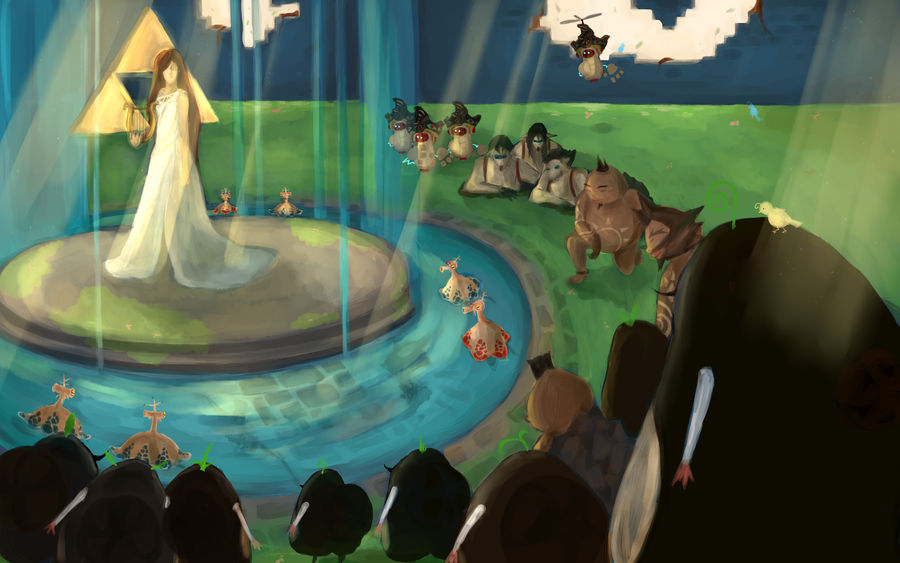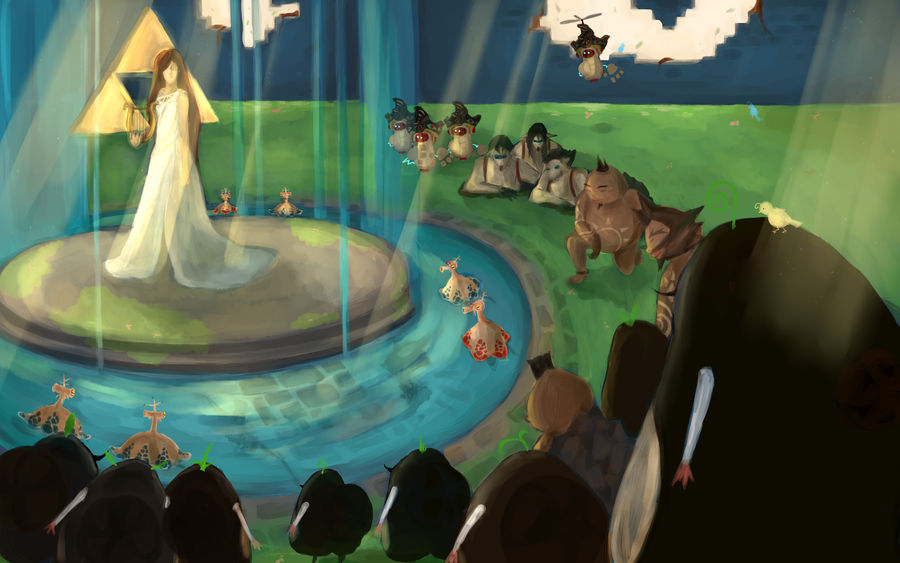 Watch
For a Zelda-themed calendar contest; If you're interested, check it out!:
[link]
ASDHJKFGHJL
I'm so glad I finished. This is the longest I've ever painted something so huge.

I am very proud of it though! I feel successful and happy.



So, I painted this particular scene to show that moment when the goddess Hylia was given the task of protecting the Triforce. There and then, Hylia turned to face the five tribes of the surface who bowed to their goddess and protector.



I have nothing against Hylia, but Nintendo just threw a monkey wrench in an already complex and perfect story concept by making Zelda a Goddess reborn, especially considering they made up a whole new Goddess that we've never seen before, I mean, they never MENTIONED Farore, Nayru, or Din except for the Silent Realms, they even refer to their deity as the Goddess! Singular! There' no clear idea on exactly WHAT Hylia represents either, just that Hyrule is named after her and her hero has an unbreakable spirit, which we ALL already knew. And isn't Link supposed to be FARORE'S Chosen Hero? Not Hylia's? I mean the Triforce of Courage, wasn't that generally considered to represent Farore while Nayru was Wisdom and Din was Power? What's that mean for the rest of the timeline! I like Hylia, but Nintendo is pretty much tearing apart the entire History of Hyrule's creation, something we ALL have seen several times that say pretty much the EXACT same thing, by adding her. I mean, where did she even COME from? I just, there too many gaps and paradoxes to have Skyward Sword and Hylia as an actual part of the Zelda timeline without completely ripping the fabric of what makes a Zelda game and causing all sorts of confusion. I'm sorry, but I'm saying that either Hyrule's ENTIRE history is completely wrong about the Goddesses, completely forgot about the Goddess Hylia who sacrificed her immortality for her people's safety (Yeah, that's being really grateful isn't it?), or there is some Alternate Universe in which Hyrule only has One Goddess and people live in the Sky! (Old Fashion Zelda fan side of me just flared up at the sight of her when she revealed that Zelda was the Goddess Reborn)
Reply

Great entry I first didn't notice that it's inside but then saw the holes in the wall. A really good idea creating a lot of atmosphere. I love the light on Hylias clothes the very bright shining part next to the one in the shadows, you should develop this painterly style/keep using it.
I also like a lot these little details like on the robots and the Parella and the cracks in the wall. I can't tell why exactly but that part of the robot on front of the hole of the wall really catches my eye. Same for Hylia, the picture has many parts that even just on their own would make good pics.
Reply
Absolutely beautiful. Wonderful job.
Reply

omg this is really AMAZING!!

Reply

That game makes absolutely no sense as the other races were created around the same time as the Hylians and besides the gorons they're nowhere to be seen. This game is just OoT sloppiness all over again.

And didn't TP mention something to the effect that the Hero was the one that protected the world of the mortals from the gods actions? And didn't this game imply that the Master Sword was always his sword even before the events leading up to the game? And if we take what this game and its prequel manga implies about the sages being gods and what OoT states about why they exist then there's really no reason for this game to ever happen.

I've done a bad thing here but I can't help it when I see good art for horrible games. It just feels like your promoting bad behavior.
Reply
This is just my interpretation and imagination at work. And, even if there's flaws, I still find time to enjoy it as a Zelda game. Also, I feel peaceful-looking art does not promote bad behavior. I think violent art would promote bad behavior.
But, well, thanks for your input and knowledge as a Zelda fan. Thank you also for favoriting my art.

Reply

I don't know where Ether is getting his information from, but it looks like some pretty inaccurate, twisted personal opinion more than it looks like canon facts from the games. I don't remember Twilight Princess mentioning anything about the Hero protecting Mortals from the Gods, and even if it did, I can't take a game that basically says the Hylian prerace was chickens, that seriously.

Skyward Sword NEVER implies that the sages are Gods in the case of ONE obvious incarnation, who has little to nothing to do with the Sage in question during the OoT age.

Yes Ether, you have done a bad thing. I'm sorry but your whole comment is just a personal hissy fit. You commented rudely to a good piece of art, to complain about YOUR opinion/interpretation on the games- one that isn't going to be shared by the whole community. In the end, it just looks like you're bitching at someone for making a nice drawing of something YOU don't agree with. Doesn't that make you the one who's promoting bad behavior?

I don't see the point in commenting like this. lucastea's art looks gorgeous, and sticks to the game it's self. I love it. :3
If you don't, and can't post something constructive about the work it's self, then shut it.
Reply

Reply

Reply