Hey out there, I'm LucasClanCat, also known as ColoradoContraptions on YouTube. I'm a student who's studying music performance and composition, as well as Engineering with a specialization in Mechatronics at CSU Pueblo.

I'm an artist of music, although occasionally I do actual drawings, digital art and 3D models as well, mostly when I have time to teach myself via the interwebs. XD

:3

I also love tinkering with contraptions and projects, so I'm almost always building some sort of device, whether virtually, in reality or just improving parts of buildings.

I LOVE THE WARRIOR CATS SERIES BY ERIN HUNTER!
XD :3



I also can't get enough of Phineas and Ferb... I KNOW WHAT WE'RE GONNA DO TODAY!


And My Little Pony: Friendship is Magic is simply epic, and adorable... I cannot get enough ponies haha!
Anyway, feel free to check out the random occasional visual art I post here, the videos and art I post on YouTube, and my epic music on YouTube, Soundcloud and my website.

The places you can most easily find out what I've been up to include:

YouTube (As ColoradoContraptions)

Steam (As LucasClanCat)

QuizUp (As LucasClanCat)

My website (Link below)

Google +

Wattpad (My various fan-fics and original stories)

Soundcloud (Where I post my music)

FiMFiction (I'm beginning to write MLP fanfics, but they might take a while... loads of ideas and not a lot of time hahaha!)

Minecraft - As OneWingedWarrior (My skin looks like Rainbow Dash from the alternate timeline and the war with King Sombra)







Have fun checking out all the awesome ideas I develop, and thank you for supporting me in any manner whatsoever!

:3



What Element Of Harmony Are You?
Hosted By theOtaku.com: Anime



What Kind Of Pony Are You?
Hosted By theOtaku.com: Anime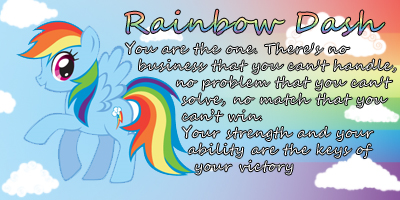 Which Of The Mane Six Are You?
Hosted By theOtaku.com: Anime