Navigation

The Rules

Glossary

Coming Out Stories

Internet Safety Tips

Pride Flags Explained

Celebrities

Meanings of acronyms like LGBT

Asexual Dating Sites
What is multiple gender attraction?

In order to understand multiple gender attraction, one must first become aware of the many genders that exist. Transgender, genderqueer, bi-gendered, androgyngous, intersex, and gendervariant are all examples of genders other than male and female, though others exist in addition to these. Multiple gender attraction is romantic, emotional, physical, and/or sexual feelings towards more than one gender. It can be attraction to males and females only, as many bisexuals identify. It can also be attraction to all genders as omnisexuals and some pansexuals identify. Others would describe themselves as gender-blind, attracted to their partner for their individual characteristics and not their gender, as many pansexuals identify. Multiple gender attraction comes in many forms, but it has one thing in common: love sees no gender.
About LSNG and Our Focus

Love Sees No Gender is a group about pride, awareness, support, and the arts. Our focus is multiple gender attraction as well as those who are questioning their sexuality and exploring their attraction to different genders. We also include polyamory as part of our focus, though we recognize that polyamorous people are NOT necessarily attracted to more than one gender. In addition, allies are an integral part of our community.
Featured Artist
Every now and then, we select a member of the group whose artwork reflects talent and who shows pride in the community to be the Featured Artist of the moment. We pick one of their works to display in the next blog as well as put up a short description about them and their work. The Featured Artist also receives
10 deviantART points
as a prize!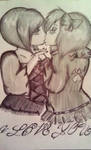 I Love You
by
Wolfbleedingdarkness
Wolfbleedingdarkness is an artist from the United States who specializes in chibi drawings. They're incredibly adorable, and that's the way she likes it! In addition to the chibis, she also writes poetry and prose with passion and skill. She is totally smitten with another deviantART member and has a whole folder dedicated to the girl she loves. Awww!