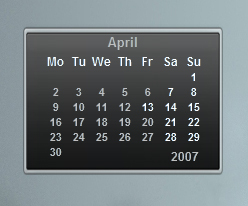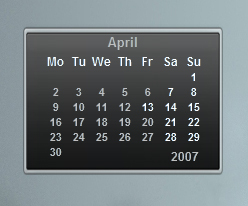 Watch

i was thinking of adding the titlebar section with the default buttons to navigate the rainy.
Reply

nice - i'm using it - but have you thought of adding buttons and other backgrounds to todo and such? let me know - we can work together.
Reply

...thanky a lot for your effort trying to help me with the buttons!!!!
I realy appreciate this a lot!!!!
Reply

simple but bold. the way i like it.
nice job!
Reply

Reply
This is a great skin, however, I seem to have some trouble with it. I installed it and it looks amazing, but when I move my mouse over a date I have scheduled in, the text is black, so I have a black bubble pop up, with black text, so the only way to read what I have to do that day is to right click and "edit" the day.

Any suggestions as to what I can do to fix this??
Reply

...it has nothing to do with my rainy, its your configuration in your Rainlander program (the mouse over part)!!!
Reply

Clean, simple and stylish!

Reply

...yes, I thought it`s time to do something totaly *unfancy*!!!
I also like the clean and symple things!!!
Reply

Reply