Decoding Daily Deviations is the series that aims to unlock the secrets of what it took to create these magnificent artworks and motivate others to work towards similar recognition. Each week we will present an interview with one artist who has recently received a DD and have them share the details on that specific piece, relating to their creative process, techniques, and narrative inspirations. If you've ever wanted to know more about a beloved artwork and the talented skills applied to it, this is the series to keep track of!"
FEATURED ART:
Roth by
Asahisuperdry
DD DATE:
2016-09-15
TIME SPENT:
3-4 days
TOOLS/PROGRAMME:
Photoshop CS6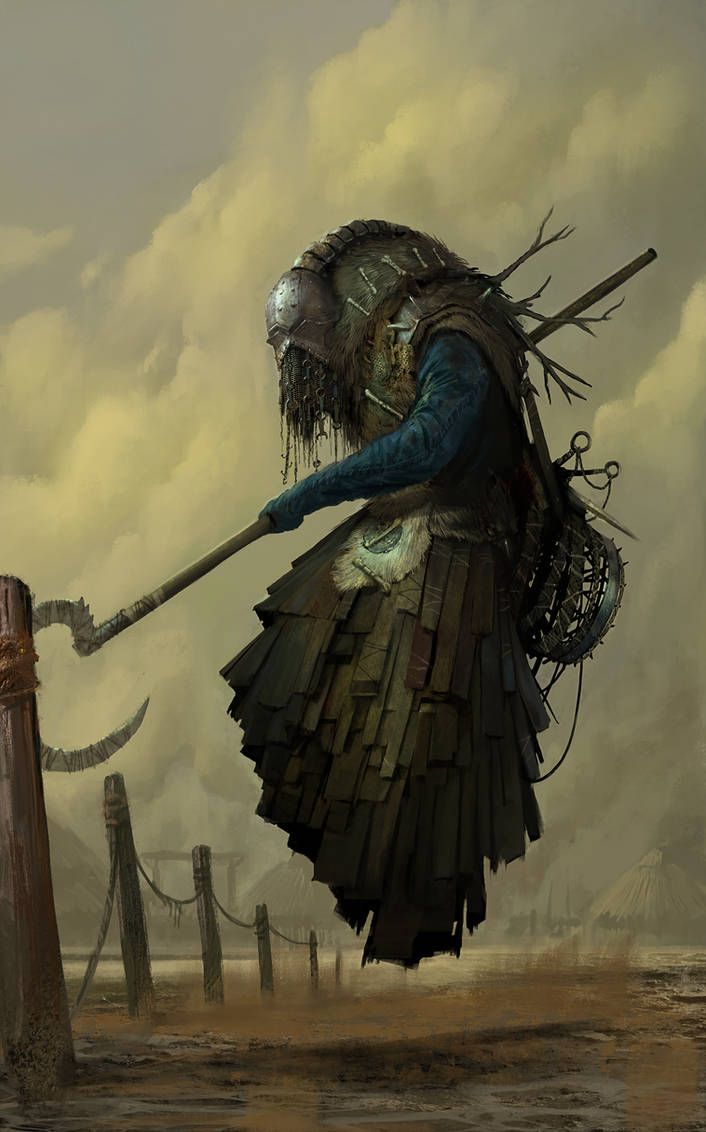 Share with readers the details of how this piece came into being. Did you have a clear story idea/inspiration from the beginning?
Hi there! Well, we do a bi-weekly art jam at the studio, where everyone draws on a specific theme, and this time it was "vegetables". Yeah, vegetables .... I did a great job, don't you think? Joking aside, we can be very loose with the theme, and at that time I had just finished another piece, "Erin", which is the god of the sailors, so I figured I wanted to do another god in the same universe, that fit with the art jam theme. God of vegetables didn't seem too attractive so I went with "farming" as a more general theme.

Also worth noting, my previous piece was really inspired by Peter Mohrbacher and for this one I wanted to go back to a more personal style -- gritty, dark fantasy, not unlike the world of the Witcher.

I know I wanted something creepy; the world I want to depict is a dark, gritty one, at least up in the north. People, farmers, kids, are used to seeing gods and deities that would be the nightmares of all of us, but they are not scared, it's normal for them. Those beings, gods or deities, are not necessarily bad, they just look ugly and scary. However, Roth, for example, looks after and blesses all land and takes good care, but it can also curse your lands if you show disrespect to it."


"Roth" delivers great intrigue with its eerie design and supernatural quality. Please, outline the steps you took to successfully execute the painting.


As I needed to be a bit more creative in terms of design, I started with a silhouette work, and just scribbled things out without trying to control what I was doing. Eventually a nice shape will appear at one point and that would be my starting point."




Did you encounter any creative challenges when working on the piece? If so, how did you tackle them? Is there anything you would do differently now if you could?



Not really, except time constraints due to work at the studio, and a 18 month old little girl that has so much energy she would put a nuclear plant to shame.

Otherwise, this one went smoothly, more or less, except the part with the arms. I liked the original design but I thought "great another static character like you always do," so I wanted to bring a bit more dynamism. I tried with the arms design unsuccessfully, and eventually had to change it for something more classic in design. Same with the helmet: originally I wanted it to be a skull, but that was too common and too "death" related, so I went for this full mask with chainmail hanging like a beard.

The character being totally clothed feels even more creepy, I think. You have zero idea of what it could actually look like under all those clothes, so in the end it's for the best."



What's one piece of advice that you would share with other artists hoping to reach this standard of work in the future?



Well, the usual answer is to work hard. I would not recommend school as it is expensive and you can learn all you want on the internet (it's what I did) but I am aware that some people need this academic environment to progress.


The way I did it was to basically spend 3-4 years working every day, every weekend, 13-14 hours a day, sometimes up all night drawing. I did sacrifice a lot of my social life at that time. I had my wife to support me thankfully, and my parents-in-law kept me under their roof and allowed me to do my own thing (I am good with my family, it's just that I was in Japan at that time where my wife lived so I had only them). Until there comes the point when you think you are good enough to get a job or so you think but you are missing an extra mile, so you keep working even if totally discouraged, but it pays off in the end. I lived by this simple sentence that a pro artist gave me once: 'If you work hard enough there is no reason you won't succeed'. And it's true, everyone can do it, just be dedicated and hardworking. It's one of the rare jobs where you don't need a diploma or degree, just your work speaking for you. JUST DO IT, don't be lazy !!!

Pro hint: you won't regret it when it's done."



What does this DD feature represent or mean to you at this stage of your artistic development? What can your watchers look forward to next?



It pushes me to create more -- an artist without an audience is nothing. The people that follow my work, like it , fave it, are the reason I actually keep working. So a DD is a welcome way to get a larger audience and to share even more with more people. It also comforts you that you are still pushing forward and trying to improve all the time."


Bonus question: Can you cite a memorable reaction to this piece in the comments at DA?


:
"A God of farming sounds lame till you see this."


Or this exchange with

:


​-"This has to be the most original design for a god of cultivation/farming I have ever seen. Great Work!"
- "haha thx, yeah it changes from the "nature beautiful lady"
-"Yeah, unlike beautiful female nature gods, Roth is definitely not the friendliest looking nature god that's for sure."
- "neither the most attractive ..."
-"You can say that again."
Special thanks to Asahisuperdry for kindly consenting to the interview!

Make sure to visit his gallery for more great pieces: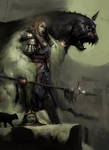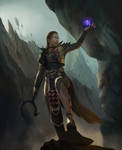 Previous Decoding DDs:

Death Knight
Queen of Hearts (Alice in Wonderland)
Dragon Watchers
The journey and the big fish
Forrest Defender
Red Snow
Catching Spirits
The Tomb King
I'm fine
Despoiled
Cat Girl
Forest of Bunnies
The Journey
Boulderback
FIELD OF THORNS: OFFER
Malavestros: Muse of Madness
Jet Futura
The Northern Administration
Prisoned Singer
Don Kichote
On The Hunt
The Platform
I know a bank
Love and war
52Hz
Chase, The Dreamer
Mad
Until the End of the World..
Crow Temple
Accolade
Dragon's Breath

Spread some cheer by leaving a comment and/or

on works that you like!
Want to suggest a DD? See the link to my guidelines below!