Decoding Daily Deviations is the series that aims to unlock the secrets of what it took to create these magnificent artworks and motivate others to work towards similar recognition. Each week we will present an interview with one artist who has recently received a DD and have them share the details on that specific piece, relating to their creative process, techniques, and narrative inspirations. If you've ever wanted to know more about a beloved artwork and the talented skills applied to it, this is the series to keep track of!"
FEATURED ART:
Prisoned Singer by
yangtianli
DD DATE:
2016-05-10
AVERAGE TIME:
1.5 weeks
PROGRAMME:
Photoshop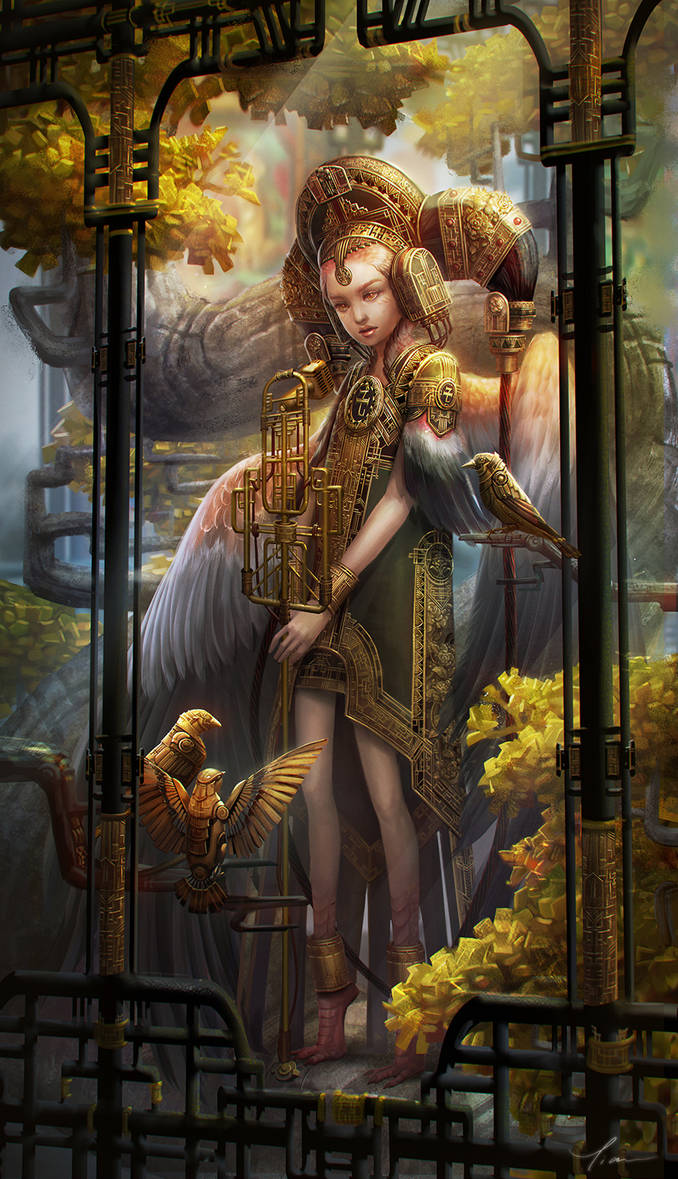 Share with readers the details of how this piece came into being. Did you have a clear story idea/inspiration from the beginning?



This painting was done for an idea that I want to turn into a graphic novel. I was still developing the idea at the time but now I have figured out more of the story. I don't want to spoil it too much, but she is like a "half-bird girl (obviously XD)" that has a voice like an angel and is imprisoned in this garden-like cage during her whole life, singing for extremely rich audiences that come to this place called "paradise". She has no freedom and no one to talk to, that's why she is very fragile and sad."
The gilded cage and solemn spectre of the singer translate your concept to viewers in magnetic fashion. Please, share your creative process on the painting and discuss the symbolic details that were of importance to you in executing your vision.
Based on my story, I wanted the costume to be definitely Asian inspired, but it's a fantasy setting where both magic and science exist. So I wanted to play with the idea of combining an "art deco" style together with Asian traditional patterns to create this look, which has this sense of luxury (because she is performing for super rich audiences exclusively), and a little more advanced than a traditional look. So the idea is everything in the garden is mechanical except her -- just mechanical birds, and even the trees are fake, hence the square golden leaves."

Did you encounter any creative challenges when working on the piece? If so, how did you tackle them? Is there anything you would do differently now if you could?



I started with a clear direction, so I knew exactly what I wanted before I began and it just took a very long time to get to the final result. I have attached some work-in- progress, where you can see it from line work to finish."
What's one piece of advice that you would share with other artists hoping to reach this standard of work in the future?
Look at real life reference! I think the most important thing is not the technique, it's the design and the story, and that should all come from real life and then be infused by your imagination. So look at the right reference, like going to museums, traveling to see real landscapes, other than looking at other people's creation."
What does this DD feature represent or mean to you at this stage of your artistic development? What can your watchers look forward to next?
First of all thank you so much for the DD! I have put this project off for a while because I've been working on other projects and I was developing the story little by little. But with this DD, it boosts my confidence with this project and I'm starting to sketch more characters again. I will be working on some more concepts before I start to finally work on the graphic novel version of it. "
Bonus question: Can you cite a memorable reaction to this piece in the comments at DA?
said: "The headdress is really creative and well executed. The metallic (gold?) tree leaves are very interesting, and in combination with the mechanic birds, the entire concept is very thought-provoking. The microphone is a very nice design. Whether the piece is steampunk or a fantasy mechanical realm, it is very well done. It screams "Add me to your favourites."

Randicus is the first one (I think?) to notice that the leaves are metallic/gold! Haha! I really appreciate that they took the time to examine the piece and give such a nice comment."
Thanks to yangtianli for kindly consenting to this interview!

Visit her gallery to see more inspiring works: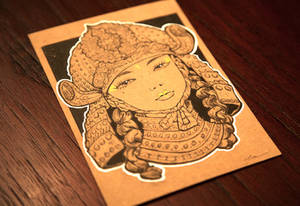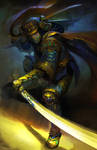 Previous Decoding DDs:

Don Kichote
On The Hunt
The Platform
I know a bank
Love and war
52Hz
Chase, The Dreamer
Mad
Until the End of the World..
Crow Temple
Accolade
Dragon's Breath

Spread some cheer by leaving a comment and/or

on works that you like!
Want to suggest a DD? See the link to my guidelines below!