Decoding Daily Deviations is the series that aims to unlock the secrets of what it took to create these magnificent artworks and motivate others to work towards similar recognition. Each week we will present an interview with one artist who has recently received a DD and have them share the details on that specific piece, relating to their creative process, techniques, and narrative inspirations. If you've ever wanted to know more about a beloved artwork and the talented skills applied to it, this is the series to keep track of!"
FEATURED ART
: Love and war by
Jacklionheart
DD DATE:
2016-02-26
AVERAGE TIME:
30-40 hours
PROGRAMME:
Photoshop CS6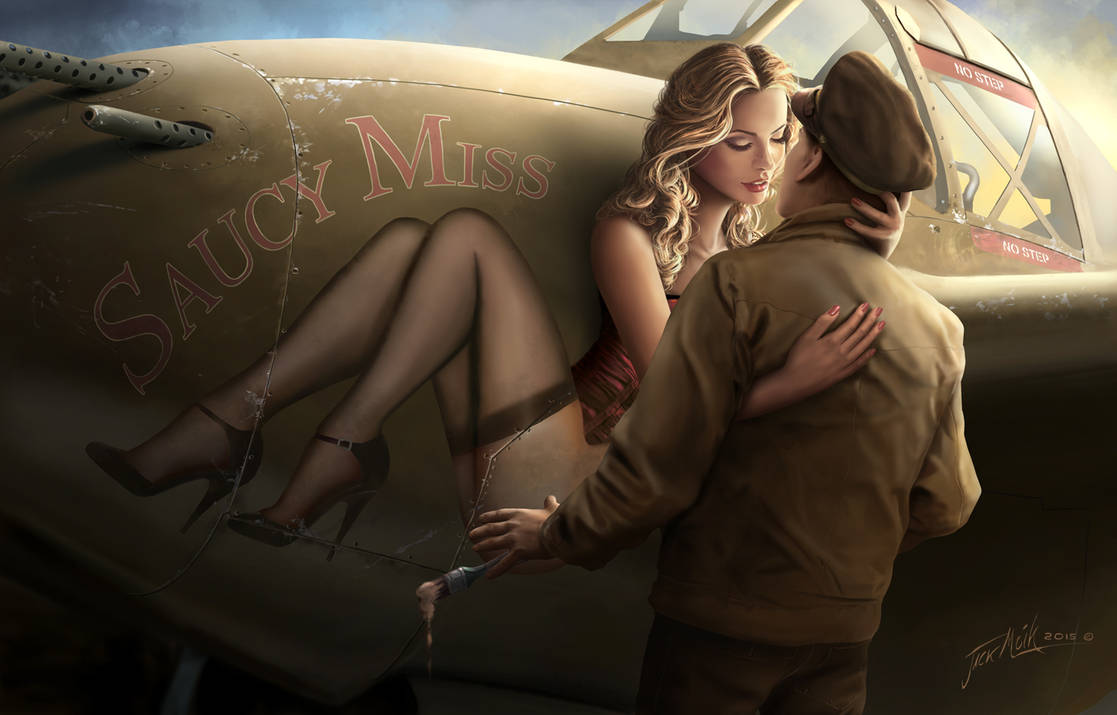 Share with readers the details of how this piece came into being. Did you have a clear story idea/inspiration from the beginning?

I had this idea for a long time. I think I first saw something similar when I spotted a historic painting about Pygmalion and Galatea, a Greek mythology where the statue of an artist comes to life. I've always been a fan of classic aircraft paintings, like the artworks on the model box tops I've grown up with. So I wanted to combine those two kind of artworks. It took me a while until I had a clear image in my mind."
"Love and war" combines great storytelling with exceptional technique. Can you reveal the elements of your creative process and how you approached the many careful details of the painting?

I think the most important thing here is the framing and perspective. I sometimes think I could have used a wider angle to make it more clear that she emerges from the plane, but I wanted to show her from the front in order not to skew the proportions too much. I started with the plane, because it dictates the basic angle here. First I made sure that the plane had the right shape to make the painting work. My choice was the P-38, because she has a very sleek nose with no propellers or exhausts that could distort the image. Then I put in some basic figures to make sure they would fit. I also found some nice reference photos of P-38 planes. Finally I took some reference photos for the airman in the foreground to get the pose and the wrinkles right. A friend of mine posed for that. I sometimes do paint these things from my mind, but this time I wanted to make sure that everything looks more photorealistic. When I paint planes or other machines, I do use models for reference. I have a big collection of model planes and ships but I also use very basic 3d models to find a good looking angle. Same with people, some machines look ugly from one side, but wonderful from another. "
Did you encounter any creative challenges when working on the piece? If so, how did you tackle them? Is there anything you would do differently now if you could?


Well, there were dozens of challenges. When I was pretty close to finishing it, I realized that the pinup's legs somehow didn't look like they were painted on the plane. So I added a lot more dirt and scratches on the plane to make her look painted on the surface. I didn't want to destroy her image too much while she was painted fresh on the plane. So I had to find a subtle way to connect her to the aircraft. I also made the colors on her legs a little bit more dull, that also helped a bit. It's typical for most painters that you spot errors in your paintings, even months after you have published them. I do know my weaknesses and there are many things that I still want to correct. You often need to force yourself to finally put your sign under the artwork."
What's one piece of advice that you would share with other artists hoping to reach this standard of work in the future?
Work hard, and practice as often as you can. I started as a classic matte painter with oils and acrylics back in the mid-90s. I learned basic painting techniques and back then it was great for me to realize that technique is more important than the level of detail. You can paint almost photo-realistic by using an impressionistic style, but you need to know the basics about light and colors. The most important thing is originality. Repainting photos or artworks from other artists can teach you many things about painting, but in the end you have to find your own style and motives. Just try to combine different things that you have never seen before. That could be a good starting point!"
What does this DD feature represent or mean to you at this stage of your artistic development? What can your watchers look forward to next?

I'm very happy to receive this DD, it means a lot to me as it gives me back some reward for all the long hours of painting. Most rewarding for an artist is always a growing audience. In the end you do the artworks not only for yourself but for them and I always have that in my mind when I do paint something. I'm working on more personal artworks at the moment and I try to tell little stories with them. Thank you for supporting me."
Bonus question: Can you cite a memorable reaction to this piece in the comments at DA?
I still get so many nice comments on that painting which always make me smile. This makes me go on and work harder on my new artworks. There were a couple of people who said that they were really moved by that painting, and that is the biggest compliment that you can get. Sure, you might have a good technique and nice style, but evoking emotions with a painting is the greatest accomplishment."
Thanks to Jacklionheart for kindly consenting to this interview!Make sure to check out his gallery to see more fantastic works!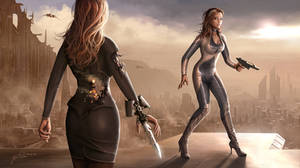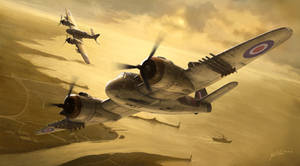 Previous Decoding DDs:

52Hz
Chase, The Dreamer
Mad
Until the End of the World..
Crow Temple
Accolade
Dragon's Breath

Spread some cheer by leaving a comment and/or

on works that you like!
Want to suggest a DD? See the link to my guidelines below!