Decoding Daily Deviations is the series that aims to unlock the secrets of what it took to create these magnificent artworks and motivate others to work towards similar recognition. Each week we will present an interview with one artist who has recently received a DD and have them share the details on that specific piece, relating to their creative process, techniques, and narrative inspirations. If you've ever wanted to know more about a beloved artwork and the talented skills applied to it, this is the series to keep track of!"
FEATURED ART:
I'm fine by
Goshun
DD DATE:
2016-06-25
TIME SPENT:
30 HRS
TOOLS/PROGRAMME:
Adobe Photoshop CS5, Corel Painter 10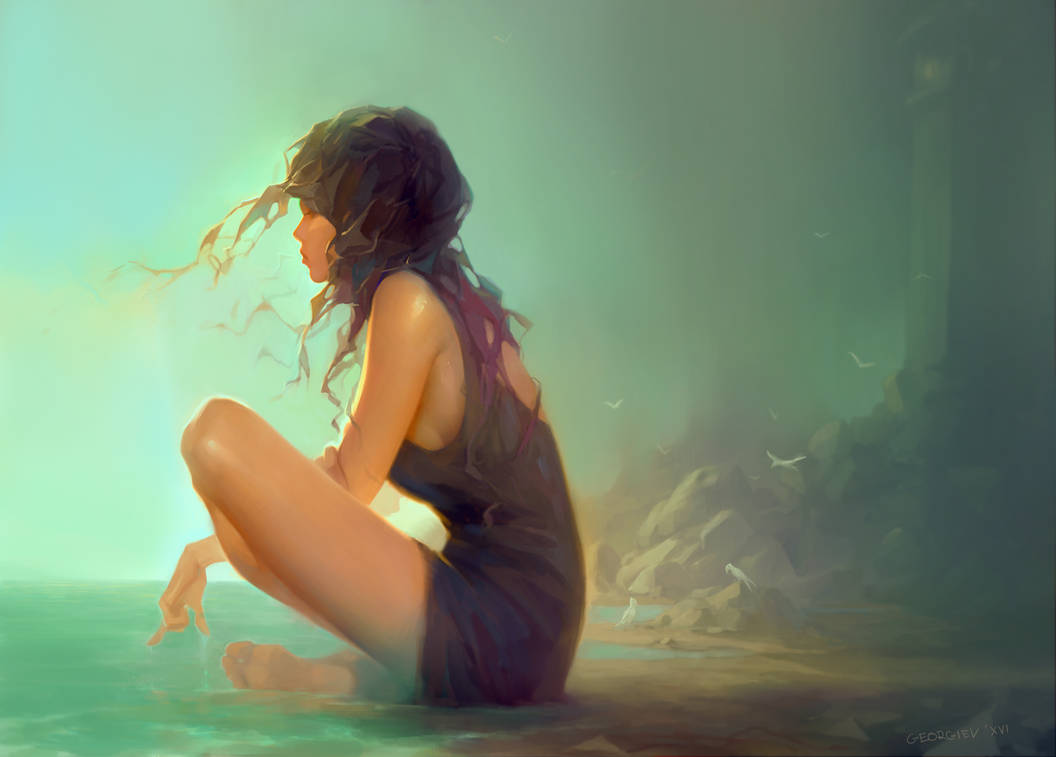 Share with readers the details of how this piece came into being. Did you have a clear story idea/inspiration from the beginning?



I had really bad time in my personal life around when I was creating this painting. It became a reflection of my mood. The seascape was just an addition to it; I always find the beach in the late/early hours a place for self-reflection, meditation and diving into memories."
"I'm fine" utilises an appealing palette and has considerable emotional appeal. Please, take us inside your creative process in executing the painting and how you achieved its distinctive mood.



Finding the right colors and palette is always a primary thing for me when creating a painting. This one took a while. I always try to play with the contrast of hues: for example, the greenish sky and the purple strokes in her hair, to me it just feels right to do it. Putting the appropriate rim light (which you can see pronounced on her arm and leg) always adds up to the mood. I don't like to make a lot of details in my paintings, I prefer to leave on certain places visible brushstrokes (like on her shoulder, under the armpit). To me it makes the painting more lively."
Process steps


Did you encounter any creative challenges when working on the piece? If so, how did you tackle them? Is there anything you would do differently now if you could?



I did. It felt too ordinary at one point to me. That's why I left it for a week, and when I came back, I came up with the idea to make her hair the way it is (before that it was just straight shapes), made her dress more simple, and changed the palette a few times. I made a mistake, I didn't handle the perspective right, and now she looks like a giant. But I wouldn't change that. I want the viewer to feel the mood, not to check if everything is correct. I would never be able to do everything perfectly right, my camera would."
What's one piece of advice that you would share with other artists hoping to reach this standard of work in the future?



Draw a lot! Make sacrifices if you really want to be a good artist. And always aim to do something fresh, something that you can't see in other paintings. Do it your way!"
What does this DD feature represent or mean to you at this stage of your artistic development? What can your watchers look forward to next?



I am very grateful for the DD! It's an inspiration now to sit down and improve more. Currently I do a lot of studies. I really don't have a clear idea what my next deviation will be, just that I would like to be more experimental."
Bonus question:
Can you cite a memorable reaction to this piece in the comments at DA?



Yes. wrote a strong story, inspired by the painting. I think she deserves attention. Here is the link of the story"
Thanks to Goshun for kindly consenting to this interview!

Be sure to visit his gallery for more special paintings: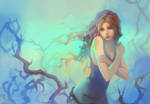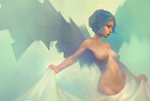 Previous Decoding DDs:

Despoiled
Cat Girl
Forest of Bunnies
The Journey
Boulderback
FIELD OF THORNS: OFFER
Malavestros: Muse of Madness
Jet Futura
The Northern Administration
Prisoned Singer
Don Kichote
On The Hunt
The Platform
I know a bank
Love and war
52Hz
Chase, The Dreamer
Mad
Until the End of the World..
Crow Temple
Accolade
Dragon's Breath

Spread some cheer by leaving a comment and/or

on works that you like!
Want to suggest a DD? See the link to my guidelines below!