Decoding Daily Deviations is the series that aims to unlock the secrets of what it took to create these magnificent artworks and motivate others to work towards similar recognition. Each week we will present an interview with one artist who has recently received a DD and have them share the details on that specific piece, relating to their creative process, techniques, and narrative inspirations. If you've ever wanted to know more about a beloved artwork and the talented skills applied to it, this is the series to keep track of!"
FEATURED ART:
I know a bank by
SteveDeLaMare
DD DATE:
2016-04-13
AVERAGE TIME:
50-100 hours
PROGRAMME:
Corel Painter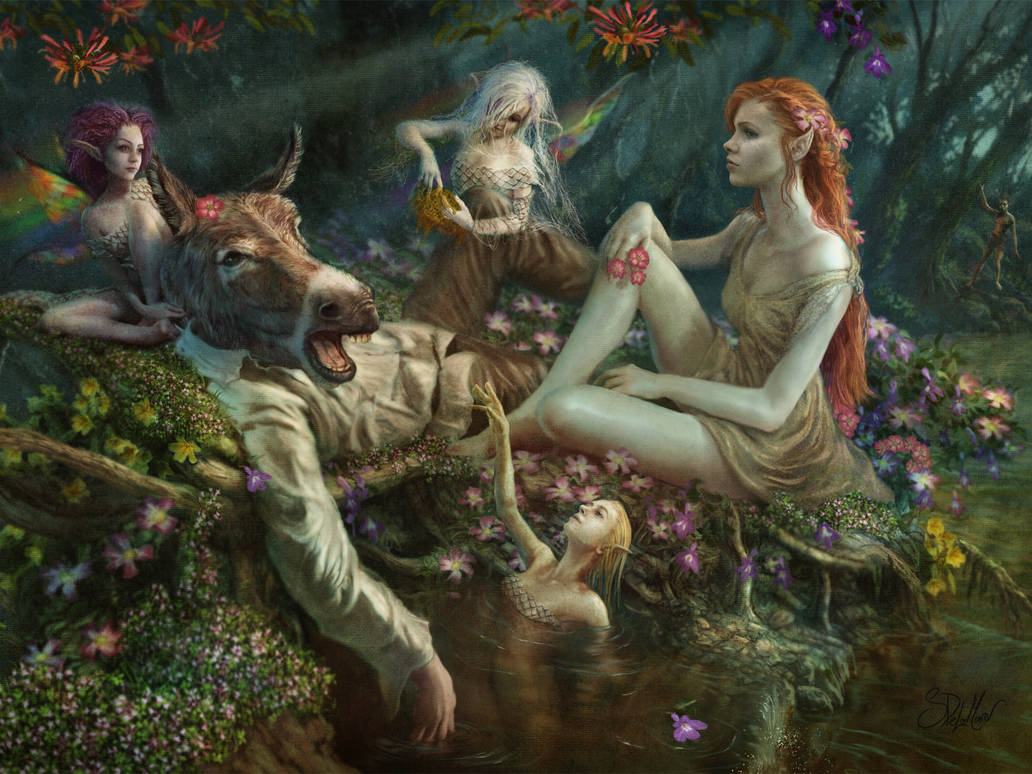 The inspiration for this piece was to celebrate the 400 th anniversary of Shakespeare's death. As an artist, how do you feel generally about the Bard's works, and what made you want to depict A Midsummer Night's Dream in particular?
I decided that three images could instantly conjure up thoughts of Shakespeare: an Elizabethan girl on a balcony (Romeo and Juliet), a man holding up a skull (Hamlet) and this one; a man with a donkey's head. I have both taught and produced this well-known comedy several times throughout my previous career as a Drama teacher so I know it very well."
"I know a bank" captures a seminal spectacle from the play in rich, realistic detail. Can you walk us through your creative process on the painting and discuss what you prioritized in order to successfully execute this vision?

I treated this piece as if it were a commissioned illustration and searched for a specific place in the play that this could portray. It also needed to be worthy of the play. I firstly looked at Old Master versions of Bottom and Titania and noticed that they represented the event but not an easily identifiable moment. I therefore chose a specific line: Bottom asking Mustard seed to help scratch. I remembered that Oberon described the place in a previous scene in great detail so this was the over-riding reference for the environment. I wanted to ensure that all flowers he mentioned were featured so this took me on a reference hunt for Wild Musk, Eglentine, etc., wishing he hadn't mentioned as many as he did!"
Did you encounter any creative challenges when working on the piece? If so, how did you tackle them? Is there anything you would do differently now if you could?

One challenge was the three fairy attendants. Described as being wrapped in snake skin, I decided I needed something else to demonstrate who each was. I therefore chose hair-colour: Purple for Pease-blossom, White for Cobweb and yellow for Mustard-seed.

Also, as this was to be a busy painting to get as much text reference in as possible, I had to think hard on composition, deciding to make the focal point Bottom's head with all lines (perspective and compositional) leading to him.

Another challenge was what could I personally add to such a prescriptive scene; the Fairy rainbow from their wings was probably my only original addition."
What's one piece of advice that you would share with other artists hoping to reach this standard of work in the future?


I would advise lots of rough thumbnail sketches of ideas and composition, and always be critical of what works for you and what doesn't."

What does this DD feature represent or mean to you at this stage of your artistic development? What can your watchers look forward to next?
To get a DD from DeviantArt is an honour and one I was childishly happy about. Comments and compliments, from both DA and other members, are always very inspirational and cherished.

What's next? Purge my brain from the 16th century with a picture of a crash dummy and a pair of DrM's!"
Bonus question: Can you cite a memorable reaction to this piece in the comments at DA?
I appreciated all of the reactions. One that reminded me about the magic of DA out was the fact that a member -- -- from another country (Belgium) could see a painting from a man in England (me) and ask through a site in America (you) for more information on a play that was written over 400 years ago!"
Thanks to SteveDeLaMare for kindly consenting to this interview!


Make sure to see check his gallery for more wonderful works: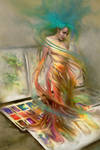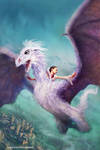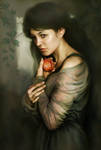 Previous Decoding DDs:

Love and war
52Hz
Chase, The Dreamer
Mad
Until the End of the World..
Crow Temple
Accolade
Dragon's Breath

Spread some cheer by leaving a comment and/or

on works that you like!
Want to suggest a DD? See the link to my guidelines below!