Decoding Daily Deviations is the series that aims to unlock the secrets of what it took to create these magnificent artworks and motivate others to work towards similar recognition. Each week we will present an interview with one artist who has recently received a DD and have them share the details on that specific piece, relating to their creative process, techniques, and narrative inspirations. If you've ever wanted to know more about a beloved artwork and the talented skills applied to it, this is the series to keep track of!"
FEATURED ART:
Forest of Bunnies by
uoa7
DD DATE:
2016-06-18
TIME SPENT:
2 months of spare time
TOOLS/PROGRAMME:
Maya, Zbrush, Mari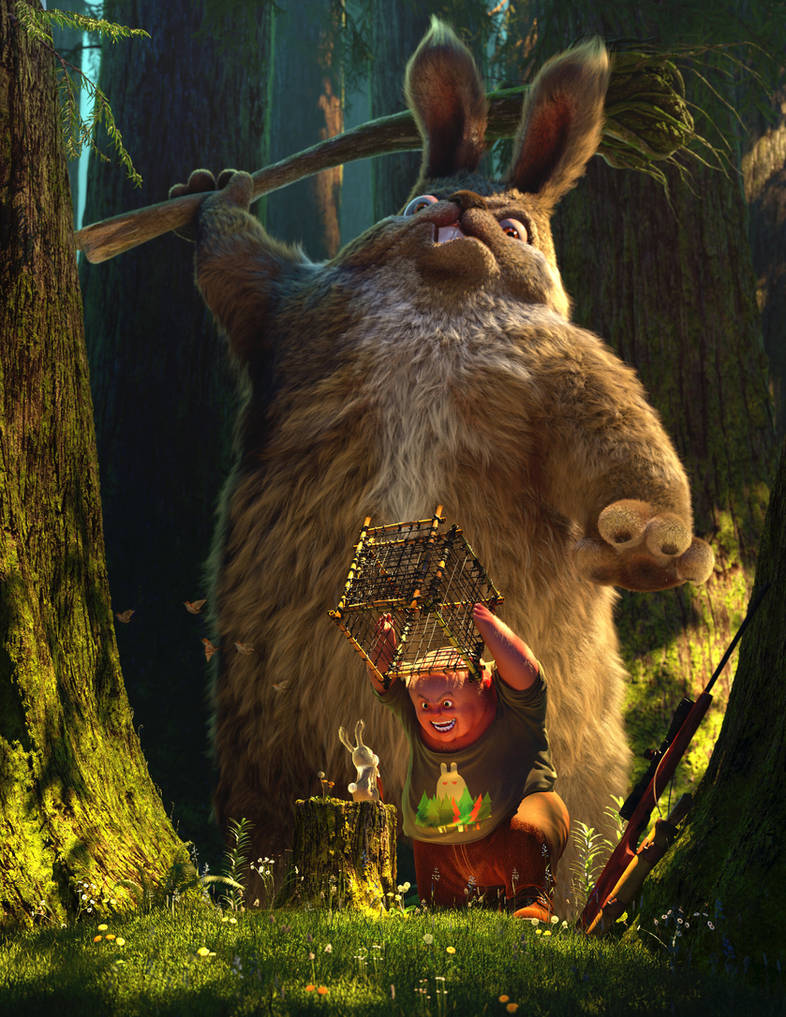 Share with readers the details of how this piece came into being. Did you have a clear story idea/inspiration from the beginning?


A few years ago, I was taking a concept art class in the Art Institute. We had an assignment which was to create a "Region RA" conceptual piece depicting a mysterious place, so I figured: "Hmm...how about Region RA-bbits?". I wanted to create a piece that is funny but also with a deep message, so this idea started to put itself together."
"Forest of Bunnies" is a triumph of technique and narrative. Can you walk us through your creative process on the painting and what was integral in executing your vision?



I sketched a bunch of thumbnails in Photoshop and picked the least awful to start with. Firstly, I did the rough layout in Maya: objects are represented by cubes and cylinders, and then I started sculpting the characters in Zbrush. Once the characters were done, I placed them in the scene and started working on the environment. I created a plant library with all the vegetation I needed for this scene, and used proxies to bring them in. After finishing surfacing all the objects, I started playing with the light. I have been a fan of the warm-cool contrast type of lighting, and that became the color scheme you eventually saw on the image."
Did you encounter any creative challenges when working on the piece? If so, how did you tackle them? Is there anything you would do differently now if you could?

Yeti doesn't work very well with displaced objects. I probably should just use a high-res model next time instead of using displacement maps."
What's one piece of advice that you would share with other artists hoping to reach this standard of work in the future?



Be patient and be confident. Everything looks crappy at the beginning but things will get better as you move forward. Also, don't hesitate about making changes. If you see something awkward, change it ASAP -- don't be too attached with the initial designs."
What does this DD feature represent or mean to you at this stage of your artistic development? What can your watchers look forward to next?



This is a HUGE honor to me for sure! I will continue doing creative illustrations like this in the future. But my next personal project would be a series of short videos combining CG and real life footage. Stay in tune if you are interested."
Bonus question:
Can you cite a memorable reaction to this piece in the comments at DA?
I love the fact that many people think the big rabbit looks like a furious Totoro. Haha, that was hilarious and so true."