Welcome to Decoding Daily Deviations, the series that aims to unlock the secrets of what it took to create these magnificent artworks and motivate others to work towards similar recognition. Each week we will present an interview with one artist who has recently received a DD and have them share the details on that specific piece, relating to their creative process, techniques, and narrative inspirations. If you've ever wanted to know more about a beloved artwork and the talented skills applied to it, this is the series to keep track of!
FEATURED ART:
Dragon's Breath
by
88grzes
DD DATE:
2016-02-19
TOOLS:
Photoshop CS5
AVERAGE TIME SPENT:
10-12 hrs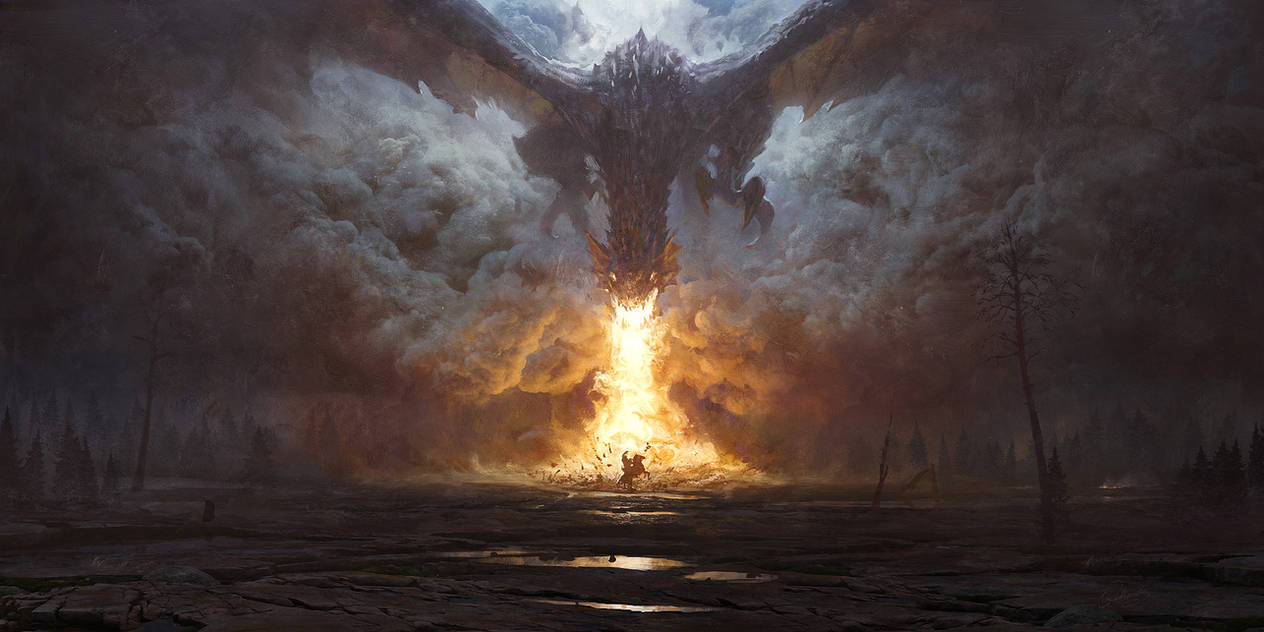 S
hare with readers the details of how this piece came into being. Did you have a clear story idea/inspiration from the beginning?

The story from the beginning was the same with the composition in 80-90%. I also had some doubts about the background story; I thought about adding some more characters, making the environment more complex, but eventually I decided to make it a really raw and empty field like a desolation."
The epic composition of 'Dragon's Breath' is one element that viewers have raved about, where the dragon's wings frame the scene, and our eyes are led downward to the magnificent column of flame that engulfs the horse and rider. What was your creative process like with respect to determining the composition of the painting and working on other key features to do with the smoke, lighting, and landscape details?

The composition was the priority in this case. I started this illustration in 2012 as a quick sketch just to capture the idea. The composition then was a bit oblique but the topic was the same. I was afraid that it might be too obvious and too simple, but I knew that I had to focus on the large space of the field and capture the scale of the dragon. One of the priorities was the dragon's wings wrapped in clouds/smoke; for me that was the eye-catching thing that must be included in this picture."
Did you encounter any creative challenges when working on the piece? If so, how did you tackle them? Is there anything you would do differently now if you could?


Most of the time when you're making commercial pieces you're focusing on detail/render, proper composition, etc. But when you're creating something for yourself you can truly experiment with fundamental stuff. As I said, in this piece composition was the most important part of the image. There was no complex lighting setup, just the dragon fire and some ambient light. There are a lot of elements that I'd like to change but right now I'd probably change the dragon's neck, it looks flat."
What's one piece of advice that you would share with other artists hoping to reach this standard of work in the future?



I guess just practice. Every human being is different and there's no one simple solution for everyone. But one thing I know for sure, without practicing you won't be able to draw better."
What does this DD feature represent or mean to you at this stage of your artistic development? What can your watchers look forward to next?


It's really hard to say. I'm really happy that people like and appreciate what I make, it means a lot to me! I've always considered Deviantart as my main gallery; after all these years it hasn't changed a bit for me, so a DD will be always a huge distinction."
Bonus: Can you cite a memorable reaction to this piece in the comments at DA?


Hmm... these two are hilarious :
"Fuck the queen." by
TheGreatFanatic
"That guy is screwed." by
Sheemori

Thanks to 88grzes for kindly consenting to this interview!