Decoding Daily Deviations is the series that aims to unlock the secrets of what it took to create these magnificent artworks and motivate others to work towards similar recognition. Each week we will present an interview with one artist who has recently received a DD and have them share the details on that specific piece, relating to their creative process, techniques, and narrative inspirations. If you've ever wanted to know more about a beloved artwork and the talented skills applied to it, this is the series to keep track of!"
FEATURED ART:
Dragon Watchers by
DeivCalviz
DD DATE:
2016-08-19
TIME SPENT:
32+ HRS
TOOLS/PROGRAMME:
Photoshop, DAZ 3d, Maya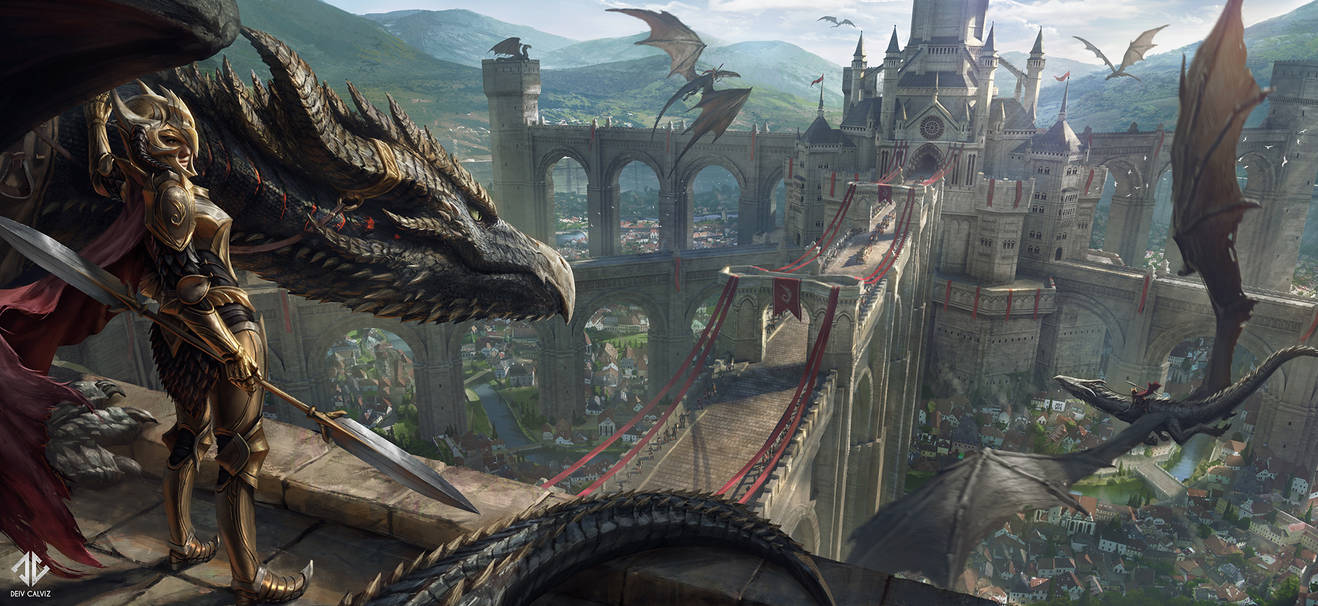 Share with readers the details of how this piece came into being. Did you have a clear story idea/inspiration from the beginning?



The idea of having huge arches and bridges converging into a tall structure was an idea that has been lingering in my head for a while. At first, I wanted that idea to be sci-fi but I ended up using a high-fantasy theme instead. I believe I was influenced by playing too much 'Dark Souls 3' and watching too much 'Game of Thrones'. The idea of having dragon riders guarding a city came naturally while I was doodling in a coffee shop."
Perhaps the most impressive fact about "Dragon Watchers" is that it feels like a fully realised fantasy world with no detail spared. Please, discuss the process and techniques you undertook in bringing this scene to life.



I have been doing a lot of long illustrations lately for a client and I got used to putting lots of details because the job demanded that. During my downtime, I tried applying everything that I have learned into my own artwork.
Like most artworks, it started off as a doodle. The idea and composition were already complete in just a short amount of time since I've been used to this kind of composition on my previous client works.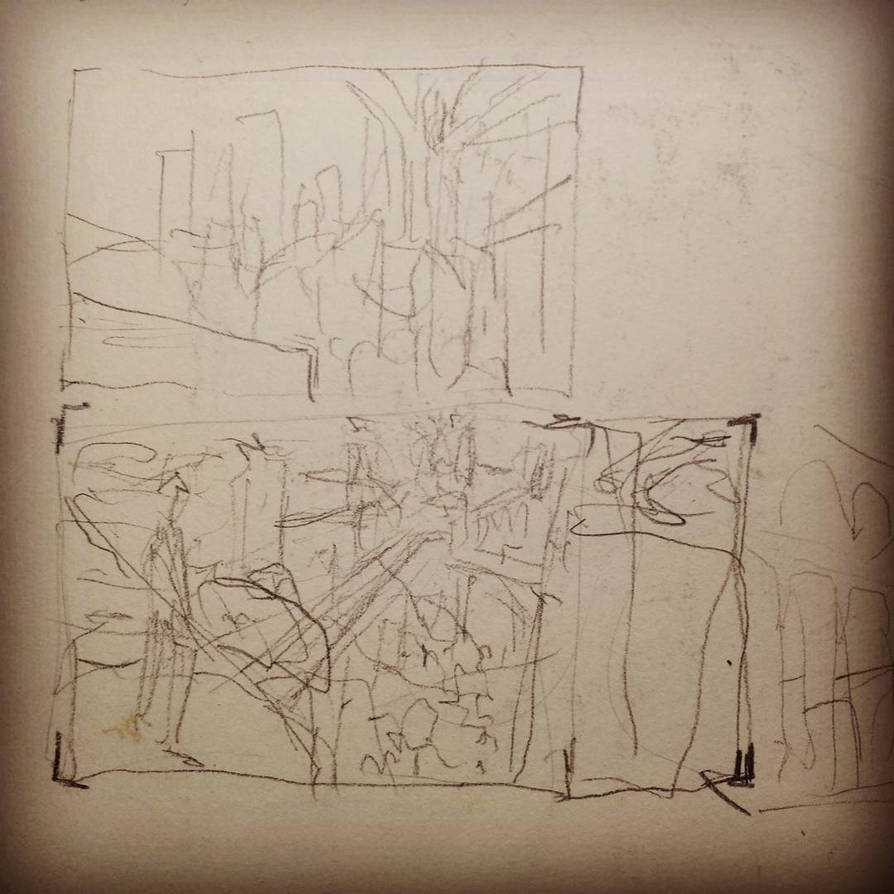 After doodling, I did a value thumbnail. By this time, I know the image will work out.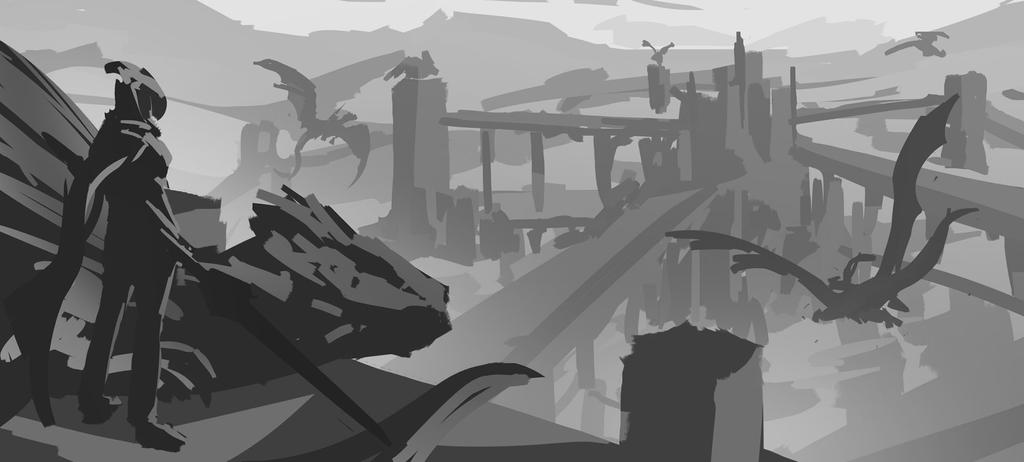 Since I knew a bit of 3D and I knew perspective of structures is very difficult, I used the software to give me a guide for painting. The bridges were the hardest to paint so it had to be more detailed in 3D.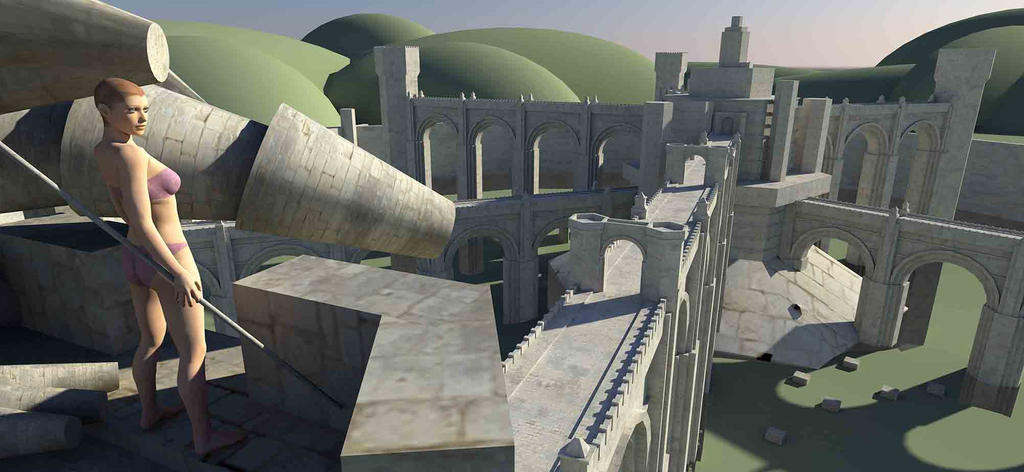 After 3D, I just painted on top part by part. I normally look at various references of photos or artworks but they are too many to mention. I prioritized the foreground elements because they are the closest to the camera. You will also notice that I did not know what to do with the castle. Eventually I replaced it with a better 3D model. Doing the castle manually would've been hard because of the camera distortion.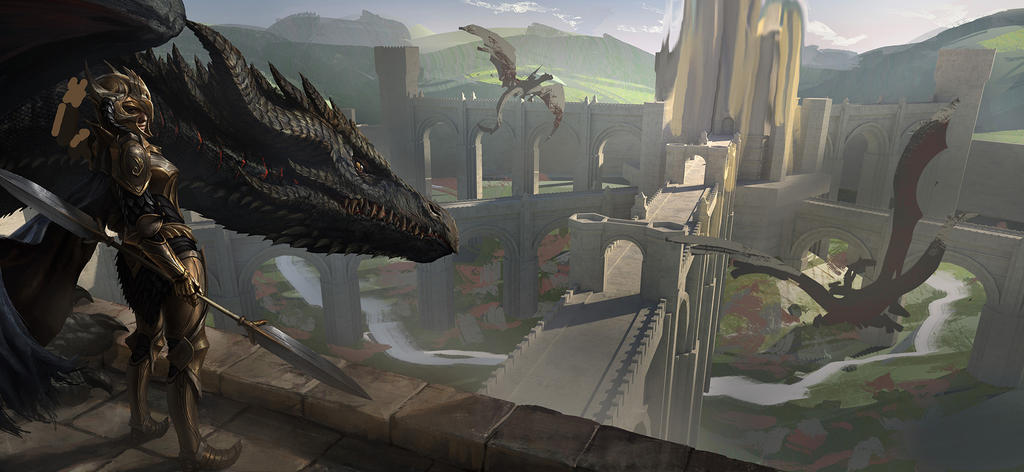 Some parts were not painted like the houses below which were stitched from photos. Eventually, it will all just be about putting layer after layer on top to add details. The final thing to do would be to add in light effects, glows, etc. I can't share everything though since that would be unfair to people who bought my tutorial. Consider this just a teaser."
Did you encounter any creative challenges when working on the piece? If so, how did you tackle them? Is there anything you would do differently now if you could?



Considering that I used various processed to create this, making it all cohesive was a bit challenging, especially since the camera distortion I used was a bit strong. Aligning the houses to the vanishing point, doing the castle textures, etc. were the most challenging since they are non-organic with lots of straight lines. If I would do something like this again, I might try skipping the 3D part and do things manually for a change so I can play around with designs more at the sacrifice of quality. I'm getting to a point where I would rather try weirder stuff that is more loose than do something that is stiff and super detailed."
What's one piece of advice that you would share with other artists hoping to reach this standard of work in the future?



I believe the techniques I used are very achievable by any artist willing to learn. There are tons of tutorials out there to learn the skills. I even made a tutorial for this image to give more details about the process.

Basically, I think that anyone willing to put the time learning basics like anatomy, perspective, design, colors, etc. will be able to pull something like this off. The techniques like photobashing and 3D rendering are just cheats to make things more accurate and fast.

Other than techniques, the impact your image will have on your audience is also as important. The image must connect to the audience in some way. The story, the feeling, and the emotion that you want to show in your work is something that you should always keep in mind from start to finish.

It's cliché to say but studying the basics is all there is to it. Put in thousands of hours drawing, painting, and observing anything around you. Unfortunately, there is no secret method to get good."
What does this DD feature represent or mean to you at this stage of your artistic development? What can your watchers look forward to next?



This DD made me realize a lot of things.

I'll start with the positives: I was at first so surprised at the reaction of people, especially the helpful critiques I got. I never thought it would get much traction considering I don't have many connections to other artists. This image made me a bit more confident with my skills as an artist. I also realized it is possible to make money using Gumroad although right now it is still not feasible but it looks promising.

Now for the negatives: I realized I got burnt out too easily when doing something for more than 30 hours. I also felt like my art was still "stiff". I try to counter this by doing more sketches on paper on my free time. I have tried to get more freelance work using this piece but no reply yet unfortunately. Hopefully, I get some high fantasy work sometime soon!

My watchers should watch out for more traditional stuff from me since I have sunk back into practicing the basics. I didn't expect I would enjoy doing pencil and inks again after all this digital excitement. I plan to make more pieces that have more story in the future so be on the lookout and add me on Facebook, Instagram, Artstation or Deviantart!"
Bonus question:
Can you cite a memorable reaction to this piece in the comments at DA?



From -- This user gave a lot of kind words and analyzed subtle details that most people don't notice. Although to be honest, the most memorable comment was a negative one. Someone who hated how I depicted this female armor even if I made it politically correct already. I found it amusing."
Special thanks to DeivCalviz for kindly consenting to the interview!

See more of the amazing paintings in his gallery: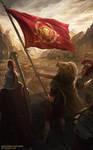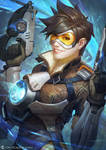 Previous Decoding DDs:

The journey and the big fish
Forrest Defender
Red Snow
Catching Spirits
No kings and No Queens
The Tomb King
I'm fine
Despoiled
Cat Girl
Forest of Bunnies
The Journey
Boulderback
FIELD OF THORNS: OFFER
Malavestros: Muse of Madness
Jet Futura
The Northern Administration
Prisoned Singer
Don Kichote
On The Hunt
The Platform
I know a bank
Love and war
52Hz
Chase, The Dreamer
Mad
Until the End of the World..
Crow Temple
Accolade
Dragon's Breath

Spread some cheer by leaving a comment and/or

on works that you like!
Want to suggest a DD? See the link to my guidelines below!