Decoding Daily Deviations is the series that aims to unlock the secrets of what it took to create these magnificent artworks and motivate others to work towards similar recognition. Each week we will present an interview with one artist who has recently received a DD and have them share the details on that specific piece, relating to their creative process, techniques, and narrative inspirations. If you've ever wanted to know more about a beloved artwork and the talented skills applied to it, this is the series to keep track of!"
FEATURED ART:
Chase, The Dreamer (Backstory Illustration) by
Tvonn9
DD DATE:
2016-03-06
PROGRAMME:
Photoshop CC
AVERAGE TIME:
60 hours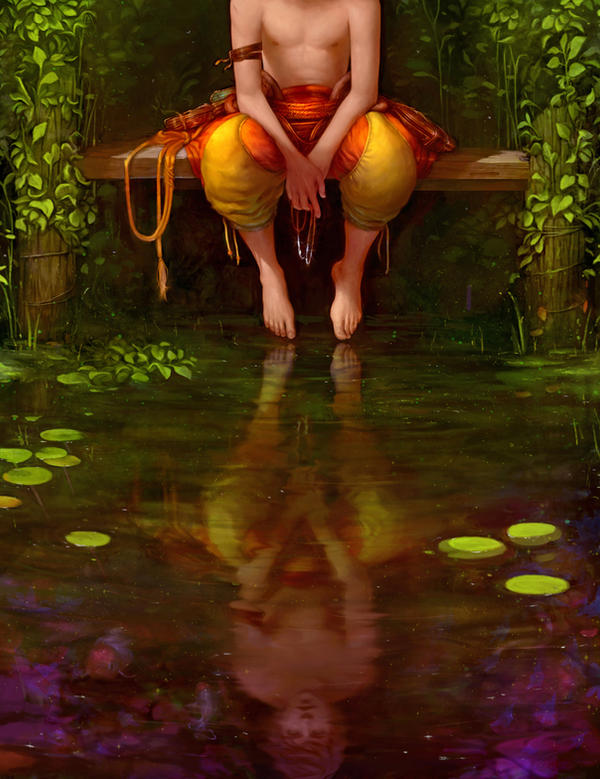 You've outlined some of Chase's story in your description that accompanied the painting. Providing a summary to us about his character, what is the wider narrative of Swordplay all about and what inspired its creation?

'Swordplay' is an illustrated novel that I'm working on that follows the stories of ten characters and how they become interwoven with each other. They are on a journey but not with a set physical destination, but with goals and passion leading the way. A lot of movies and stories nowadays have such an emphasis on external conflict but I want Swordplay to look inward at the internal conflicts we each battle in our own lives. We can learn from each other's experience and Chase provides a sense of empowerment as well as losing faith. He is also the youngest in the cast but he has a maturity to his contributions and conversations that belies his age."
The impact of this illustration can be felt in the intriguing perspective and vibrancy of colours that you utilise, providing a provocative contrast between the reserved boy and the richness of his surroundings. Take us inside your creative process on the painting and share what you prioritised in order to heighten our understanding of this character.

That's neat that you saw the contrast between a luscious, color-filled surrounding against his overall demeanor, which is more somber. This reflects how his vision is fading and while the world is so beautiful around him, he can only focus on the eventual loss of it all. The idea came about on the spur of a moment when thinking about the composition and only showing his reflection "on the surface" of the water, in the same way we often look at people and only see what's on the surface. This then led to cropping his head out of the picture and providing another metaphor that to see the "bigger picture" of someone you have to look at them in a different perspective. I'm a sucker for having illustrations tell stories within stories so this piece was a really fun one to explore the different concepts and ideas.

In the process shots you can definitely see an artist becoming more comfortable over time with shading, lighting, and color. I took reference photos, actually went to a pond and took pictures of overhanging foliage and the surface of the water. Being there in a physical presence was so helpful for me to capture the lighting and the atmosphere. This was such an experience and whenever an artist gets frustrated or upset, I hope they can remind themselves to take a breather, work on something else, and come back to it when you have a fresh pair of eyes able to "see" what's not working throughout the piece! Lastly, BELIEVE in yourself; you really have to trust your intuition and play to your strengths!"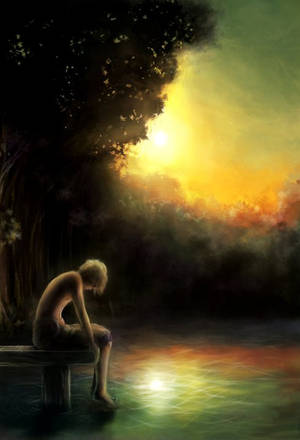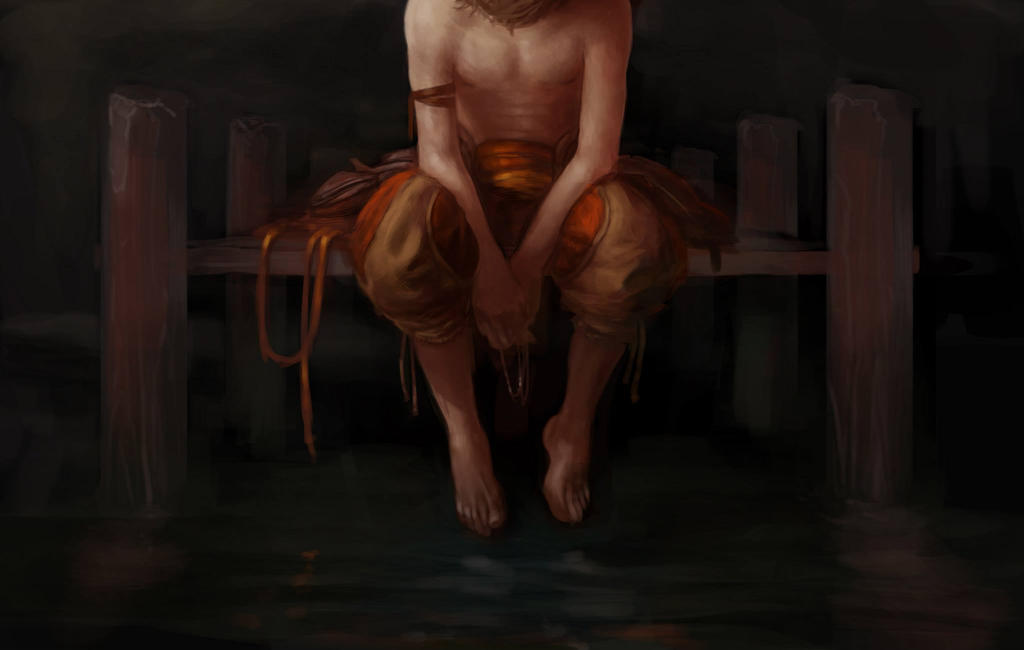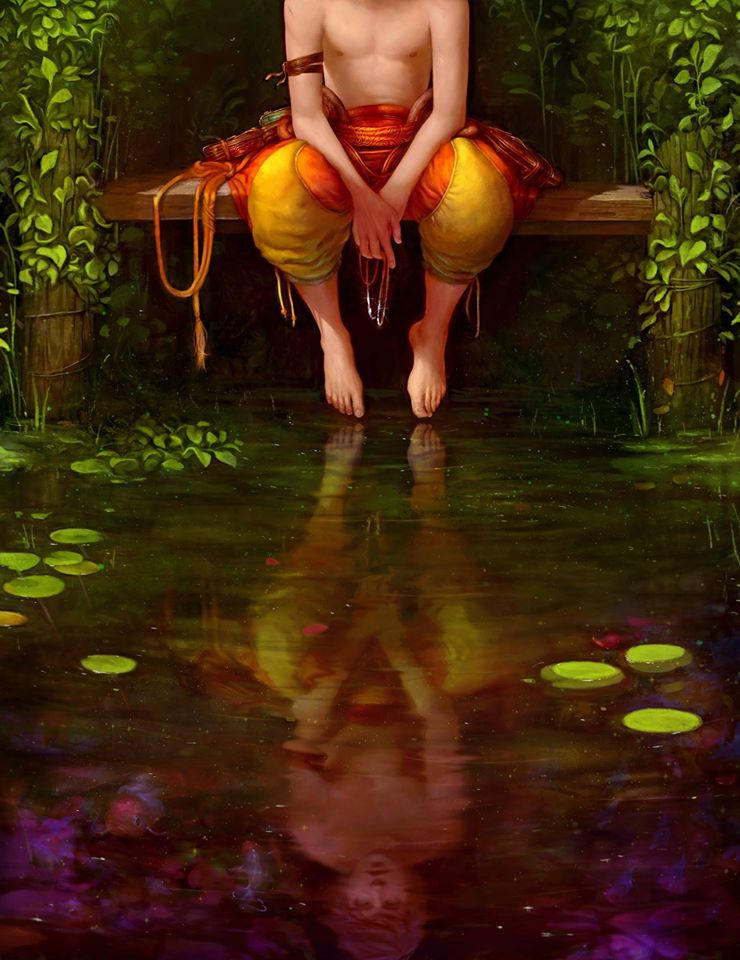 Did you encounter any creative challenges when working on the piece? If so, how did you tackle them? Is there anything you would do differently now if you could?
Yes. Actually this piece has been on and off for the past 3 years. I do not joke about the time-frame either, it's truly been in the making for years lol. The reason for this was a lack of direction or confidence in my abilities at the time to create something I was proud of. One point was not feeling comfortable painting foliage, another was capturing direct light. I tackled them, but by setting the piece on the mental back-burner and letting ideas simmer for months at a time until I felt inspiration to come back to it. I would have changed how long it took, but I believe it was necessary for the piece to have developed as my skill level increased as well."
What's one piece of advice that you would share with other artists hoping to reach this standard of work in the future?
As a teacher over at CG Cookie, I love sharing advice, encouragement, and insight so it's hard to choose just one. I would want them to know that it's possible, stay dedicated, don't listen to naysayers, trust your intuition, and be critical of your work without being self-deprecating. The art journey is a long, tiresome, and seemingly endless one, but we each go on this path one step at a time."
What does this DD feature represent or mean to you at this stage of your artistic development? What can your watchers look forward to next?

This means a lot to me. I wish I could be there in person so I could fully extend my arms in either direction and visually show that it means "this much!". This has been a goal of mine for years and for it to be on one of my original Swordplay illustrations, it truly feels great to have my work be acknowledged and encourages me to keep moving forward with future illustrations and to eventually see Swordplay through to print! Watchers can expect a newer backstory illustration soon of my next character, Nate."

Bonus Question:
Can you cite a memorable reaction to this piece in the comments at DA?
The overall reaction was overwhelmingly humbling, and I was moved by those that took the time to read his backstory and comment. It will always be a memory I keep. The most memorable was from and how he really felt a connection with the piece and the story. As an artist you never "see" how your work can connect with someone but his reaction was one that I actually felt."
Thanks to Tvonn9 for kindly consenting to this interview!Be sure to check out the other wonderful pieces in his gallery, including these amazing sketches: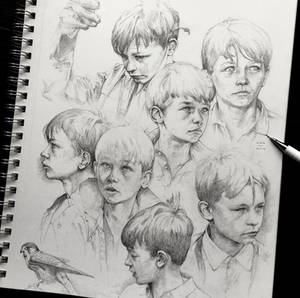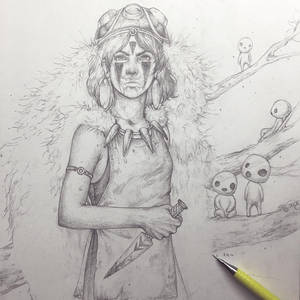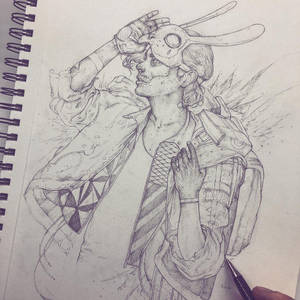 Previous Decoding DDs:

Mad
Until the End of the World..
Crow Temple
Accolade
Dragon's Breath

Spread some cheer by leaving a comment and/or

on works that you like!
Want to suggest a DD? See the link to my guidelines below!