Decoding Daily Deviations is the series that aims to unlock the secrets of what it took to create these magnificent artworks and motivate others to work towards similar recognition. Each week we will present an interview with one artist who has recently received a DD and have them share the details on that specific piece, relating to their creative process, techniques, and narrative inspirations. If you've ever wanted to know more about a beloved artwork and the talented skills applied to it, this is the series to keep track of!"
FEATURED ART:
Catching Spirits by
Taijuey
DD DATE:
2016-08-11
TIME SPENT:
20-30 HRS
TOOLS/PROGRAMME:
Photoshop CS6
Share with readers the details of how this piece came into being. Did you have a clear story idea/inspiration from the beginning?



The piece was originally commissioned for an article in a financial magazine called 'Plansponsor.' I was given this abstract concept to work with by the Art Director: "Sifting through dense information to get to the best." From that I generated the narrative of two kids stumbling upon a forest's guardian spirit."
"Catching Spirits" has delighted viewers with its animated style and imaginative content. Please, discuss your creative process in achieving the distinctive look and mood of the illustration.



All my ideas start out in words. Fragments of sentences, phrases, bits of dialogue or story. My sketchbook has just as many words as it does drawings. I'll try to splice and string together an interesting narrative to key in on, and then thumbnail out the images that my mind conjures. Once I pull out a sketch, I go through my library of images (I'm a bit of a hoarder when it comes to pictures, some 28,000 reference images and art…) and create an inspiration folder dedicated to a project, with images ranging from photos and movie stills, to paintings and animation cels. Everything from compositional ideas and color inspiration, to reference images for characters, costumes, and environments. After all the drudgery, I cross my fingers and hope something neat comes out."
PROCESS GIF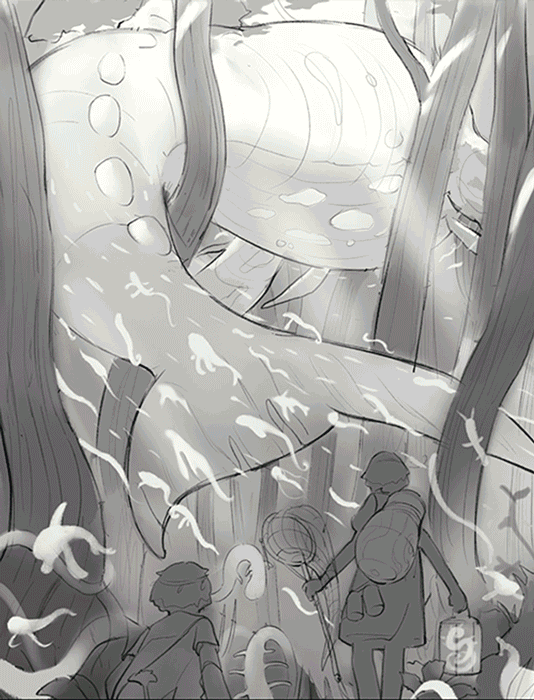 Did you encounter any creative challenges when working on the piece? If so, how did you tackle them? Is there anything you would do differently now if you could?



I run through countless problems when working on pieces, especially ones with dense environments. You always ask yourself: Is the piece losing focus? Is this element too prominent? Is it too subdued? Is the work readable? I'm always trying to make sure all the elements read coherently and that the narrative hierarchy of the image isn't lost and muddled by the details.

For this piece in particular, it was making sure the compositional flow felt right with the large whale spirit and that it wasn't too overwhelming, and having the kids stand out from the environment. I took care of most of these problems with the color composition, making the kids the only 'orange' element in the image, and giving the whale a translucent quality."
What's one piece of advice that you would share with other artists hoping to reach this standard of work in the future?



Don't smother your creative spirit by believing in limits that have been defined for you. There are no limits to creativity, as long as you work hard, study a lot, and persevere. Don't forget what it is that you truly hold dear and what you want to say with your art. Be what you must be and do your best."
What does this DD feature represent or mean to you at this stage of your artistic development? What can your watchers look forward to next?


DeviantArt was the first online art community that I joined back when I was in high school. I used to browse the website daily and some of my first art heroes I discovered on this site. It definitely played a huge part in my creative growth.

Obtaining a daily deviation had been a dream goal of mine since I was 15, so there's a kind of bittersweet satisfaction to know that I've finally accomplished that goal 8 years later - My 15 year-old self is head over heels!

As for the future, I hope you can all continue to stick with me as I try to conjure new stories from my worlds. Hopefully my work can be of some inspiration to you all in your daily lives."
Bonus question:
Can you cite a memorable reaction to this piece in the comments at DA?

-- 'This is amazing! The scenery is excellent! The whale spirit definitely captures the eye and embodies the heart of fantasy! Overall the scene looks like it came right out of an animated film!'"
Special thanks to

Taijuey

for kindly consenting to the interview!

Make sure to see more of his amazing paintings:

<da:thumb id="591780815"/> <da:thumb id="581215341"/> <da:thumb id="581215869"/>


Previous Decoding DDs:

No kings and No Queens
The Tomb King
I'm fine
Despoiled
Cat Girl
Forest of Bunnies
The Journey
Boulderback
FIELD OF THORNS: OFFER
Malavestros: Muse of Madness
Jet Futura
The Northern Administration
Prisoned Singer
Don Kichote
On The Hunt
The Platform
I know a bank
Love and war
52Hz
Chase, The Dreamer
Mad
Until the End of the World..
Crow Temple
Accolade
Dragon's Breath

Spread some cheer by leaving a comment and/or

on works that you like!
Want to suggest a DD? See the link to my guidelines below!