Decoding Daily Deviations is the series that aims to unlock the secrets of what it took to create these magnificent artworks and motivate others to work towards similar recognition. Each week we will present an interview with one artist who has recently received a DD and have them share the details on that specific piece, relating to their creative process, techniques, and narrative inspirations. If you've ever wanted to know more about a beloved artwork and the talented skills applied to it, this is the series to keep track of!"
FEATURED ART:
Boulderback by
RicoCilliers
DD DATE:
2016-06-10
TIME SPENT:
2 months
TOOLS/PROGRAMME:
Blender,
Zbrush, Substance Painter, Mudbox, Photoshop, Gimp, Xnormal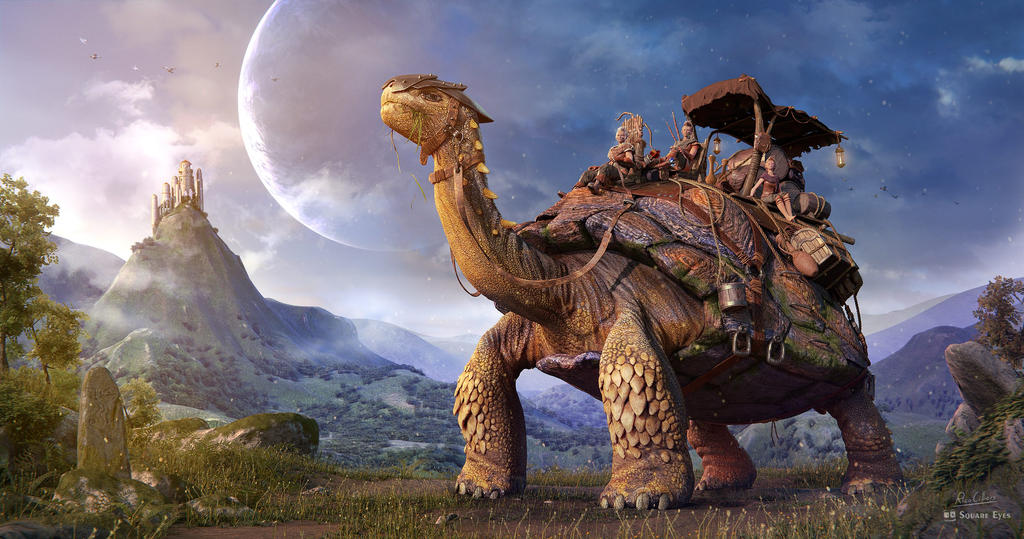 Share with readers the details of how this piece came into being. Did you have a clear story idea/inspiration from the beginning?
I had a fairly solid idea of where I wanted to go with this... My approach is quite simple: I like to take two different elements that don't necessarily go together, and then I try to combine them in a unique and whimsical way. A tortoise used as a transport beast for an epic Journey seemed the perfect blend of absurdity, originality, and "epicness". "

What was your creative process like working on "Boulderback" with respect to the creature design, environment, and other details?



For the general design direction, I relied on my own imagination as inspired by my favorite books, movies and games such as Lord of the Rings (for creatures, environment and architecture); Warcraft (for atmosphere and mood); Skyrim (for prop design and colors); Dota2 (for general design ideas and character design etc.). With these sources in mind I hit the Internet and downloaded a lot of images from DeviantArt, Artstation, Pinterest, and elsewhere. I then Sketched out some composition ideas, and did sketches of random props and characters, all the while trying to find a unique blend of all these different styles. I didn't want to directly copy or imitate any specific artist, although a certain image titled "On the Tramp" by a very talented artist named Manuel Peter was so impressive to me that I used it as a core inspiration. I Sculpted my high-resolution models in Zbrush and Blender, textured in Blender, Substance Painter, Mudbox and Photoshop, and rendered the final image in Blender's Cycles render engine. I rendered everything in layers and composited the layers in Blender and Photoshop, and used Photoshop for touching up a few minor flaws, as well as doing color correction and so on. The sky backplate was put together in Photoshop as well."

Process snapshot and Videos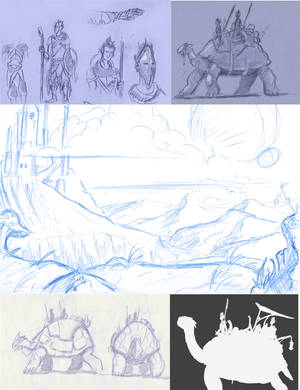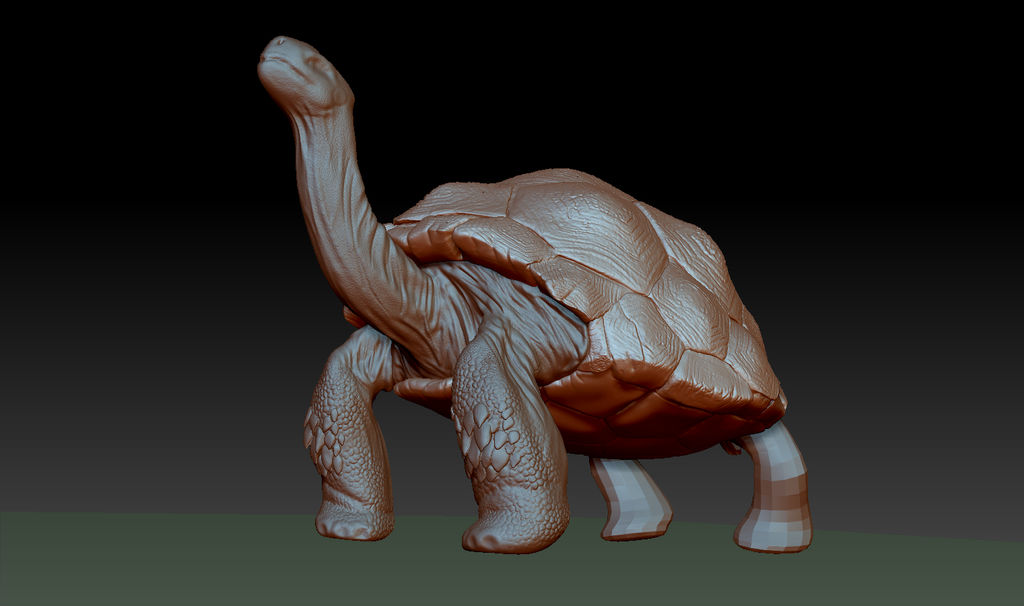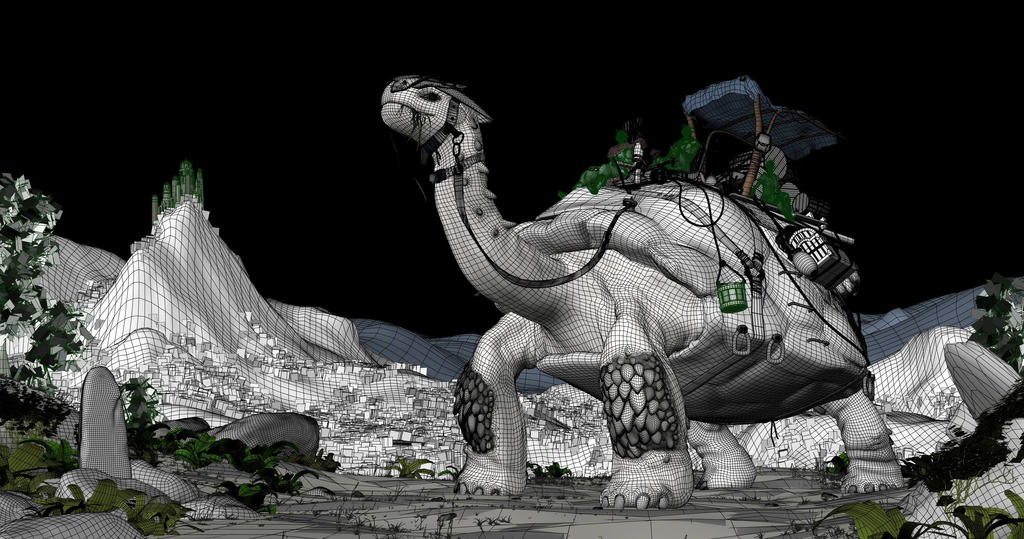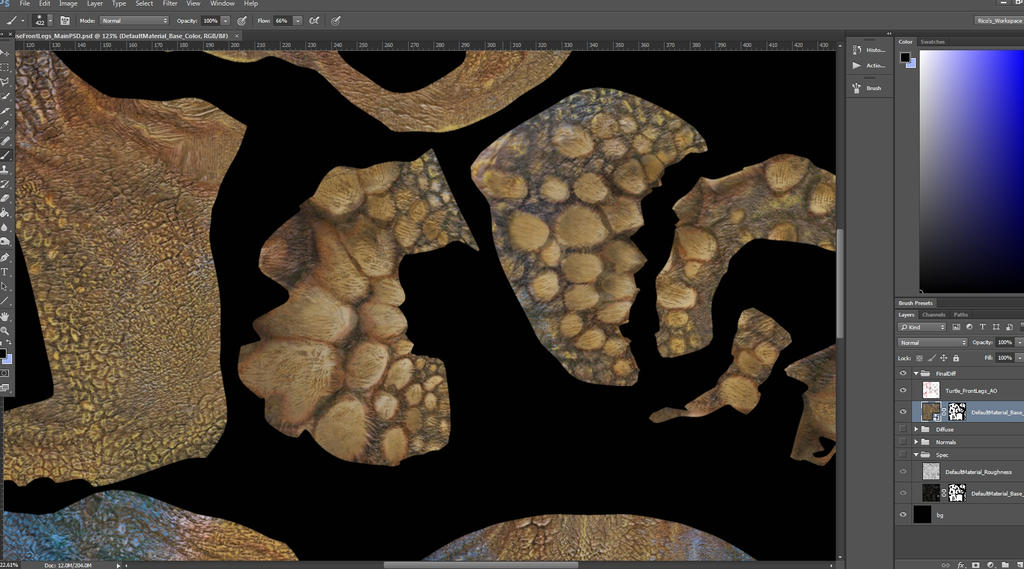 Did you encounter any creative challenges when working on the piece? If so, how did you tackle them? Is there anything you would do differently now if you could?



Well, I would say that the main focus of the artwork, the tortoise, was the biggest creative challenge on this. First of all, to create a realistic tortoise is quite a tall order, and on top of that I had to make it feel like "fantasy" somehow, while still getting a level of believability that would appeal to the viewer. Also, the level of detail required on the skin and shell was quite insane, and it did push my PC and myself to the limit. For me, the best way to overcome this challenge was to download a large amount of reference images of real tortoises and other reptiles. If I could do anything differently, I guess I would have spent more time on the pose of the tortoise, as it does feel like I could have gotten that somewhat better."
What's one piece of advice that you would share with other artists hoping to reach this standard of work in the future?
I guess I'd encourage people to focus on subjects and ideas that truly inspire them. It feels like right now there's this trend online where everyone is creating certain types of art (sexy characters, fantasy mages, etc.) just because everyone else is, and while there's nothing wrong with that if you truly like it, working on something that's enjoyable to you personally is a lot more rewarding in the end. Yes I did do this artwork for a contest, and yes, the rules did specify a certain type of image, but I really tried to find a backstory and a "world" that inspired me personally. I should add that finding inspiration from popular sources is totally OK... stuff like fan-art is also hugely cool for me, as it helps me to discover my favorite characters and locations in a new way, and it also helps me understand why I like it in the first place."

What does this DD feature represent or mean to you at this stage of your artistic development? What can your watchers look forward to next?



The DD is a huge honor for me, and I'm just humbled that it's been selected. It goes a long way to motivate me as an artist and as a storyteller. I'm also very grateful to everyone who watches my work here on DA, and I think they can expect more whimsical, fantasy, and generally crazy art and storytelling from me. I will continue to try to pass my own technical boundaries, find visual originality, and strive for artistic perfection."
Bonus question:
Can you cite a memorable reaction to this piece in the comments at DA?
"Excellent work, a really cool mount. It doesn't matter how fast you get there as long as you get there in style." by . This comment was special because that's exactly how I feel about the idea behind this artwork. "
Thanks to RicoCilliers for kindly consenting to this interview!

Visit his gallery to see more striking pieces: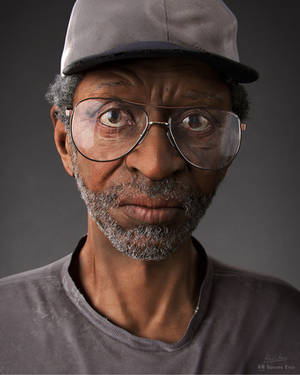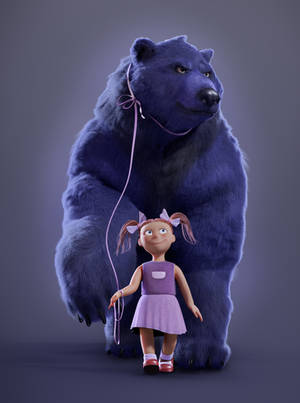 Previous Decoding DDs:

FIELD OF THORNS: OFFER
Malavestros: Muse of Madness
Jet Futura
The Northern Administration
Prisoned Singer
Don Kichote
On The Hunt
The Platform
I know a bank
Love and war
52Hz
Chase, The Dreamer
Mad
Until the End of the World..
Crow Temple
Accolade
Dragon's Breath

Spread some cheer by leaving a comment and/or

on works that you like!
Want to suggest a DD? See the link to my guidelines below!