Decoding Daily Deviations is the series that aims to unlock the secrets of what it took to create these magnificent artworks and motivate others to work towards similar recognition. Each week we will present an interview with one artist who has recently received a DD and have them share the details on that specific piece, relating to their creative process, techniques, and narrative inspirations. If you've ever wanted to know more about a beloved artwork and the talented skills applied to it, this is the series to keep track of!"
FEATURED ART:
52Hz by
goneforeverbye
DD DATE:
2016-03-29
PROGRAMME/TOOLS:
Octane 3.0 Alpha, Cinema 4D, Fusion 360, Marvelous Designer
"52Hz" is your first personal project since 2013. What inspired the creation of this piece and how does it reflect your growth as an artist during that time period?



The reason why I learned all that in the first place is to vizualize my own ideas, and not to work for others (at least not in the first place). I spent 2014 and 2015 almost completely with client work and simply hadn't had time for anything beyond that. The growth I carried into this project was that I starved for doing something bigger, without anyone telling me what to do. And I bring this feeling into the image, just like I did with "Haze" in 2013. Haze was like a last, big hit on a pipe before I had to confront my long-lasting "teenage-me" with an adult world. "52Hz" represents me, coming from my night shift, seeing the monuments that my artist friends have built and taking a light sip from a forbidden drink... it's like a version of me that became adult. Someone you haven't seen in a while, who's coming by to say hello and you notice all the little changes on him or her. I cross the parking lot every night, look at all the perpetuations of people who surpassed me in a way of self-expression and I'm afloat for just a few seconds, to see if I still have "it". It's like someone gathering strength for a comeback or something like that. That basically sums up the tone.

Besides striving for artistic greatness, I had a totally different approach in terms of technique on this. I used an all new engine for it and learned a lot about it. Another huge inspiration beside my personal shenanigans was the work of Todd Hido, Jeremy Geddes and Jack Crossing. I always liked artificial lights in fog environments and I collected tons of pictures over the years for that. The workflow itself remained pretty much the same. A back and forth between modelling, texturing, making lists of problems and solving them one by one."
The combination of surreal visuals and realistic detailing make for an amazingly cinematic spectacle. What can you reveal to readers about your work process and the story developed in the scene?



The first thought was to show something unusual having contact with something very usual, but not in a funny way...like some guy in a costume on a support group or something like that. It had to have an everyday closeness to it, combined with an event that comes close to raining frogs or time travel. I saw picture by Jack Crossing who made a burning astronaut crossing a street in New York City...that was perfect. It got the right amount of weirdness, but way too aggressive than I could've done it. My work doesn't have this dynamic to it, so I thought it might be cool to just let him stand there, to "call home". Making him float came way later in the progress. The initial picture in my head was just the astronaut in a parking lot, shot from multiple angles. First I felt very dumb for using an astronaut since it had been done that way before, but "fuck it, I like astronauts" was enough to comfort me.

On the technical side I started with creating basic light sources that light a flat plane and I used that as a sandbox for building the ground material. The whole scene stands and falls with this part, so I had to put much effort into it. It's based on a tileable displacement map I built in Zbrush. The patches and other parts are also displacement maps on simple plane objects, which I put close below ground level to make just the essential parts look through the bare asphalt. After I had this part, it was just adding light and objects to it. Modelling normally takes up to 70% of the work, so I spent 2 to 3 months of the process only with modelling. Since I switched the render engine for this piece (I used to work only with Vray), I had a much easier time shading and texturing every element. Octane has something called a "Live Viewer", that gives you a directly rendered feedback of everything you do in the scene. If you change the color of something, the live viewer refreshes almost instantly. In the case of Vray you had preparation time, render buckets, prepasses, etc. Depending on the complexity of your scene, it could take a minute or more to see any change, which takes up a lot of time since you have to eyeball specific materials sometimes. A direct feedback speeds that up. Adding to all that, it's only the effort and time you put in. There's no technical magic behind it."
Process Video
What's one piece of advice that you would share with other artists hoping to reach this standard of work in the future?



I discovered that you have to like what you do. Desire isn't enough. I always wanted to be a rock star and hit on girls with my heavy metal attitude, but I hated practicing guitar. I just wanted to be good at it, without the effort, just be the cool guy. But the thing is, you'll never feel like you're good or cool enough. I see flaws in every of my images. Every time I make something new, I think it's the best thing I've done and shortly after that I see hundreds of ways to improve myself. There will never be the moment where you think "I made it, I am a great artist now!" . Sure, you will be proud when they print your work in magazines, hand you awards and hundreds of people say how good you are, but that's just bonus. In order to become good at something, you have to put everything you have into it. There isn't a writer who's born good. It's sweat, effort, hate and you still have to at least like it a bit in order to succeed. I never heard of any artist who wasn't at least a bit into it. I can't spend 4 months on a single image if I don't like what I do. Besides all that, try to observe your environments, try to understand the basic fundamentals of everyday things like light, reflection, absorption and how they all transfer into 3D. Watch tons of movies, read books, collect things that inspire you (save them somewhere...or use Pinterest).....and don't overwork; if you're tired, rest."
What does this DD feature represent or mean to you at this stage of your artistic development? What can your watchers look forward to next?



I didn't think that I would ever get another DD since I already got a few, and I heard that at some point DeviantArt wouldn't give them to people who have several DDs already. A Daily Deviation was the first thing one of my works got awarded with, so it has an emotional importance to me. But DeviantArt also has other thing to strive for: for example, I'd love to become a senior member one day....or maybe a Deviousness award? I'd also love to share more of my techniques and provide resources like textures, materials, setups, etc. On the artistic side people can at least count on more artworks, more tales, more weirdness."
Bonus question: Can you cite a memorable reaction to this piece in the comments at DA?



"OF COURSE Stan had to be there, Stan is everywhere " by . One of the billboards in the background has an advert saying 'Stan's previously owned coffins,' which I took from Monkey Island 2, a game I really love."
Thanks to

goneforeverbye

for kindly consenting to this interview!


Art Feature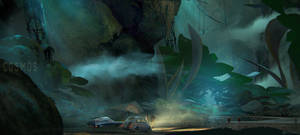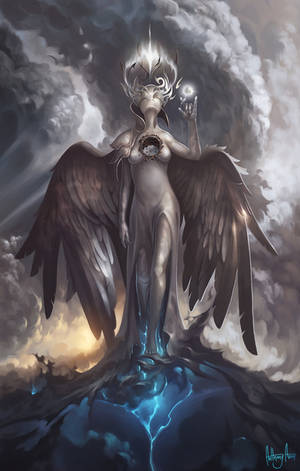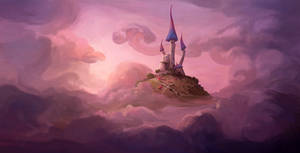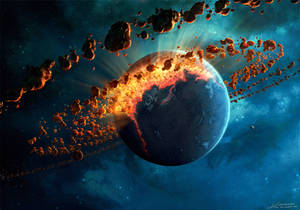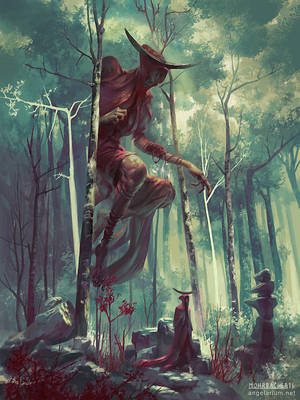 Previous Decoding DDs:

Chase, The Dreamer
Mad
Until the End of the World..
Crow Temple
Accolade
Dragon's Breath

Spread some cheer by leaving a comment and/or

on works that you like!
Want to suggest a DD? See the link to my guidelines below!