Decoding Daily Deviations is the series that aims to unlock the secrets of what it took to create these magnificent artworks and motivate others to work towards similar recognition. Each week we will present an interview with one artist who has recently received a DD and have them share the details on that specific piece, relating to their creative process, techniques, and narrative inspirations. If you've ever wanted to know more about a beloved artwork and the talented skills applied to it, this is the series to keep track of!"
FEATURED ART:
Until the end of the world..
by
ted1air
DD DATE:
2016-03-21
PROGRAMME:
Photoshop
AVERAGE TIME SPENT:
Worked off/on for over a week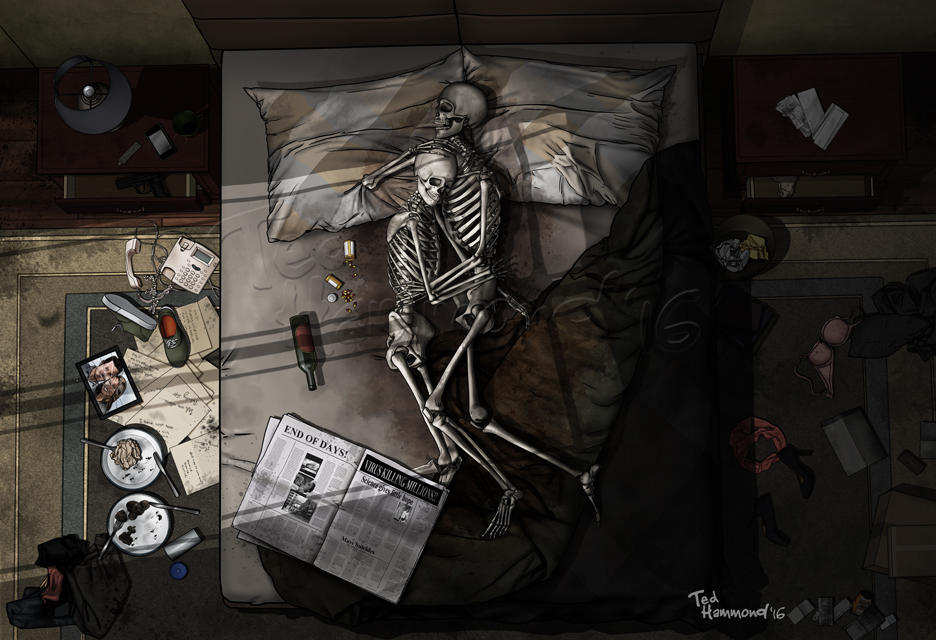 Share with readers the details of how this piece came into being. Did you have a clear story idea/inspiration from the beginning?

The concept for this didn't come from a video game or movie or anything like that. The inspiration really came from the title itself. It was something someone had said to me a long time ago. I just happened to be thinking of that moment recently and thought I would translate the line into an illustration. Two long dead people who stuck together until the bitter end. The idea of having two skeletons embracing or a skeleton embracing a living person really isn't new, so I wanted to add a bit of a story for the viewer and try to put my own slant on it."
The narrative strength of this piece is heightened by the many details and compelling perspective you include. Can you take us inside your creative process from sketch to completion, and tell which elements you prioritised to enable your concept to achieve its poignant force?

I try to plan an illustration out in my head first as best I can. It saves me from doing endless sketches later on. I will then hunt around for good reference. If I can't find something suitable, I will take pictures myself. In this case, most of the items in the room were taken with my phone. I wanted the skeletons to be the main focal points and the objects around them to give clues as to how they lived their last days and died. Choosing this simple overhead perspective allowed the story to be told and add drama. The lighting was very important too. Daylight coming from an unseen window highlights the figures and cuts through the gloom effectively and illuminates just enough to tell the story.

My first step after my initial sketch is to use the pen tool to create the black outlines on a separate layer. After that is completed I block in colour for the background, figures and all the objects. Everything is kept on its own layer. After the colours have been added, I then paint in the details. I also like to use several adjustment layers in my illustrations. It helps rein in the saturation and keeps everything consistent. After everything is painted, I wanted to set up the dramatic window light. I added a brightness/contrast adjustment layer over the top of the whole image. I then did my best to create a shape that resembled a large window. I had to use the warp and smudge tools quite a bit to achieve the proper look of distortion as the light fell over the bed and objects. After highlighting the window shape, I painted away the adjustment layer to reveal the window light. Once I feel an image is finished, I flatten it and delete all sketch and reference layers. When it's done, it's done. I never go back and rework an old illustration."
Did you encounter any creative challenges when working on the piece? If so, how did you tackle them? Is there anything you would do differently now if you could?

Surprisingly, I had relatively few issues with this illustration and it went pretty smooth from start to finish without having to pull my hair out. That might be because I did this for myself. No deadline, no pressure."
What's one piece of advice that you would share with other artists hoping to reach this standard of work in the future?
My advice would be to draw and create for yourself first. Draw what you like and what inspires you and draw every day. Lastly, never listen to negative people. There are a ton of them out there."
What does this DD feature represent or mean to you at this stage of your artistic development? What can your watchers look forward to next?

Receiving a DD was a delightful surprise! Despite the fact I have been making my living as an artist for over twenty years I was extremely flattered! I was also very grateful for the attention towards my other work as well. As far as what's next -- who knows? You will have to wait and see."
Bonus question: Can you cite a memorable reaction to this piece in the comments at DA?

I was really impressed with the comment left on my work. She wondered if the dramatic lighting signified the dawning of a new day and perhaps the end of the world never came. It's very nice to create something that makes people think and elicits an emotional response. As artists, we are all storytellers."