Decoding Daily Deviations is the series that aims to unlock the secrets of what it took to create these magnificent artworks and motivate others to work towards similar recognition. Each week we will present an interview with one artist who has recently received a DD and have them share the details on that specific piece, relating to their creative process, techniques, and narrative inspirations. If you've ever wanted to know more about a beloved artwork and the talented skills applied to it, this is the series to keep track of!"
FEATURED ART:
The journey and the big fish by
Mocaran
DD DATE:
2016-07-23
TIME SPENT:
8 HRS
TOOLS/PROGRAMME:
Photoshop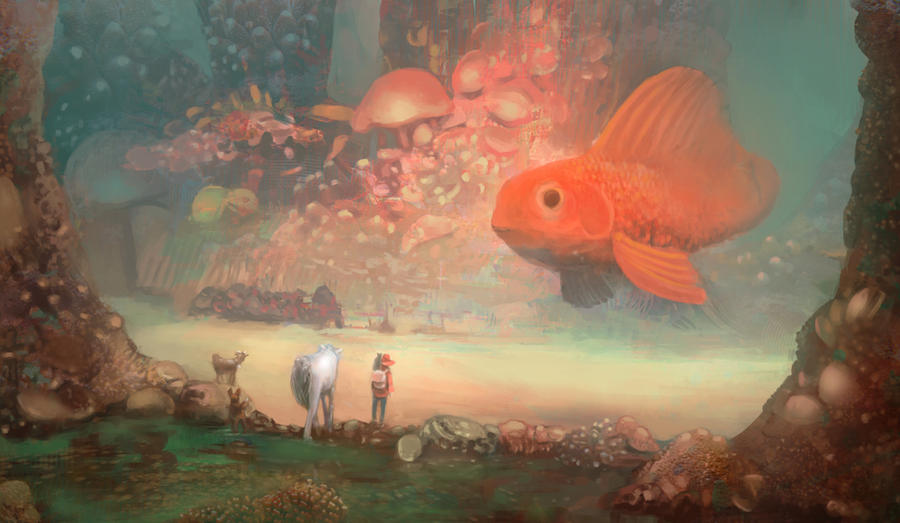 Share with readers the details of how this piece came into being. Did you have a clear story idea/inspiration from the beginning?



In this one I got clear what I wanted to tell with the painting. I was living in the countryside at this time, and I had to wake up early to go to the university. I had to go down through a mountain way to get to the bus stop, and every morning I met my dog, my cats, and some goats and horses on the way. I liked to see them when I left early in the morning, and one day I came back and I didn't see the horses anymore, so I decided to do some tribute to all those creatures I met in my everyday routine."
"The journey and the big fish" captures that imaginative surreal quality that defines so much of your work. Please, outline your creative process and what you prioritised in achieving your vision.



Usually I start without having an idea; I like starting from something abstract -- I love the suggestion of abstraction. Then I start figuring things out from shapes that start taking place, fixing compositions and colors. My process is actually not always the same, sometimes I am almost finished with a painting and I decide to change everything, I just do as I feel. Something I also love is to mix different worlds that wouldn't be possible in the real life, like on this one, making a mixture of underwater world and land. I also love over-sized things, like big fishes, big animals, etc. If I have to state what my priorities are: Composition, colors, shapes and the history telling.

I started with just composition and color, then I kept putting more shapes and started adding the characters. I photobashed some underwater nature elements and used some texture brushes to keep making shapes. The last thing is a lot of painting over, detailing, and color adjustment."
Did you encounter any creative challenges when working on the piece? If so, how did you tackle them? Is there anything you would do differently now if you could?



In this one I remember I wanted to do something really detailed. I wanted to zoom in a lot and paint all the stuff I could just as a way of practice because I usually get tired of detailing so fast. Detailing is the part that I enjoy least. And yeah, in this one I remember I got a bit tired, too. I would have liked to make the fish more detailed, and also the animals and characters to look in other ways."
What's one piece of advice that you would share with other artists hoping to reach this standard of work in the future?



I can just give this advice: Work hard, paint a lot, have fun painting, enjoy what you do. Sometimes it may be frustrating and hard, but just keep going, and when you feel like quitting, just keep painting!"
What does this DD feature represent or mean to you at this stage of your artistic development? What can your watchers look forward to next?



I really didn't expect that DD, it was something very important. It has given my work some more exposure and that is great, but the most important thing is to realize that there are people that appreciate my work."
Special thanks to Mocaran for kindly consenting to the interview!

Make sure to visit his gallery for more wonderful paintings: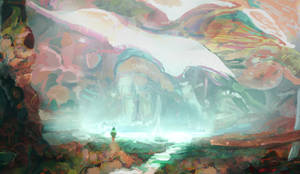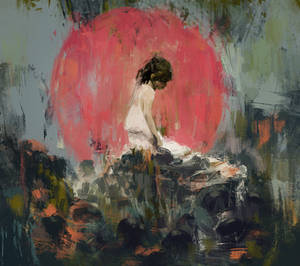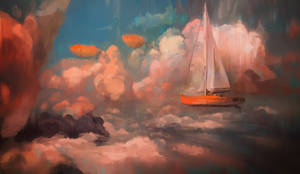 Previous Decoding DDs:

Forrest Defender
Red Snow
Catching Spirits
No kings and No Queens
The Tomb King
I'm fine
Despoiled
Cat Girl
Forest of Bunnies
The Journey
Boulderback
FIELD OF THORNS: OFFER
Malavestros: Muse of Madness
Jet Futura
The Northern Administration
Prisoned Singer
Don Kichote
On The Hunt
The Platform
I know a bank
Love and war
52Hz
Chase, The Dreamer
Mad
Until the End of the World..
Crow Temple
Accolade
Dragon's Breath

Spread some cheer by leaving a comment and/or

on works that you like!
Want to suggest a DD? See the link to my guidelines below!