Decoding Daily Deviations is the series that aims to unlock the secrets of what it took to create these magnificent artworks and motivate others to work towards similar recognition. Each week we will present an interview with one artist who has recently received a DD and have them share the details on that specific piece, relating to their creative process, techniques, and narrative inspirations. If you've ever wanted to know more about a beloved artwork and the talented skills applied to it, this is the series to keep track of!"
FEATURED ART:
Malavestros: Muse of Madness by
FabianMonk
DD DATE:
2016-04-29
AVERAGE TIME:
3 weeks
TOOLS/PROGRAMME:
Adobe Photoshop CC
This piece was done as part of the Court of the Dead series for Sideshow Collectibles. What can you share with readers about this series and the specific idea/inspiration for "Malavestros"?



The Court of the Dead is an original Sideshow Collectibles property, created by Sideshow's creative director Tom Gilliland. The stories take place in the Underworld, aka the land of the dead, which is caught in the middle of a war between Heaven and Hell. The Court is run by none other than Death himself, with the support of a pretty diverse cast, which in turn is split up into the factions of Spirit, Bone and Flesh. Feel free to visit the Court of the Dead website for a more in-depth look. The "Rise, Conquer, Rule" story follows Shard, a Templar knight who is on a quest to define the meaning of life, in the wake of discovering that ending up in Heaven or Hell is basically the same fate… being forced into servitude as a foot soldier in the war between Heaven and Hell. Sideshow recently partnered up with Heavy Metal Comics and Issue 278 features a story about her. The rest of the story will be told in an on-going comic, created by Sideshow and published by Heavy Metal, which launches this July.

Malavestros is the Underworld's storyteller, and a 4th-wall-breaking character. There is not much known about him other than the fact that he's the court jester. He strikes me as more of a behind-the-scenes type of character, which makes him more interesting for me personally. The vague nature of his story allows me to be a bit more creative with the painting. There is a strong class-nature to the society of the Court, and I picture Malavestros being able to travel between those classes more or less freely. Additionally, the majority of the Court's characters have a certain gravitas to uphold, but Malavestros, he can have fun.

In this particular case he is entertaining himself with an assortment of minions of the more mischievous variety, which I pictured inhabiting the ruins of a crypt. The environment is heavily inspired by ancient roman architecture and I was instructed to include the clutter of objects at the bottom of the staircase. Illverness, which is the capitol city of the Underworld and where this scene is taking place, is comprised of objects from all ages, hence the juxtaposition of the motorcycle and the sword, for example."
You create a thoroughly immersive scene of wild excess and merriment in this painting. Please, take us inside your creative process in developing and organizing the many details and artistic elements.



This painting is a bit of an exception in the sense that normally Sideshow approaches me with an outline for a piece they've got in mind. But given that it's Malavestros, I was able to just try something out and see if it fit. Nevertheless, these types of paintings always happen in close communication with Sideshow, so when I occasionally use "we" to answer this question, that would be why.

With something this elaborate, I usually have a relatively clear idea of certain key elements of a piece before I start. I had been to Rome shortly before I painted this, hence the inspiration for the construction of the setting. And I knew I wanted Malavestros to be in a crypt of sorts, on top of a tomb, holding a gutted fish, with the minions milling about. I felt like this accurately captured the guy's character.

I then start with crude scribbling. In this case, I wanted to get a feeling for the environment first and the very first sketch (image 1) was still in landscape format. We opted to go for a portrait format instead (image 2) and at this point in the process I did a rough colored version to get a feeling for the overall mood as well. Ultimately however, both of the first two attempts were too static and thankfully it was suggested I raise the camera angle, as well as have Malavestros not just sit there (image 3). Once we had that part figured out, it was pretty straightforward. I refined the line-art and moved on to colors (image 4-5). I didn't use any reference for the painting process, but when I was still doing the line-art I looked at photos to get a better idea of how to design the environment. And it should go without saying, but it's definitely not a prerequisite to just so happen to have visited the place you're drawing inspiration from. In the vast majority of cases I use Google, like in the case of the motorcycle, which is a 1926 Indian Prince (which means nothing to me, but I liked the way it looked)."
Did you encounter any creative challenges when working on the piece? If so, how did you tackle them? Is there anything you would do differently now if you could?



I was perhaps a bit too enamoured with the concept. I tend to enjoy spending time detailing, but I also tend to go overboard. At this point in my development, I had begun to refine the line-art to a degree that I now consider to be too much. I began doing this because I had previously felt that if I started coloring/painting too soon, I spent too much time guessing as opposed to executing. But ultimately the result of including every detail in the line-art ended up constricting me in the painting process, because I felt that I had to closely adhere to the lines I had spent a couple of days creating. I created one more painting after Malavestros in the same manner, but have since switched to practically skipping the line-art stage entirely, painting the rough version in grayscale first, then gradually adding color and detail. And I wonder why I haven't started doing that sooner. But it's kind of normal for me to switch up things in my process every now and then. I have no idea how I'll be doing things a couple of years from now."
What's one piece of advice that you would share with other artists hoping to reach this standard of work in the future?



Have patience and keep practicing. I personally feel like I've still got a lot of ground to cover and ideally I'll never lose that feeling. Something I quite enjoy about DeviantArt is the ability to go back years and years in people's galleries, providing they haven't purged them at one point, just to see where they came from. It's comforting to know that nobody just wakes up one day and has it all figured out."
What does this DD feature represent or mean to you at this stage of your artistic development? What can your watchers look forward to next?



I definitely appreciate it! You might be able to catch me saying that I would be drawing no matter what people thought, but getting some recognition is a great motivator for sure. And DeviantArt has always been a great place to receive encouragement. The DeviantArt staff has been kind to me in this regard as well -- this is my 8th Daily Deviation. My previous one actually featured the aforementioned ruler of the Court of the Dead, Death himself. As far as my next endeavours, other than the occasional Sideshow painting, I've been working on a personal comic project for a few years now. And despite the slow progress, that will get done eventually. I'll be sure to continue posting about it here!"
Bonus Question: Can you cite a memorable reaction to this piece in the comments at DA?



It's always nice when people take the time to comment, I know I've certainly been guilty of neglecting that myself. In this case it was rather reassuring to read the comment by about being able to look at the painting for a while."
Thanks to FabianMonk for kindly consenting to this interview!

Be sure to visit his gallery for more great works: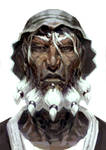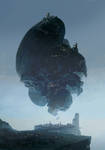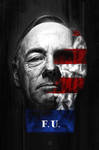 Previous Decoding DDs:

Jet Futura
The Northern Administration
Prisoned Singer
Don Kichote
On The Hunt
The Platform
I know a bank
Love and war
52Hz
Chase, The Dreamer
Mad
Until the End of the World..
Crow Temple
Accolade
Dragon's Breath

Spread some cheer by leaving a comment and/or

on works that you like!
Want to suggest a DD? See the link to my guidelines below!