Hello! I'm opening some slots for commissions again, but first I need to make an important announcement for those interested in commissioning me.
I'll be raising my prices in a month or so. The reasons are, first of all, my improved drawing skills - I've set my prices more than a year ago and I've been working on making my art better all this time - more details and better techniques, I spend more time on it, too; secondary, I need more time to work on my own projects, so I should value my time more than I do right now. Also I've made some mistakes while calculating the costs; I didn't include the PayPal fee, the time I spend on discussing and making different options and so on. I hope those who've commissioned me before or wanted to will understand my reasons. I just want to make better, more qualified art for you and make it worth every cent.
Right now, while I'm working on a brand new price list,
I'm opening some slots for current prices
, so that it wouldn't be all of a sudden and everyone who'd like to order a commission right now could do it before prices rise up. It's not limited to 5, but it's handy for me to track the process of commissions, so if you're interested just ask. They'll be open until I make a new price list, so that'll be until the end of April or so.
Important: if you've claimed the slot now the price will stay the same even after I finish the new price list; just in case if I'll have too many to do and you'll have to wait for it.
The main info of commissions is just below:
I will draw:
OC
Fanart
Real people

NSFW

Mild gore

Furry/Anthro

Pokemon
I will not draw:
Mecha
Very complicated armor
Certain fetishes
How to order?
First, send me a note or comment below with the details of your order:



Commission type (for example, flat color headshot or cell shade fullbody)

Reference sheet

Short description of your character (anything important I need to know)

Pose, expression and background details (It'll be nice if you have some reference images of what you want to see)

Your PayPal address

After that, I accept your order and send you the sketch
before the payment
so you could tell me if I should change anything. As soon as I receive the payment I will continue working on your commission.
You can make minor (!) changes after I start linework, such as a different color, but if you want to change something completely you should pay according to the price list (for example, if you want me to draw the head of the character from the other angle when I've already finished the artwork, you should pay the headshot price)
A one character commission (cell/full shade) usually takes 3-7 days, I'll notice you if there are any delays and keep you updated with the progress. The time may extend if there are multiple characters, complicated background or other features.
Please note that I may share all the commissions in my galleries, unless you ask me not to do so!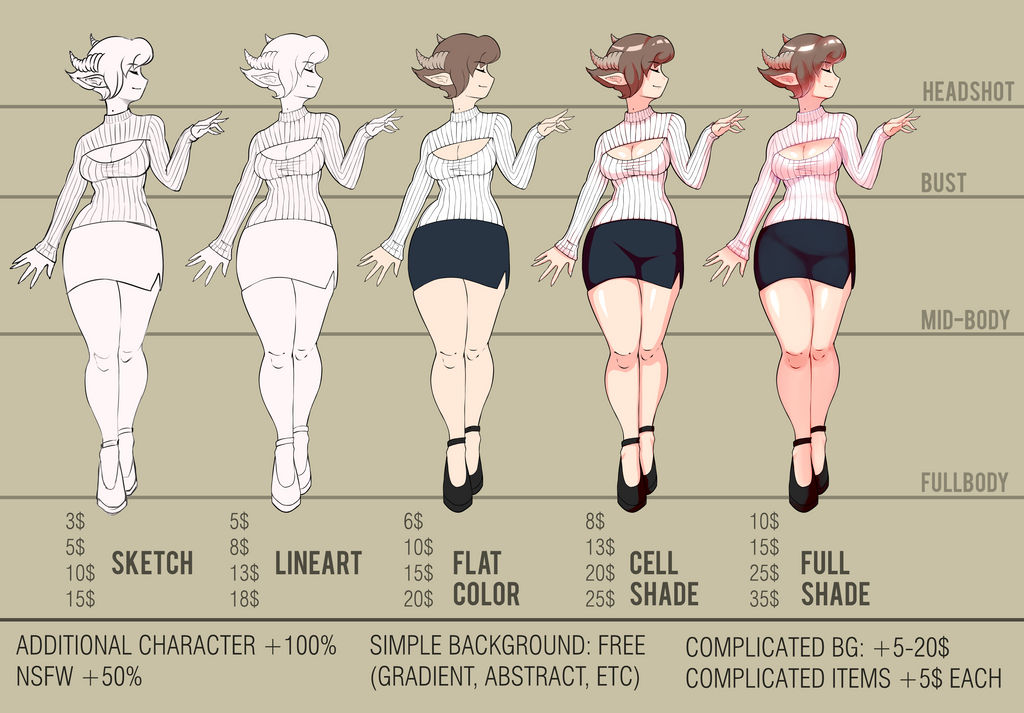 Full-body full shade simple bg ($35)
Slots:
Slot 1: lineart in progress
Slot 2: sketch approved
Slot 3: sketch in progress
Slot 4:
Slot 5: