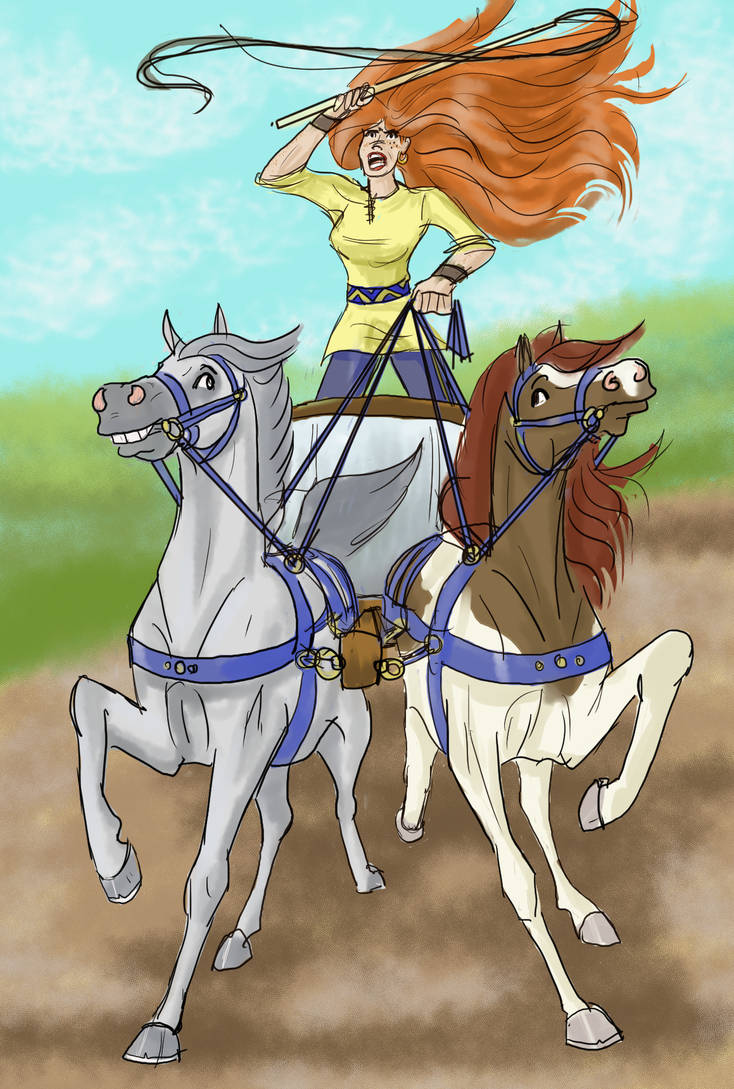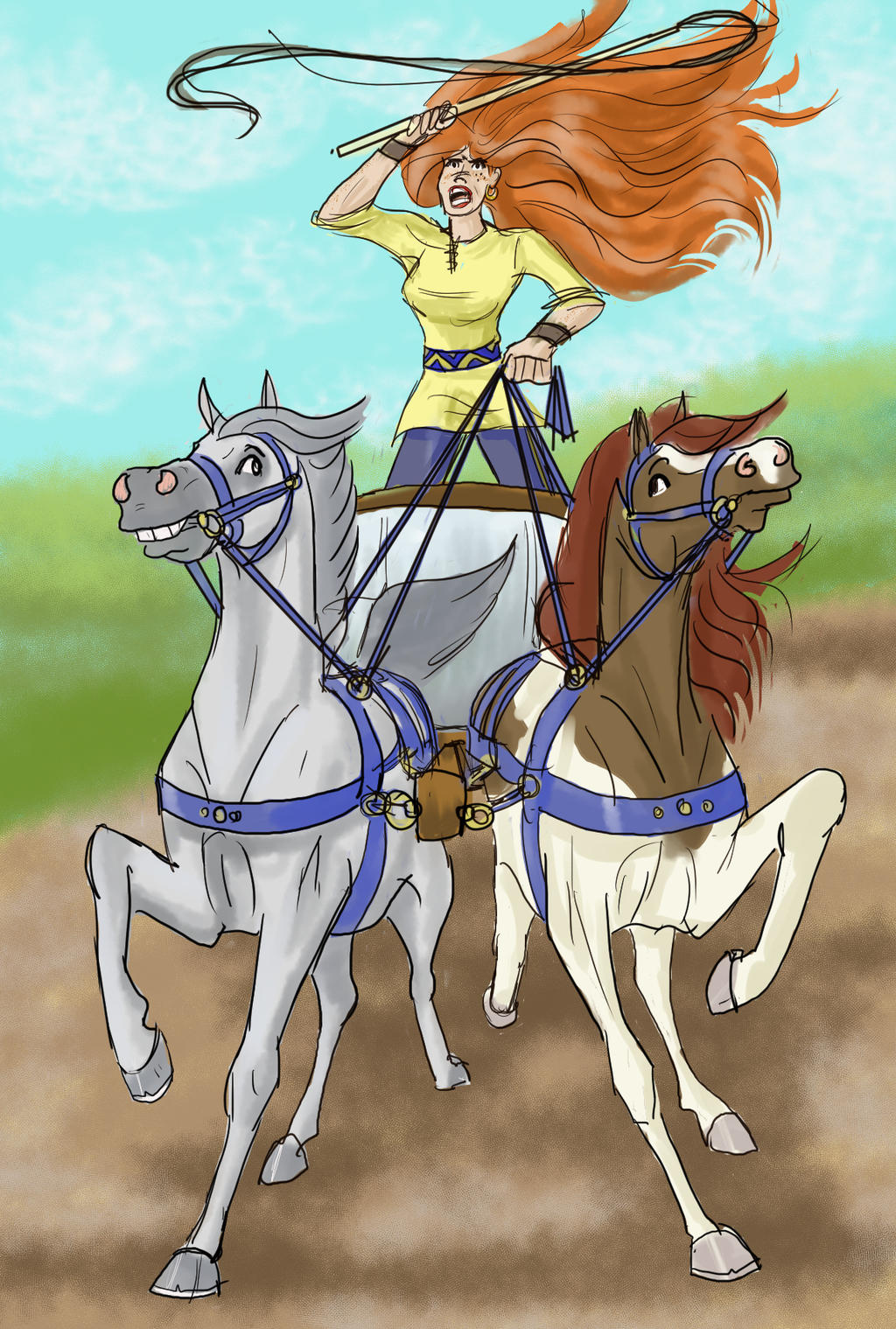 Watch
An entry for

's Chariot race.
sta.sh/0bdkopzdl5x
Khi Black, Intermediate level with Arab mare Havillands Sabra and Part bred Arab mare, Havillands Serenity.
On hearing that there was a chariot race, it was impossible to stop Khi from entering. This kind of thing is right up her street. Careering about madly in a two wheeled contraption for five laps of the track,attached to two of the more fiery mares suits her just down to the ground.
Even with the potential for danger it was still impossible to convince Khi to wear a helmet. You can't miss her with all that red hair streaming out like a banner though!
Don't worry, that whip is just for show, Sabra and Serenity don't need any encouragement to gallop wildly about.
The chariot by the way was built for the Chelmsford Carnival in 1954, it had been languishing in a shed at the back of Bert Sommer's garage for decades, when Gareth was over last time to get the Horse box serviced, he found it , Bert was all too pleased to have someone take it away and let the Havillands crowd have it for free. It had woodworm in a few places but John and Gareth are quite adept at woodwork and soon had it fixed up.
Khi is a real force to be reckoned with in that vehicle, but then, when isn't she?
Sketched on cartridge paper with a propelling pencil, inked and coloured in Clip Studio Paint Pro.
No references used.
Horse name: Havillands Sabra and Havillands
Serenity
Link to horse's reference: louvan.deviantart.com/art/Sabr… louvan.deviantart.com/art/Havi…
Horse breed:Arab and part bred arab
Horse age:Sabra is 7 and Serenity is 5
Rider name (first and last): Khilou Rhaba (AKA Khi Black)
Rider age: She won't say, but she is over 18.
Stable:Havillands
Discipline Showing: Chariot Race
Level of Skill (for Chariot Race only):Intermediate,
Reference(s) used: None
Method of Drawing: Freehand.


Wondeful illustration, my friend!, she inmetiately remembered me of Boudicca!, you´re great

!
Reply

Fantastic work my friend!!
Reply

Class 51 Results
area------------Score
effort----------8
past entries----2*random*
past placements-2*random*
story-----------3
random----------5*random*
impact----------4
extra bonus --n
follows rules---y
accuracy--------y
total: 24
placement: 2nd
HARPGworld Winnings:
$1,637
Reply

i love the cartoonish style, looks very fun >u<
Reply

Thank you, and good to see you again.
Reply

good to see you also cB !
Reply

Are you back doing art again?
Reply

yush! i spent the last 3 months working on a comic and now that it's finally done i'm going back to the old horsey art, and i want to do regular pictures again instead of comics cuz like... when it takes 3 months to finish one thing, i end up looking barely active cuz it takes so long to upload something. i want to do short comics now, like only 7 pictures, and do one a day, and only spend a week on it. and i'd like to have just regular single pictures that i draw and color and finish and upload in a few days instaed of a few months lol

the horseys are going on a brand new account and i'm planning to make a big on-going project out of it ;x; i can do stuff with it that i couldn't do with wff so i can take things further and hopefully it'll work out better. the account exists but still setting it up and of course don't have any art on it now, but i'm doing the concepts for my first horsey for it right now so that is exciting >u< very excited about it all around, i have a lot of ideas and i miss the stuff i did on wff back in the old days, the community and people i interacted with and such
Reply

Send me a link to your account once it is active an I'll watch your horse art.
I'm a bit slow at present, work sort of takes over my life giving me not enough time to draw.
Reply

le new account is YugiohHorses
info about it is here ->

♥

is k about being slow, only one pic there anyway, so far

fufu
Reply

AMAZING! Dat hair haha, and love the expression of the horses
Reply

Reply