The great news is that my pictures are all submitted to the client. It was wonderful packaging up the DVDs to send. I printed out a little cover for each with a list of contents feeling a great sense of achievement. The client is in her country now and I'm sure the publisher will be in touch before too long to ask me to make amendments. It's strange having the project behind me and the revisions ahead. I feel slightly in limbo. It is echoed in my own life here as we have had an offer on a house accepted and have a buyer for our house but there are huge complications over our buyers accepting a low offer. We feel in limbo there too as we will be (all going well) moving to the next London borough. We decided to make a fresh start somewhere new but not so far away as to lose all our friends and our hard-earned support network. With five children in tow we value those friends who can offer support enormously. The children are young enough to feel excited rather than oppressed by the idea of a new start in a new school. Everything feels slightly neither here nor there right now.
While I have been waiting for the publisher's response I have been Ebaying to help with the inevitable costs racked up by trying to sell the house and sketching out thumbnails. I managed to contact an old friend from years ago. Years ago, when we were 19 we sat in the kitchen in my childhood house and plotted ways of making money. We came up with the idea of writing and illustrating a book. Richard's book was fantastic. I kept it all those years in the hope I could do something with it one day. Amazingly I managed to find him. I had his telephone number written in an old children's book. When I called the number I discovered he'd moved but the new person in the house told me that Richard's parents lived down the road and incredibly kindly he got a message to them. Richard got in touch and was up for the project. He's making a few revisions and I'm starting thumbs. It may work it may not but I think the story is simply brilliant and even if the publishers don't go for it the book will be valuable for my portfolio as it will show the work I really want to do. I think Richard has enjoyed the new challenge. I hope it inspires him to write more! He's far better than I'd ever be at writing.
A big word of thanks on here too. I had the most amazing gift from a Deviant called Splendidriver. I am going to try to link to his work but I haven't done this before so apologies if it doesn't work:
splendidriver.deviantart.com/
Splendidriver spent time drawing and colouring a picture for our three-year-old son who is a fan of the Incredibles. Here is a link to the picture: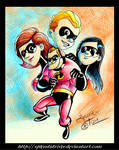 I bring up the children to understand that home-made gifts are far more precious than bought gifts because they are a gift of thought, creativity and time. I really, really appreciate the labour and it was really beautiful to give little Tom the picture and to sit and explain that someone had actually drawn the image for him. He was delighted and treasures the picture. For my part I'm a huge fan of Splendidriver's work and love his shading technique. Please spare a moment to check out his gallery. I see a big future ahead here!
Right, I'm returning to the work. Currently having a whale of a time creating a central character for the new story and it's going to be soooo much fun. I can't wait to work on something with such a hearty dose of daftness. That's a major bonus to working with a friend. It helps that you can understand each other's crazy side. It helps to know that if you draw a really, really silly picture you don't have to worry about being too daft!
Night all.

Good to hear you got in touch with your friend, being able to work on old projects like that must be a wonder.

Best of luck with the publisher and house. Hopefully you will not be in limbo long.

Hmmmm... you mentioned one of your daughters liked my angels and fairies. Is she having a birthday anytime soon because I would be more then willing to create something, I love giving children free art, something about the delight in their eyes is wonderful.

Well jaa ne

Kat