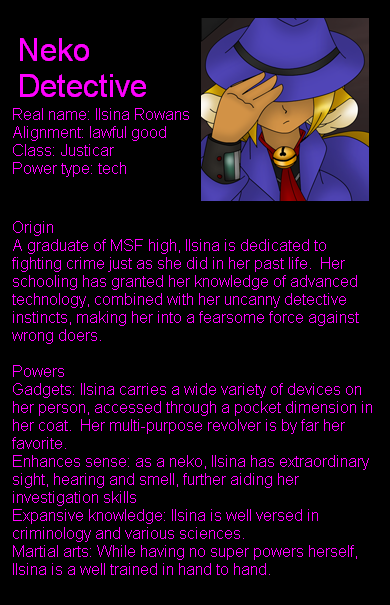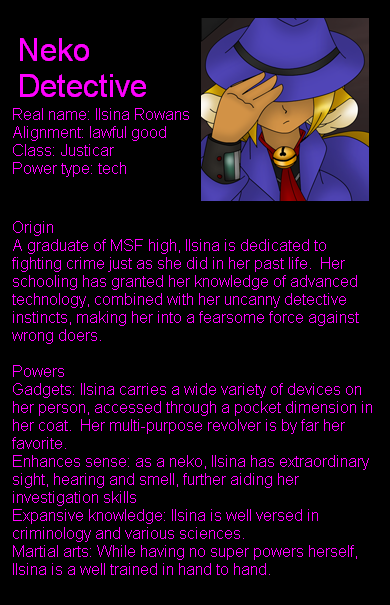 A bio for the newest character on Play Time, Neko Detective.
Comic can be found here:
[link]
It wasn't easy pulling her away from her work but the one and only Neko Detective has agreed to answer all your questions.
ND: Thank you very much Hawkeye. So, what mysteries about the Neko Detective do you all need help solving? As with Dolly, I cannot answer any questions that involve story spoilers.
"My questions revolve around your devices. Did you make them yourself and do they run on batteries or your own method of energy? Such like the legion have their biotechnicians and pilots, scientist have biowarp mages. And seeing the mental alterations on some of your rays, are you also perhaps a mind specialists or master?"
ND: At present, I am still using batteries as is common at MSF but I'm always researching possible alternatives, particularily in my pursuits to expand my pocket dimension.
I have no psychic abilities of my own. Rather, I spent a lot of time studying the powers of others at school, learning how to use technology to either replicate them or counter them. I took particular interest in hypnotic suggestions since as you saw, it helps make interrogation subjects more cooperative.
"No psychic abilities? So did you spend more time in the pursuit of science, and spent no time as a demi-human."
ND: Mostly but far from entirely. Being a neko has uses to a detective so I have spent time honing my senses and studying martial arts to keep up my agility.
"seeing you are a graduate, have you ever put anytime and experience as other races?"
ND: Some, mainly to practice incognito.
"Seeing you didn't study in the CTS Biowarp mage for alternate power source for devices, you must have a really tough time supplying batteries for your devices. Are you a Genius, Billionaire, Playboy, Philanthropist?"
ND: I've maintained some contacts in MSF that I supply devices and technical help to in exchange for supplies as I'm leery of letting them fall into the wrong hands.
"What fond memories do you have of MSF High? Any Nightmares you remember?"
ND: My days at MSF were a tad uneventful...at least by MSF's standards. I didn't socialize that much because I was so absorbed in my studies. Some teachers worried I was a bit obsessive about it. In fact, I remember after I graduated. Before I left, vice principal Kasumi told me she had one last asignment for me. She said it was to make some friends. I didn't take her very seriously at the time but now look.
Always had a feeling there was more to her than she let on...
Nightmares? Always the same one, the day I died....but I'd rather not talk about that...
"So did you have any heroic idols while studying in MSF High? No awesome vigilante gadget using superhero?"
ND: Oh of course. I loved detective novels and comics since I was a kid (including the one you're probably thinking of) so when I was told I could learn to be a superhero at MSF, there was no decision to be made facet wise.
"Why did you graduate as a Domestic Neko Demi-Human?"
ND: It's the form I started off as and it honestly just fit. The agility and senses are helpful too and the whole curiosity stereotype helped build the hero I wanted to be in my mind.
"What was your favorite class, and how did you get along with the other races at MSFHigh?"
ND: Favorite class? That's easy, Mr Riley's.
I didn't have any close friends as I still had trouble trusting people during my time in MSF. (you'll notice I didn't even trust Dolly until I had her secret identity in my back pocket just in case, a measure I now see was unneeded.) So, my relationships at MSF tended to be stable and business like. So, I did get along well with dark elves who tend to share such relations. I was a bit of a black sheep among fellow demihumans. Legion were friendly enough but their history made me suspicious of them. I can't think of many other races I knew very well.
"No opinions on the whole GAN versus AP thing?"
ND:
The GAN I think are an interesting experiment and I think there's much to learn from whatever results.
The AP I'm even more leery of. Make no mistake. While they may claim otherwise, what they desire is not peace, it is power. Take from someone who learned the hard way. It's always wise to mistrust people in power or those who seek it.