so i just saw this in a group, and it restarted an old train of thought i'd like to gauge opinions on. i know this is like discussing politics or religion in a public forum, but there you go. also, i would like to clarify that any works mentioned here serve only as examples in a discussion and are not meant as attacks on individuals.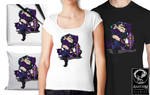 i don't agree with this. fanart is fanart, and i have no problem with drawing or sculpting a character you love, but when you start making money from it you stray into the realm of copyright infringement. fair enough; the composition and style might be unique to the person who drew it, and therefore it can be interpreted as an "original" drawing, but the fact remains that the majority of buyers would be willing to pay for the piece due to some connection to the character. therefore, those sales are directly dependent on the subject matter, and that subject matter belongs to another party. this can clearly be seen in artist alleys, where the majority of works sold are usually fanart pieces.
while it is true that each sale of fanart does not relate to a sale lost by the originator of the work (as in the case of a downloaded movie), the character concept that the buyer was willing to pay for does not belong to the fanart creator and therefore the sale should not go to them. that brings us to another catagory of selling another's ip...

this, to me, is the artistic equivalent of "fong kong", cheap reproductions of known brand items like nike running shoes. here the goal seems to have been not only to piggy-back on a famous ip, but also on the work of a well-known illustrator.
in closing, these are just my thoughts around people selling work derived from another's idea. the idea, concept, intellectual property, call it what you will; that is the issue here because the product would not have existed without it, and were an oc depicted in the same composition the sale would likely not have happened.
i know many out there would disagree with my points, and due to the mass consumption of copyrighted ip's being used to sell shirts on sites like etsy etc my comments and opinions won't amount to much. i'm also expecting comments on this journal (if there are any) to be largely negative and potentially butthurtey, especially since there is a good chance that this is read by people who know the creators of the products i have used as examples. i would like to reiterate though that these are just examples used to illustrate points and are not meant as insults to the creators.
...not that means anything since people perceive personal insult and offence where and when they seem fit, but that's a rant for another day