Liara with her sidearm out on the streets of Omega.
A makeover of Liara I made in the from 2013 and looks better than ever, and also used her face model from the first 2 Mass Effects as she looks a little younger although she's 106 years old than in the Mass Effect 3 version.
Garry's Mod
Photoshop CC2019
Content belongs to Bioware.
Other images of Liara.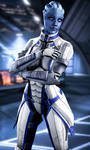 Image details
Image size
3052x5284px 10.41 MB