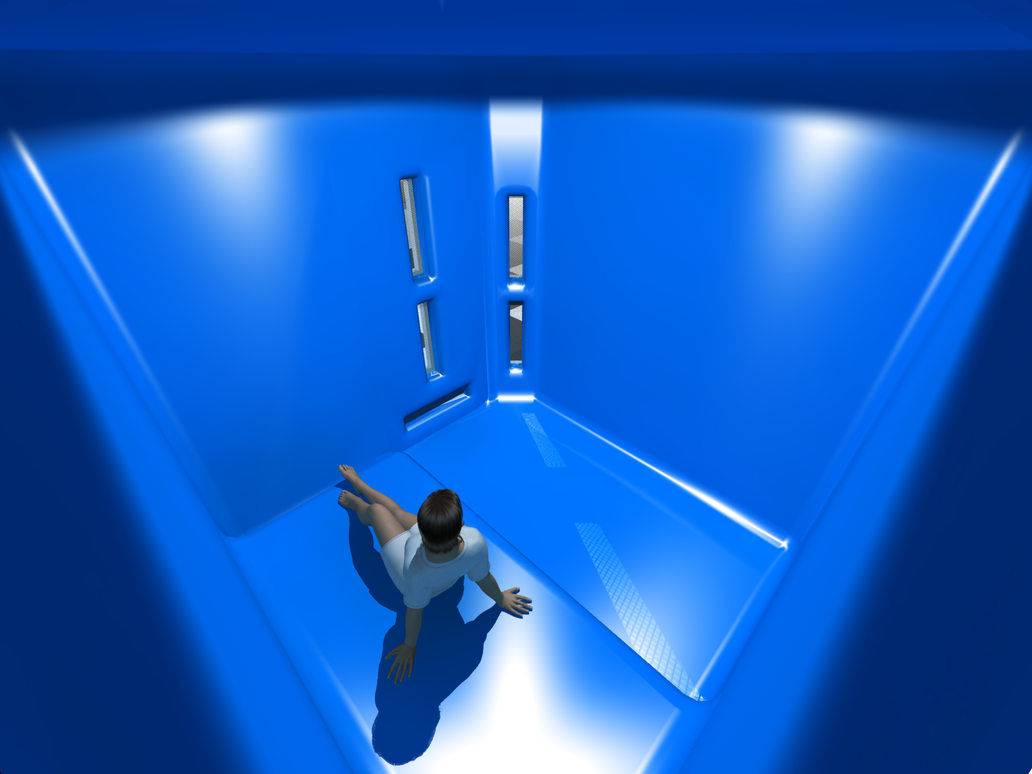 Watch

Reply

If you already have the model of the other cell, without the bed, would it be too hard to do a render of it?
Reply

Reply

Very interesting are you going to show more of this hospital and its pataints in the future.
Reply

I love how seamless it is.

The space between the end of the bed and the wall could probably be eliminated, then there would be no convex corners at all in the room.
Reply

Well, actually this is a module of two crisis intervention rooms. The other one doesn't have a bed inside, which is more like it will be. It's just an empty cube with 10cm of padding. Here the bed is just a try to not let it look to blank. And the next design will have a drain in the floor for sure.
Reply

Hmmm, how to add a drain without interrupting the padding....

It could be put all the way in the corner. Or if you kept the bed but made it more of a shelf, it could be hidden beneath the bed.
Reply

I planned to have it in the middle, sunken into the padding like the windows. The Idea is that you can hose down everything, so cleaning after use is easy, fast and thoroughly. The Polyurethane laminate over the padding is fire retardant, stain-resistant and very abrasion proof. A steel framework keeps it under tension so it's always nicely taut and this offers some padding in itself. The additional cushioning is for shaping purpose and to minimise the space needed to offer adequate padding to prevent injuries.
Reply

For hosing purposes, it probably would be more effective in a corner, then you can hose down the floor towards the drain and not have anything go past it.

If it were an opening sunken below the surface of the padding in the middle of the floor, it might represent a trip hazard, while if it weren't sunken, it would be a hard surface to be hurt against.
Reply

Well, tripping hazard in a padded room? Not really a problem, your will always fall adequate padded

But I planned to have padding above the grate. Center position is easier on the slightly slope one needs to have the water running to the drain and not forming puddles. Have it in a corner would be dificult for the existing construction.
And for the bed, it would offer to much attacking surface if it was like a shelf, and a hiding place that can make an extraction quit difficult and hazardous for the staff. Of course it doesn't look so nicely, but in this case, functionality comes before aesthetics.

Reply

I was thinking that when fully padded, the "Shelf" would barely have any room under it.

No bed at all works. Although a bed with medical restraints would also work (but then why bother with a padded cell).
Reply