The battle between

's Merrymaker against

's Bash Cat is over and well, its a tie, both of the heroines have the same amount of votes

. This battle can go either way Bash Cat has speed and agility on her side, but Merrymaker has the gadgets. I was surprised that this was a tie.
-
The next what if battle is another heroine between

's Ms. Amazing and

's Whirlwind. Two lovely fun ladies face off



Versus Battle 8:




's Ms. Amazing
Ms. Amazing Profile
Versus


's Whirlwind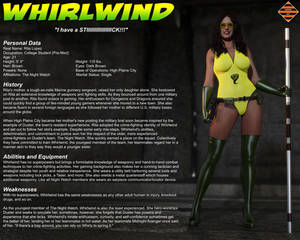 Whirlwind Profile
Vote here:
www.deviantart.com/lordamon12/…
-----------------------------------------------------
Rules:


No outside help, this is a one on one battle I might to team up fights in the future though.
The fighters are in Character.

Please do not post in your status and ask your watchers to vote for your OCs.

No favoritism.

OCs get extra points if you explain why they might win the fight.

You can request battles, This can include what if battles between my OCs, our OCs or your friends OCs (You have to ask for their permission first).
Read the character biographies before voting.