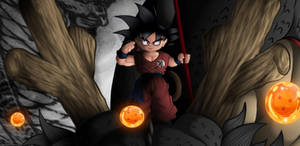 Basic
Basic access for everyone. To support me 😉 Free Download and promotion on commissions.
---

Description
I dunno, this started out as somethin', but ended up as somethin' else. I started drawing this a few months ago, and quit; and then finished it today. There's something about Goku's face - never mind, I notice everything wrong with this.
This was a simple idea derived from wanting to paint one of the first panels of Akira Toriyama's extremely long-standing comic, "Dragon Ball" of course. It's THIS PANEL:
[link]
it looks good as a thumbnail, I guess.
Image size
1119x616px 394.8 KB