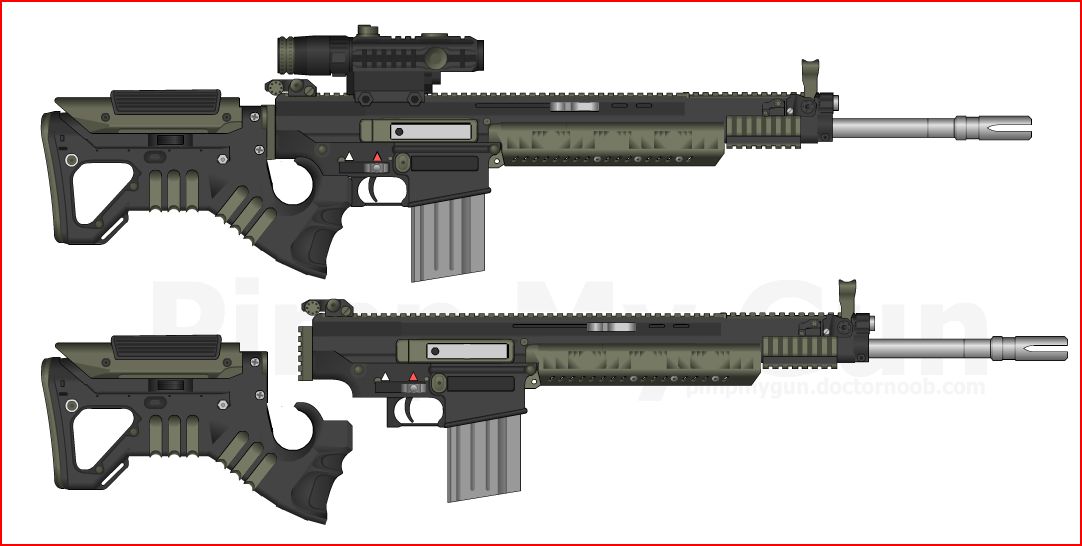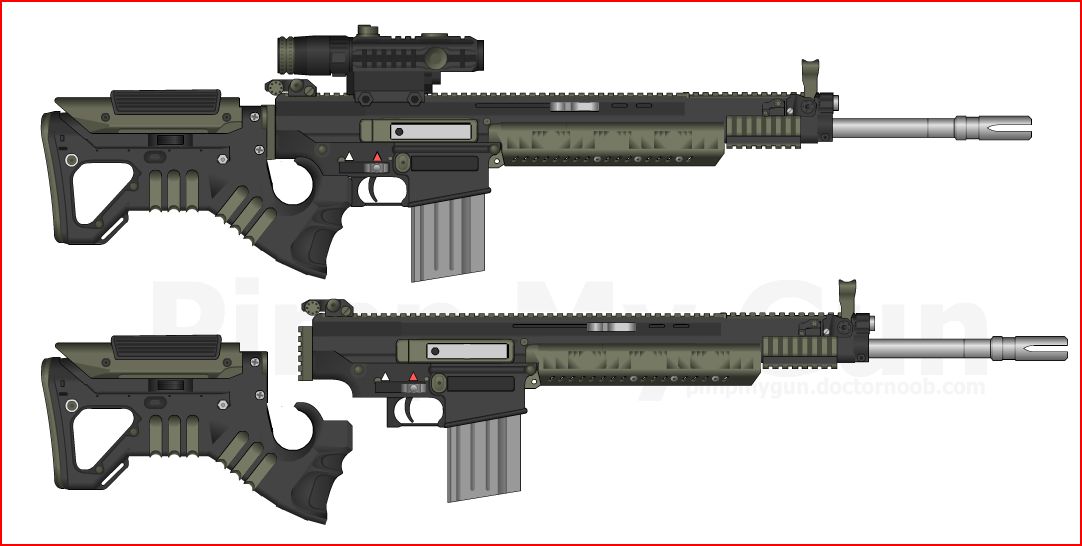 Watch
There, it's done. I like the handguard texture but I already know not everyone will.
And I'm going to get comments about how the mag and scope should be custom, but I'm really to the point where I don't like doing those. Scopes are interchangeable by user, so really I prefer them preset now. And mags are disposable, why would you have a $50 mag?

Ideas for stock details and charging handle thanks to Woitekz

Reply

The thumb-hole reminded me of the AWM sniper rifle. Favorited.
Reply

Mags are disposable? I can't think of anyone who would just throw away a magazine, unless they really had no other choice.
Reply

Well I look at it as "I can put my mag nicely in my pocket and get shot, or drop it and run"
Reply

In a situation like that, I can see why you'd drop it and run (hence, why I said unless they had no other choice), but the only people who'd have to do that are in a combat situation. Most of us aren't. Plus, magazines are designed to be reusable, so the average competitive or recreational shooter would want more magazines. It makes things much easier.
Reply

Ok non combat yes you'd definitely keep the mag. But almost all of my guns are designed for combat so that's the mindset I put myself in. If a soldier wants a special cushy magazine instead of a simple metal one then he can pay for it himself.
Reply

But even for combat, if you just wound up dropping all your magazines when they're empty, you're fucked later on, unless you can get some more. What I'm saying is that it's better to conserve them if you can. If you're behind cover while in combat, and your enemy is even 50 yards away, I'm sure you have time to put your empty magazine back in a pouch or pocket. And if they're even farther away, like 100, 200, or 300 yards away, that's even better.

And if you're not in the military, and your guns are designed for combat, that's nice, but you'd likely still want to hold onto your magazines. You don't have the military to give you more when you lose them, so you'd wind up having to buy more. Most of the magazines I've seen run around $30 a piece, and if you're buying multiples, that can really add up. And if you're talking about a post-apocalyptic scenario, well...it wouldn't be smart to throw away supplies like that, because chances are, you can't buy any more.
Reply

Alright, when I said combat I meant military combat. The government would prefer something like a magazine be as cheap as possible while still functional. If a mag is $30 for a standard one, why would the military want to pay upwards of $70 for it to be fancy looking? Especially if they might have to replace several thousand a month. If every soldier has 4 mags, and there's over 100,000 soldiers, the chance of replacing a mag is very high.
Reply

That's going on the assumption that all soldiers of every military in the world are always in combat.
Reply

... Not really. Even if they're not in combat, why would the government waste money on a fancy magazine they'll have to replace 'later'? Why would they waste money on a fancy magazine if they're not even using it because they're not in combat?
Reply

Are you in the military? Because if you aren't, and don't plan to be, then what's the point? Besides, combat is combat. If you aren't going to be in the military, then any combat situation you would likely be in would likely pit you (and maybe a few others) against pretty much the rest of the world. If that was the case, it would be ideal to conserve what you can. Also, more expensive magazines aren't just more expensive because they look fancy. They're usually made of different materials, and are probably of higher quality than the cheaper stuff, so they're built to last longer and probably endure more abuse. You might as well be asking a knife collector what's the point in buying a more expensive knife, like one from Cold Steel, when you could buy a cheaper one that can do the same things. The answer you'd likely get is because of their quality and performance. Not all knives are made equal, just as not all magazines are made equal. Not all guns are made equal either. It depends on the materials, engineering, and craftsmanship put into them.
Reply

The point would be that I'm going to be starting school this summer to begin my long trek into being an actual weapons designer for the military.
And I see your point with the knives, but a stamped steel magazine is the bread and butter of magazines. I could make it of plastic or aluminum to lower weight I suppose, but the shape of it need not change.

If you were to have a custom magazine describe what you'd have.
Reply
(1 Reply)

Oh my, I really like the stock. Great job on the firearm.

Reply

the front sight seems to be directly in the way of the gas block
Reply

Reply

i could be wrong but it looks like the mechanism that flips the front sight up and down extends into the area where the gas tube would go, assuming that this is a conventional AR design. even if it used a gas piston, i think the sight would still block it, unless the hinge straddled the top rail.
Reply

0.0 Omg you're right... I 'might' be able with saying that the piston itself just barely fits above the connecting rod for the sight. And that the sight doesn't fold flat with the rails. Which isn't a good thing... but it's workable.
I really wish I hadn't messed that up now o.o Wow.... >.<
Reply

that is, and forever will be, the most awsome stock for any weapon I have ever seen! goddamn man! its Beautiful! and the gun itself is freaking awsome to boot! so awsome!
Reply

Reply