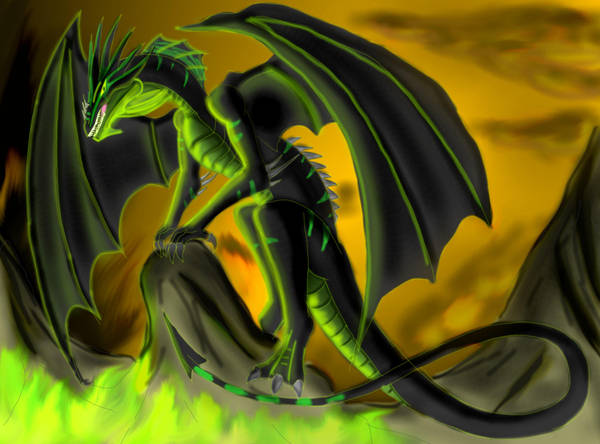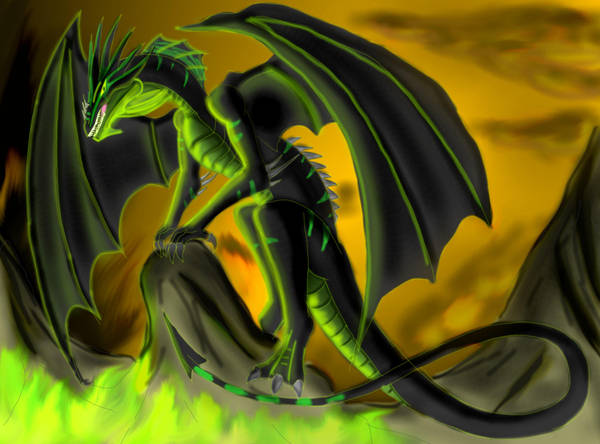 Watch
This here is another one of my charakters.
His name is Raving Dark and as many have definitly noticed he is a Black Dragon.
As many of his kind he's pretty evil. He's cruel and cold hearted. He also has a sadistic sence of humor.
His specialty is his Green Fire that can produce a deadly smoke.
Dark hates humans and all sorts of Light Dragons.
Raving Dark belongs to me (c) so don't steal
if someone likes this pic than please leave at least a short comment


Can I use this picture as a image reference to a Spyro character of mine.
Reply

reminds me of scar from the lion king
Reply

Now that is one conotation I never thought of

thank's for the comment

Reply

.___. That is sooo aweshum, imma fav! xD
I really like how you used the neon-greeness

Reply

like it?
i dotn like it
...
...I LOVE IT

DDD
its amazing, great job
Reply

He's so black he's green!

I love the illumination you gave him. In most cases it would have been a bit over the top, but you got that level of reflection to work out quite nicely.
Reply

wow, thanks
I'm really glad you like my picture and that you gave me such a nice comment(the first constructive one I got here

)
thank you very much

Reply

I've never really seen the purpose of commenting to simply say you like something. That's what faves are for.

So I always try to have something somewhat constructive to say, or I won't leave a comment.
Reply

Reply

Whoa hes pretty awesome, the way you set the light here is brilliant

Reply