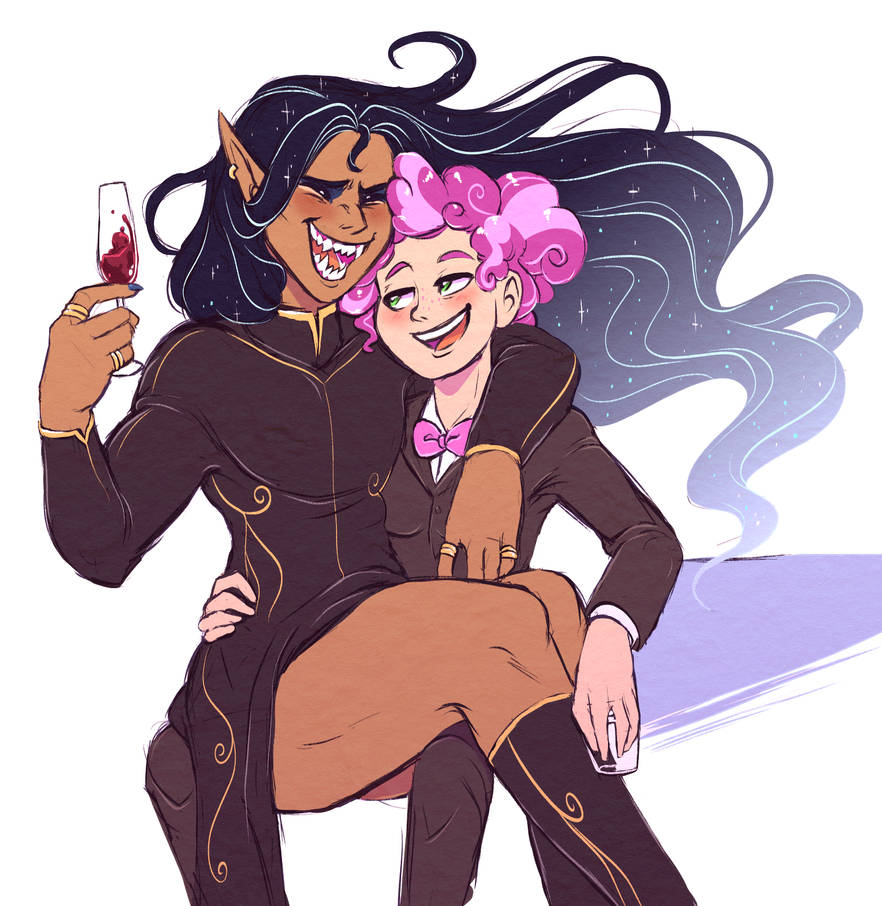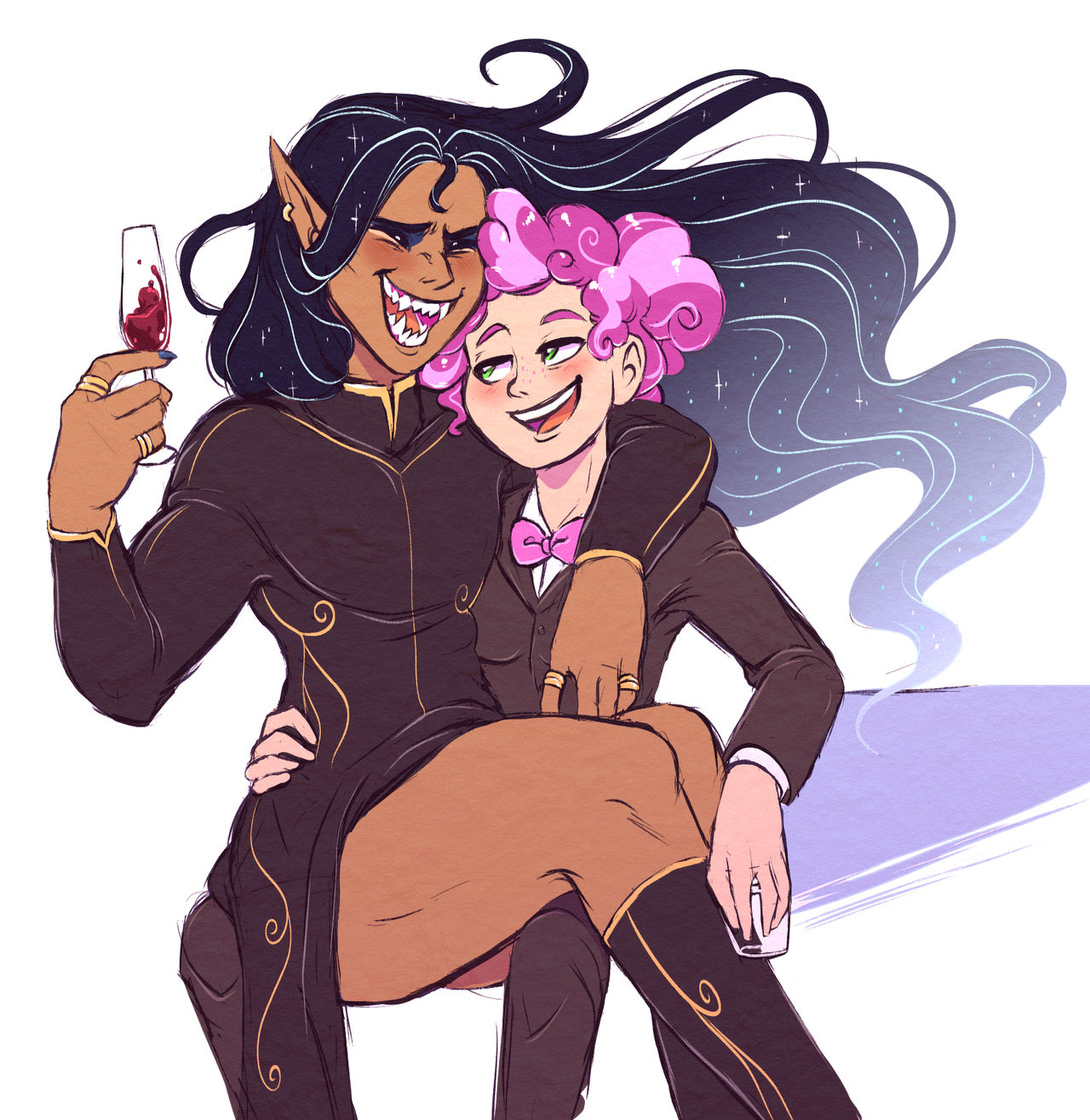 Watch
"Artie, honey, I love having you here, but my drink's empty. Can you let me up to go grab a fresh one?"
Artemis, heir to the night, didn't so much as budge. "The moon moves for no mortal, Jamboree."
"Is that a metaphor for your tushie, or are you talking about the literal moon? Cuz I know you're capable of movin' both, ya dongle."
Artemis burst into giggles, and a smile automatically floated across Jam's face. "Okay, new plan. Just gimme your drink. You're already well into tipsy town, and sharing is caring, babe."
"Poor Jamboree. Hast thou forgotten that we are a phenomenally powerful cosmic being? We are capable of downing and crushing an entire barrel of moonshine, without feeling the slightest hint of inebriation."
"Yeah right. You're sloshed, babe, I can tell-cuz you always get the giggles bad."
Artemis held their hand up to their face to stifle a highly suspicious laugh. "We do not. Thou....you......You simply make me laugh, that's all. Perhaps you've finally eroded my defenses. I should have known not to trust that squishy freckled face....." Artemis lifted a hand to squeeze Jam's cheeks.

"Uh-huh, these cute freckled cheekies have wormed me into the good graces of many an enemy. They're how I win wars and overthrow dictatorships....then establish my own adorable, fascist regime."
"We knew thee were evil." Artemis chuckled, giving a clumsy kiss to Jam's cheek. "....You've certainly won against me, anyway."
Jam blinked up at Art, confused. "....Won what, honeypants?"

But Artemis only gave a smile that was mysterious, if a bit drunken. "Beautiful, beautiful little fool. Ich bin in dich verliebt."
"Wait, wait, wait!" Jamboree scrounged madly in her suit pockets, searching desperately for her translator's dictionary. "No fair, Artie! You know I've only had time to learn a few words! What did you say?" She pouted cutely, nose crinkling.
"Wouldn't
you
like to know." Artemis stuck out their tongue, before leaning forward-close enough to share breath-catching Jam off guard. "....Here's an easier one, darling.
Küss mich."
"Umm...." Jam's face had erupted into a cherry-red blush. "....A-Am I supposed to use context clues for this one?"
"Now, Jamboree."

"Ah ha." Jam giggled a little, and the gap between them began to close. "Sure thing, your highness."

~~~~

a quick messy doodle i liked a little tooo much to post as a status, proportions are weird but i really like artemis' dork laugh

Artemis is a paradox, the more alcohol they drink, the thirstier they get. Jam didn't expect it but she's diggin it a lot
more Art n' Jam Sandwich tomfoolery:


EDIT:
Did an outfit/size comparison for funsies
Now Arte's dress makes a bit more sense. I love drawing these two because of the sharp contrast in body types-Artemis is big curvy buff god bod, while Jam is just this teeny twiggy thing. Arte
could
end Jam's life by crushing her between their thighs, and that's just reason #321 that Jam loves their flirty birdie so much