ya'll really seemed to like the valentines day chibi ships, so i made a new batch~
1.) Cloudburst/Zipperflash: Work that charm, Cloudy! Zipsy, quit pretending you ain't into that pint-sized sex bomb


2.) Rosemary/Magnolia May:
Yoga lends itself to very interesting positions. ......it's up in the air how innocent Rosemary really is here (she knows Magnolia's been nursing a crush on her forever)
3.) Jam Sandwich/Artemis: Only Jam can sneak up on the ever vigilant alicorn of the eventide with flying smoochie-tackles
4.) Zee/Moondancer: Moondancer knew Zee was a dancer (and tended to get all flustered and indignant whenever she showed off her not-family-friendly dance moves at the studio he frequents). He's surprised to find out that Zee's real talent lies in singing. Though she prefers hip-hop, she can pull off a love ballad or two, when the mood strikes. Moony is helpless in the face of being serenaded- he's about two seconds away from swooning like a schoolgirl
5.) PB Sandwich/ Smokescreen:
Is Smoky showing affection, or seizing the chance to swipe cookie dough? You be the judge! I imagine these two meet at some Canterlot party.
PB is sitting off alone somewhere sadly. He came with Jammie to hang out and try out new comedy to the party guests, but his sister wandered off with Artemis, something she's been doing more and more lately. Peebs is happy for her, really, but he can't help feeling abandoned. It's at the snack bar that he meets Smokescreen, who is naturally pining over Princess Iridescence (who is being swept off her hooves dancing with Cuppa Joe) and also feeling lonely (the guests aren't so keen to talk to him if he isn't disguised in a less unnerving form). The two hit it off, with Smoke appreciating PB's jokes and them bonding over being "losers in love". Smoke finds himself thinking PB's smile is kinda adorable, and asks the goober to dance....
Smokey would be a total cuddle bug with his little pony boyfriend, getting all purry and blushey feeding off Peeb's love and all his beautifully honest feelings....And being lowkey possessive, towering behind Peebs smiling oh-so-sweetly when ponies attempt to flirt with the little pony. He shrugs innocently when Peebs is confused why they all flee.
I imagine the friendship would be a healthy way for them both to move on from their respective one-sided loves eventually. I can see Peebs not judging Smokey for his feelings toward his aunt, just smiling sadly and admitting that he still holds a flame for Pandora, even now as she is happy in his sister's arms. Who is he to judge when it comes to love?

They eventually get to a place where love grows between them, and poor Peebs has to try and handle the intense changeling/dragon courting rituals as his crush determinedly pursues him. And maybe Smokey just loves seeing that delicious blush on his friend's face when the hybrid is not at all subtle about flexing his muscles in front of him.


~~~~~~~~~~~~~~~~~~

more teeny ships: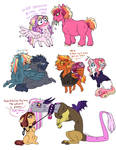 ~~~~~~~~~~~~~~~~~~~~~~~~~~~~~~~~~~~~~~~~~~~~


Enjoy my content? Consider supporting me on Patreon!

It has rewards, sneak peeks, and early viewing of finished art for patrons! Also, for each funding goal met, I produce a new promised art and story reward!