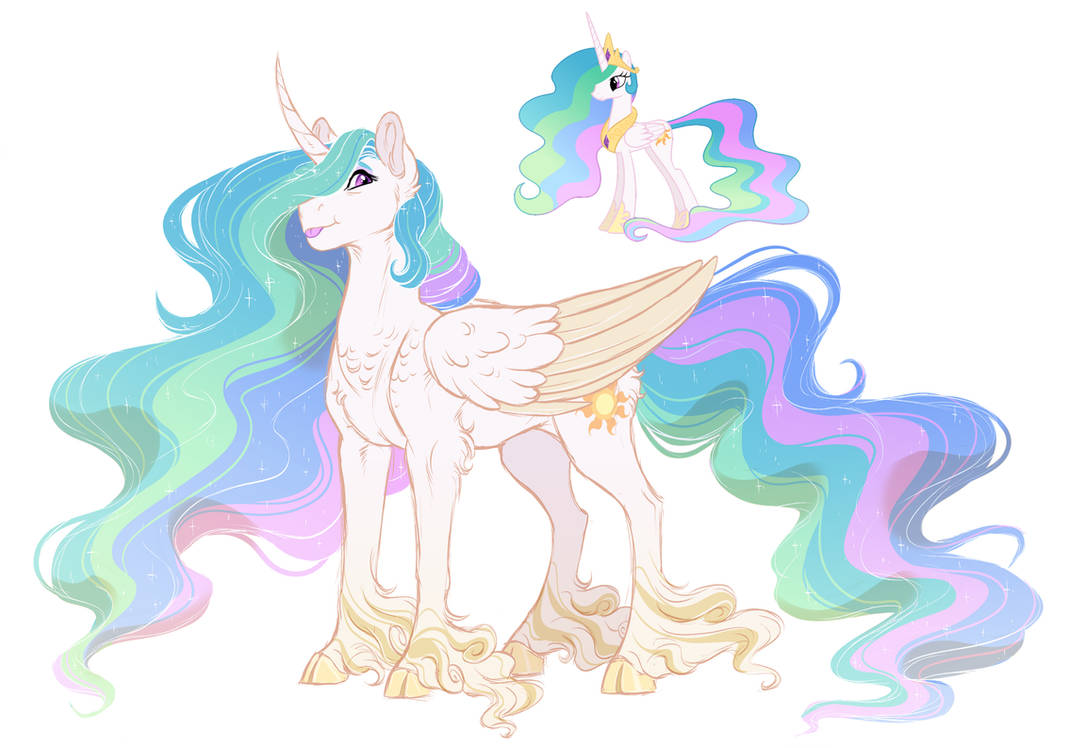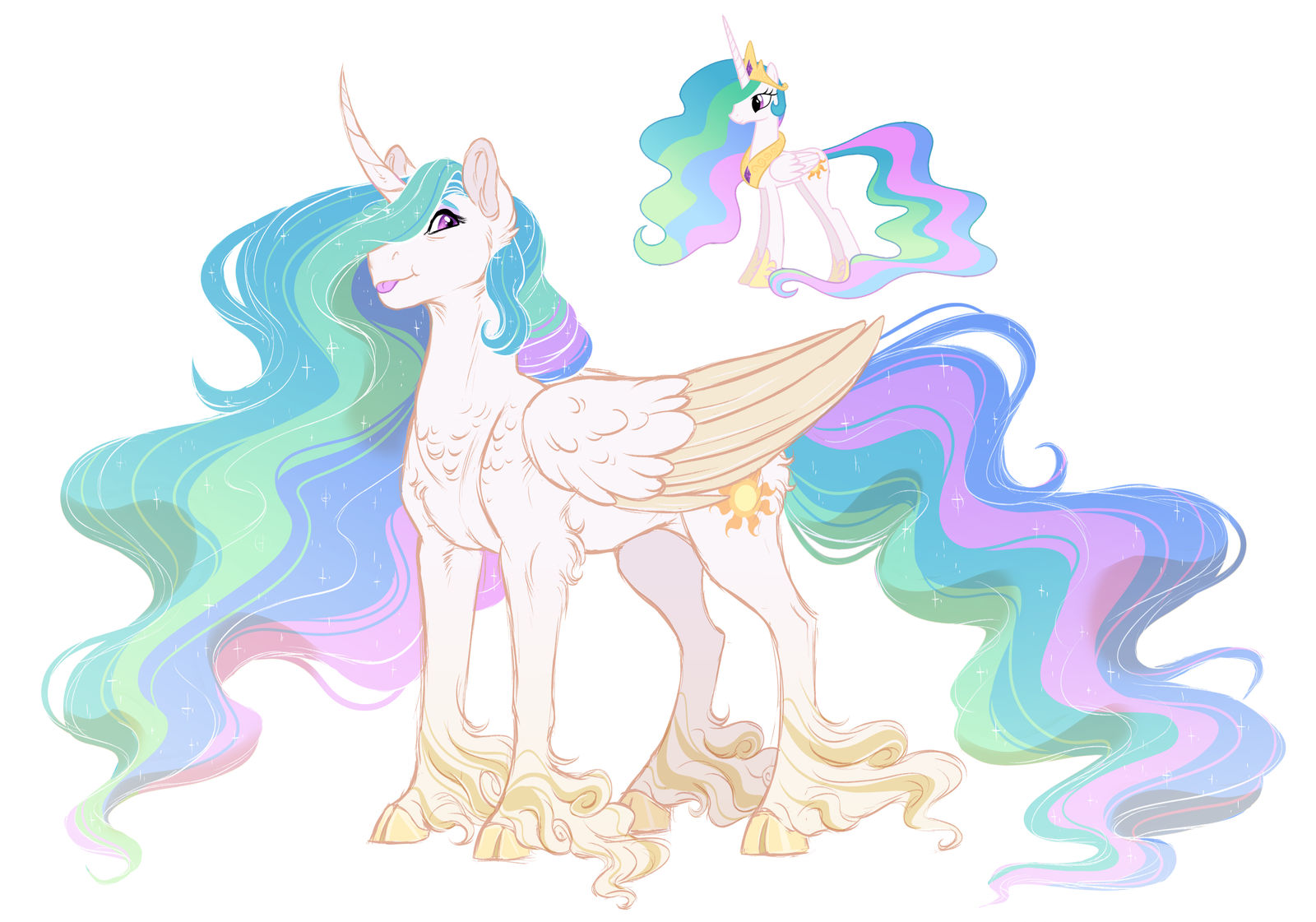 Watch
the kooky old lady immortal god-queen
ya'll wanted more headcanon stuff so here you gooooo
i rlly like celestia and have a lot of notes on her so buckle up kids
Queen Celestia
is considered to be the most powerful pony in all of Equestria, both in terms of executive authority and magical might. She is
old
, having ruled Equestria for a
least
one millennium. Her leadership style has undergone many, many changes throughout her long rule. In the beginning, Celestia ruled alone (as her sister Luna was still a child), and she presented herself as cold, cunning, and ruthless, which was necessary in the long, violent struggle to teach other species that her ponies were
not
an acceptable food source. She conquered a number of hostile nations to beat the idea of friendship and sharing into them (no, the irony of this isn't lost on current Celestia). This earned her the title
Sol Invicta
, The Unconquered Sun, and the reign of Equestria's imperialist god-queen came to be quite respected, admired, and feared.
Young Luna grew up in Celestia's almighty shadow, and struggled to find her own feet as a princess. Ponies did not appreciate her beautiful night as they did with Celestia's day, and Celestia, in her reckless youth, snidely rebuffed all of Luna's concerns. Luna isolated herself from other ponies and grew to resent her pretty, perfect, all-powerful big sister. Secretly, she gathered a small, rebel army, then declared war on her sister.
Celestia wasn't havin that shit and soundly thrashed Luna's forces, further humiliating and angering the night princess. Luna, now Nightmare Moon, showed up to Celestia's court to duel to the death. Nightmare Moon was powerful, and the battle raged for hours, and Celestia's demands for Luna to cease this childish idiocy only strengthened Luna's attacks. Finally, Celestia played her trump card, The Elements of Harmony, and she
won
.....and when the dust had settled, Celestia realized, with horror, that her baby sister hadn't been purified by the elements. Instead she'd been imprisoned within the moon......and Celestia didn't know if she'd ever see Luna again.
Celestia fell into deep mourning. Her entire worldview had been shattered. Using brute force to solve her problems had taken away the one pony she loved most. There was so much more she should have done to save her....Oh, Luna.
With Starswirl's help, Celestia came to reinvent her monarchy. She relinquished her control of other nations, and opted to let her ponies solve their own problems, grow and learn and become better.....in the hopes that she could do the same. She became kinder, more empathetic, less prone to violent solutions....partly out of a desperate wish to have been a better sister to Luna. Celestia mentored and nurtured her subjects, and was mentored in turn. She became allies with leaders of other nations, and studied their ways and cultures. To ease her subject's reliance on her, she began taking on students, ponies that could potentially become defenders and champions of Equestria. The most notable of these is Twilight Sparkle, to whom Celestia is more grateful and proud than Twilight will ever know.
Our current Celestia is sweet, loving, motherly, and more than a little kooky. Luna's return helped heal the painful, lonely hole in Celestia's heart, and she is more involved with her subjects than ever before, organizing countless charities, teaching the youth, and being the den mother to a few very excited filly scout troops. When Queen Chrysalis brought her starving changeling hive before Celestia and begged for aid for her people, Celestia took them in as refugees without a thought, on the condition that no harm come to her ponies. Chrysalis desperately proposed a political marriage as a show of good faith (and also to retain enough royal authority to ensure her hive's safety)......she was very surprised when Celestia accepted.....and even more surprised when she ended up genuinely falling for the goofball of a sun princess. The power couple have one daughter, Princess Iridescence, who is doted on endlessly.
Celestia is the sovereign of the sun, with
extremely
powerful magic tied to sunlight, heat, fire, harvest, and summer. Bound to the sun itself, Celestia is effectively a sort of ageless lich, and only grows more powerful as her respective celestial body ages. Her magic is so strong it's actually difficult to control-during the Canterlot Royal Wedding, Celestia
could
have fought Chrysalis by say, spontaneously heating the wedding hall to
27,000,000 Fahrenheit, but that would've been pretty no-bueno for her lil ponies. So fug it, take a dive, let Twilight and her pals sort things out am i right


Some last few quick facts:
-Celestia enjoys pranks, cheap harlequin romance novels, red wine, and sometimes disguising herself to go compete in local sporting events, strongman competitions, and competitive eating championships.

-Like Luna, Celestia is sometimes plagued by prophetic dreams. Celestia also struggles with a degree of PTSD. Luna often walks in her sister's dreams to help ease Celestia's anguish.

-Celestia speaks at least a dozen languages, and can play a wide variety of musical instruments. Her favorite hobbies are sewing and knitting, and for this she's found a companion in both Rarity and Fluttershy.

-Celestia is a supremely talented chef, and loves nothing more than cramming pancakes (made with love!) into the ponies she cares about.

-Celestia is a romantic at heart, and in the past, she has entertained the affections of Discord (even when he became evil, whatta scandal, oh Discord could tell you such stories), Mirrorverse King Sombra, and Queen Novo.


The royal sisters compared:



my take on Starswirl the bearded:


More Celestia stuff i've drawn/written: