more fuzzbutts concept art~
1.)
So this is a new character, inspired by pandoraverse
Belle Velour.
Meet
Bellon.
Bellon Bouquet, that is~
Bellon is the owner of a luxury fragrance shop. Perfumes, candles, incense, bath bombs, soaps- you name it, Bellon makes it! After years spent carefully crafting fragrant products and cultivating a treasured customer base, Bellon can't help being a touch concerned when a wrinkly little sphynx cat rents out the space next door, claiming she's going to transform it into a high-end beauty salon. Excusez-moi? What does this bald kitty know about the care and grooming of fur and hair? Furthermore, when it comes to managing a new business, Priscilla is a rookie and it shows. She can't afford to hire much help, her salon features decorations scavenged from thrift stores, and she's often struggling to keep the lights on and the bills paid. Her fumbling-while fun to watch- is gonna drive away all Bellon's business! So Bellon sets out to combat her little hillbilly hair salon in the best way Bellon knows how. By being really, really, really passive-aggressive. As such, Priscilla does not get along with her business rival.


notes:


-Like their pandoraverse inspiration, Bellon is nonbinary and intersex. Bellon uses they/them as their personal pronouns and prefers androgynous fashion. I imagine their voice sounds like the lovely Laverne Cox. If asked "Are you a boy or a girl?", Bellon's typical answer is "I'm a bitch."


-Priscilla really is overworked and over-stressed managing her salon. All animals are welcome, meaning poor Prissy is often stuck climbing a ladder to give a giraffe customer a trim, exhaustively filing a rhinoceros' horn, or madly trying to figure out how to evenly apply lipstick to a crocodile. As such, she's employed Victoria as a part-time assistant, and sometimes recruits Bruce when the salon gets really busy.


-Like their real world counterparts, the skunk citizens of Fuzzbutts can squirt a foul-smelling sulfuric spray. When threatened or angry, skunkfolk will naturally lash and flare their tails in warning, often without even thinking about it. In a civilized society, there isn't much use for spraying as a form of self-defense.....unless a skunk is getting mugged or something, but they'd kinda need to drop their trousers to do it....which can be a pretty intimidating act of self-defense in its own right. It's a rare mugger that wants to tangle with someone yanking their pants down to expose their butt glands. Again, the spray is rarely used, but if it is, it causes temporary blindness and horrific stank. Skunks often work against a nasty social stereotype that they naturally stink, which hurts their feelings and can lead to compulsive self-cleaning. Bellon smells like a bed of lavender, if you imply anything otherwise, they will deck you in the teeth.


-Priscilla might, might be a touch jealous of Bellon's thriving business and glossy fur. Her pride would never allow it, but sometimes she'd quite like to ask her rival for advice. Bellon in turn secretly quite admires Prissy's moxie and determination, and might, might gift her a bit of sarcasm-laden advice if the cat's truly looking desperate.


-Priscilla is in her late twenties, Bellon is in their early thirties~


from

: I can totally see these two unwittingly defending the other when the occasional complete asshole customer runs around. A patron walking by the two of them while they open their stores holds their nose and gags and says something mean about "skunk stink" because they're speciesist (speciest? Idk)? Priscilla immediately fires back a comment about the stench of their attitude. Some big animal decides it would be funny to "accidentally" buck Priscilla off while she's grooming them way up off the ground? Bellon, who's just in the shop to demand that Priscilla replace the wilting flowers in her storefront window (they're bad for business, or something) decides this is a GREAT time to teach Priscila the 'towel-whip' technique. You know the one. Then, of course, goes on to soothe the irate customer with some smarmy comments about how 'oh, didn't you know that was an advanced beauty technique? Really, you DO look so much better than, you know.... BEFORE. That was rather unfortunate." I imagine neither Priscilla nor Bellon even realize what they're doing. (Bruce definitely thinks they're jaded exes or something.)



2.) exploring their dynamic more. i'm sadly not clever enough to have come up with said dialogue, i ripped it from the oblongs~


bellon did u srsly walk over just to insult priscilla's new wig get a fucking hobby already




~~~
more fuzzbutts stuff: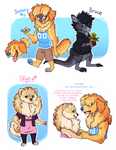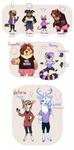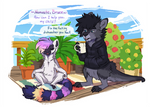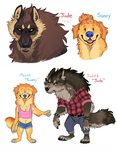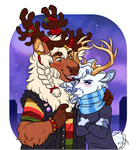 ~~~~~~~~~~~~~~~~~~~~~~~~~

Enjoy my content? Please consider supporting me on Patreon!

I upload all art early to my patreon, and patrons have access to WIPS, concept art, sneak peeks, and exclusive doodles and headcanons!
Image details
Image size
2005x3224px 3.44 MB