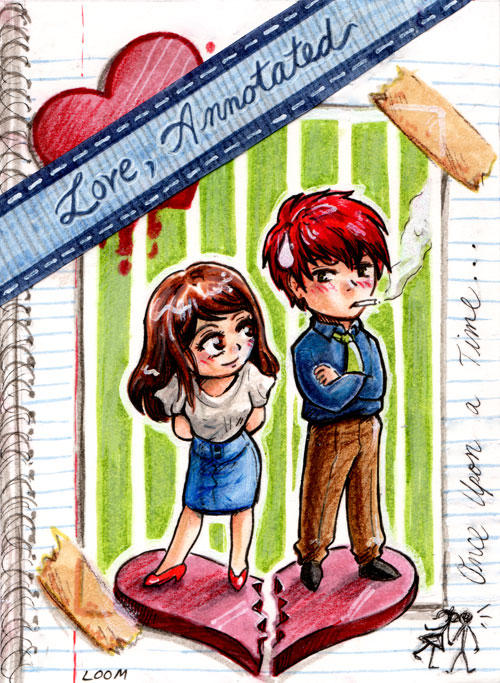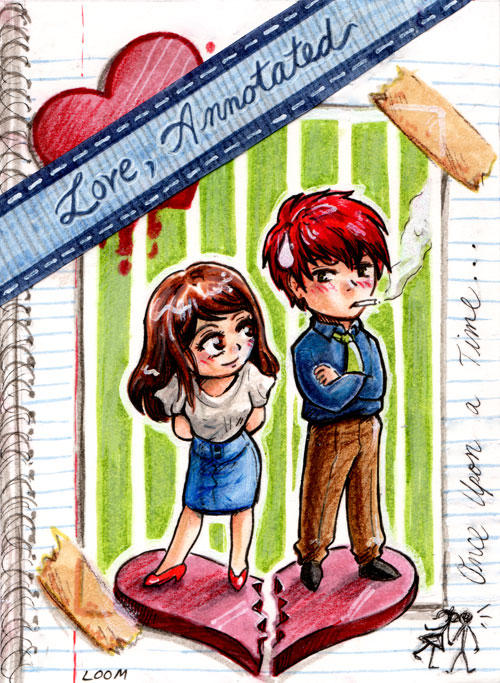 Watch

For:


Character:
Chloe Anne Davis, James Casey Okimura "Saki" from
Love, Annotated
Love, Annotated Synopsis

Despite being a freshman, Chloe lands a job on the university newspaper staff as an assistant editor. Then, she meets the editor who she's supposed to be assisting. Problems are bound to ensue.

Type:
Contest Prize/Gift

Medium:
Colored Deleter Liners, Colored Pencils (Prismacolor)

Occasion:
Got around 20 of these little things to do, so doing it all by hand! Text and all. I'm drawing free chibis for everyone who entered the contest @ #
Vampire-Fetish-Comic
It's a little silly, I know, I know! I wanted it to be notebook-ish and scribbly... But I hope you like it. Look in the bottom right hand corner and see if you can make out what the scribble is.

So this is for my pal ~Jazeki and her dysfunctional couple. Go READ Love, Annotated.
Love, Annnotated
(c) 2011 ~
Jazeki
Art by *
LOOMinate
. For ~
Jazeki
's use only! Thanks for for entering the contest @


<3 They're so adorable. I rather like her shiny red heels~!
Reply

Reply

Aww, this is so cute!

Great work, loomy~ x3
Reply

omg and its even on a notebook...!

Reply

Loom this is wonderful!!!! Fantastic tribute to some great OC's. Gotta say I love how how captured Mr. James! haha!
Reply

LOL. I look at them on that little heart and think, Wedding cake toppers! No doubt that's the Chloe part of my imagination doing that. And I lolled at the stick figures. I have to turn the compy off but I will so be staring at this more later. <3
Reply

Reply